Original URL: https://www.theregister.co.uk/2009/06/10/review_printer_canon_pixma_pro9000_mkii/
Canon Pixma Pro9000 Mark II
Swift and accurate A3 inkjet
Posted in Personal Tech, 10th June 2009 12:20 GMT
Review Medium format colour inkjet printers, which sit between standard A4 and wide format production machines, fill a fairly specialised niche. Capable of printing full-bleed A3+ pages, Canon's Pixma Pro9000 Mark II is aimed at photo enthusiasts or semi-professional photographers. Semi-pros might prefer to use it for proofing than end product, but it would also be suitable for print-on-demand applications, like sending wedding guests away with photos on the day of the big event.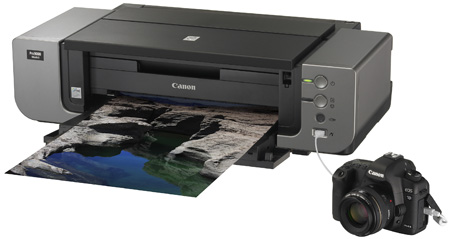 The big picture: Canon's Pixma Pro9000 Mark II
Besides the price, the key difference between a workhorse A4 inkjet – such as the Pixma MX330 we reviewed recently – and this machine, is the width of the carriage. Handling paper up to 13-inches wide, the Pixma Pro9000 MkII measures 660mm across. See how it dwarfs the adjacent DSLR in the picture. Indeed, this printer will need its own desk.
To use all its features, it's not just the width you need to worry about. In normal running, paper feeds from a near-vertical tray at the rear to a telescopic output tray at the front, but it can also be configured to take thick or other special media from the front and print it out the back. To accommodate this, a flap at the rear is folded down and two spring-loaded butterfly supports are extended. Printing this way needs space of at least the length of the paper it's printing at both front and rear.
The printer has borrowed a feature from several of Canon's A4 machines, in providing direct CD print, via a separate carrier, which slides in at the front of the machine. The machine can print standard CDs and the smaller, credit card-sized ones too. CD print is useful for full-colour, on-disc printing, but also for labelling the hundreds of discs of large, high-res images photographers tend to stockpile.
It's a peculiar truth that, as inkjet printers go upmarket, they're provided with fewer bells and whistles. There's no LCD panel on this machine; no colour screen to preview images and not even a mono screen to set options with. There are a couple of buttons for power and paper feed, but that's all the manual control you get.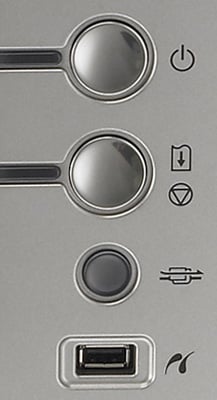 Only basic controls are accessible from the unit
Perhaps more surprisingly, there are no memory card slots, either. Presumably Canon's argument is that a professional photographer won't want to print straight from a memory card, without viewing and adjusting the image first on a PC or Mac screen. If that's the case, why is there a PictBridge socket, so you can download from a camera? Most cameras have very limited PictBridge printing control and their LCD screens are inconveniently small for image proofing. Unless, of course, you've an LCD the size of Canon's EOS 5D MkII that appears in publicity shots alongside this Pixma.
The only data connection is USB, but this is probably all most customers will need. Indeed, the Pixma Pro9000 Mk II isn't an ideal machine to network, because of the many different configurations and paper setups it'll need to work with. To set the printer up, eight separate ink cartridges are plugged into the head carrier. On top of the CMYK set, the Pixma Pro9000 Mk II uses photo cyan and photo magenta, and adds in red for improved flesh tones and green for more vivid landscapes.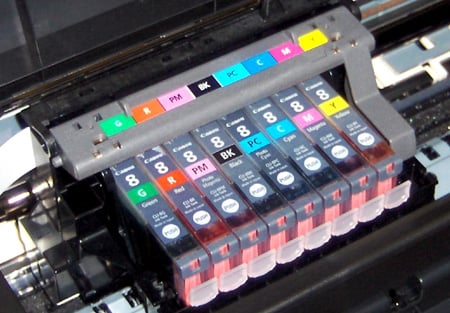 The Japanese version has ten colours – extra black and grey
As well as drivers for Windows from 2000 up and OS X from 10.3.9 – no mention is made of Linux or Unix support – the Canon applications Easy-PhotoPrint EX and CD-LabelPrint are included. These are fairly useful variants of the file housekeeping and basic photo-editing applications provided with most printers, but there's also a full copy of Adobe Photoshop Elements.
Although this is version 6, which doesn't include things like the image element removal of the latest version 7, it's still a very capable application for a bundle. For the lower end of the market this printer is aimed at, Photoshop Elements is handy, but for the semi-pro and pro customers, there's a Photoshop plug-in called Easy-PhotoPrint Pro, which is possibly more useful.
Easy-PhotoPrint Pro enables you to print a variety of different, template arrangements of images and to handle RAW data directly. It works much like a print driver control panel, but supports Linear Tone, ICC and Photo Colour tone modes.
As this machine is designed primarily as a photo printer, it won't come as much of a surprise that its plain paper print speed is rubbish. In fact, our five-page text print took just under three and a half minutes and a five-page text and colour graphics print took nearer to four. If you want to print invoices, it's best to have a mono laser as well as the Pixma Pro9000 Mk II.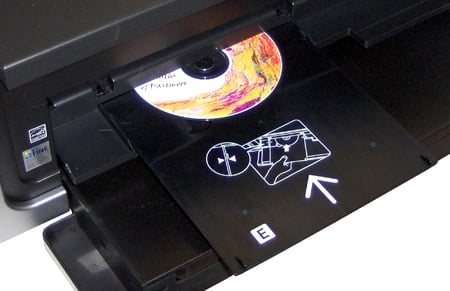 CD printing comes in handy for cataloguing too
Switch to photo paper, print images and it seems like a different machine. A 15 x 10cm print took 51 seconds via a PictBridge connection and just 42s from a PC. These are both very good times and are for standard print mode, not some optimum-speed draft, where the print quality suffers. Even when we fed a full-bleed A3 image to the Pixma Pro9000 Mk II, it completed in 1m 53s – very quick for the size.
The print-quality design aims for this machine have been well realised. By adding in the red and green inks, Canon has produced a machine that gives very natural colouring for both landscapes and portraits. There is little noticeable hue shift in any of the prints we produced, compared with the original colours.

Big and square and bordering on ugly
Detail levels are very good and the machine succeeds in reproducing detail from shadows well. In some printers these dark shades veer to black, giving muddy detail and reducing the overall fidelity. The one problem we did notice was on one of our A3 prints, where there was a hint of banding in a particularly blue area of the sky.
With eight inks to keep topped up, you'd perhaps expect this to be an expensive printer to run. However the photo colours and red and green are used primarily to tweak the main tints and should yield thousands of pages each. Even so, using Canon's yield figures for 15 x 10cm photos, produced a cost of 20p per print, which is on the high side, even when compared with other Canon printers.
Verdict
If you need to print photos larger than A4, the choice comes down to Canon, Epson or HP. Their A3 and A3+ models produce good, multiple-ink colour images, but the accurate colours and fast print speeds of the Pixma Pro9000 Mk II must put it well up the shortlist. ®
More Printer Reviews...
| | | | |
| --- | --- | --- | --- |
| Brother MFC-5890CN | Kyocera FS-C5200DN | Lexmark C543DN | Epson Stylus Photo PX800FW |