Original URL: https://www.theregister.co.uk/2009/06/10/review_media_player_philips_gogear_sa5295_opus/
Philips GoGear Opus personal media player
Some small screen shortcomings, but sounds sweet
Posted in Personal Tech, 10th June 2009 08:02 GMT
Review When we reviewed the diminutive Philips GoGear Spark MP3 player back in March, we were quietly impressed. Now that Philips has introduced the larger Opus, it's time to see if the Spark was just a flash in the pan.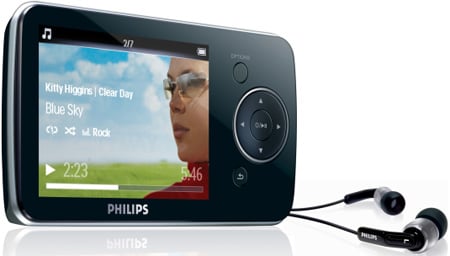 Philips GoGear SA5295 Opus
Philips has clearly followed the old axiom of 'if it ain't broke, don't fix it' because the Opus has similar design traits to its previous PMPs. Still, if the Opus looks a little old fashioned, it remains smart and solid in its gloss black and brushed aluminium case. At 107x11x57mm and weighing 95g, it's very similar to Samsung's P3, although that has a 3in touch screen, while the Opus sports a non-touch 2.8in 320x240 affair.
When it comes to using the Opus, Philips has decided against trying to re-invent the wheel and the upshot is that navigating the very menu structure and control layout is simplicity itself. Physically, the Opus features a volume rocker on the top along with Option and Menu/Back buttons plus a four-way navigation pad on the front fascia. The centre of the navigation pad houses a play/pause/power on/off button.
At the bottom of the player sits a 3.5mm audio jack, miniUSB port and lock slider. We are not entirely sure that's the best place for a headphones jack – it doesn't actually get in the way but, just like sleeping with a close relative, it does feel rather unnatural. Incidentally, the Opus lacks either an external speaker or a memory expansion slot.
As well as the usual ID3 tag library layout, content can also be viewed by folder or for audio files with a cover art view. The latter displays your album covers in a 3x5 grid – just highlight the album you want to access and click to play. CoverFlow it's not, but its still a nice little feature, as is the handy virtual Now Playing button at the end of the main menu.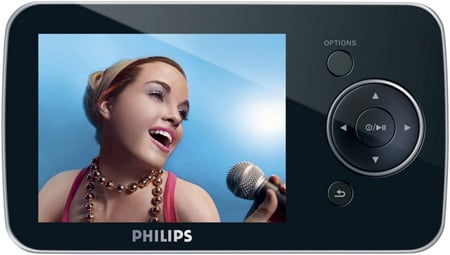 Untouchable: control buttons hamper the screen size in this form factor
Another feature worthy of comment is that, when navigating through long lists, you can hold the navigation arrow down and the player will start to flip through the letters of the alphabet, rather than title by title. It's an idea nicked from the iPod, but one worth nicking.
The Opus also carries over two features from the Spark, one of which we like and one we don't. The first is the ability to display album cover art as the background of the Now Playing screen. The second is the rather lengthy amount of time the player takes to update and load the media library when it is switched on. As you would expect, the update time gets longer the more media your Opus is loaded with. We suspect that waiting for a fully loaded 16GB Opus to get its act together could become just a shade wearisome after a while.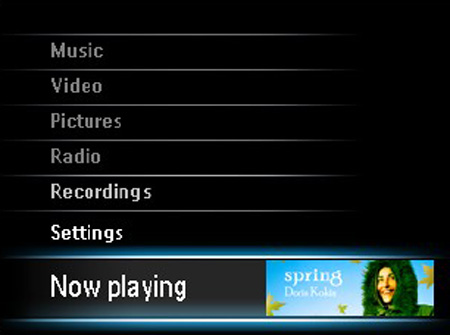 Navigation aid: 'Now playing' appears as a shortcut at the end of the main menu
The Opus supports MP3, WMA, AAC, FLAC and Audible (.aa) audio files along with WMV and AVI – DivX/Xvid – video and JPEG image files. It's a reasonable selection, with H.264 being the only glaring omission, though it would have been nice to see Ogg support too. Like every other device with a 2.8 or 3in screen the Opus falls into a sort of a PMP no-man's-land – for decent video playback you really need a screen that is at least 3.5in corner-to-corner, while just music library access can get away with 2.5in or less, so the player can be smaller.
Even with that caveat, the Opus is no more than an adequate video player. To start with the 4:3 screen has a habit of rendering certain files in full screen and since there is no option to change the aspect ratio you are stuck with a squashed image. Secondly, the Opus is wholly intolerant of files above its native resolution; hence, content usually has to be reformatted, but there is bundled software to take care of this. Finally, the maximum fast-forward / rewind scan speed is x4 – which is too slow by a factor of at least two.
To wrap up the video negatives the Opus doesn't support SubRip (.srt) subtitle files nor can you add bookmarks to video files, though it will at least remember where it stopped playing the last video file accessed. This last fault is particularly annoying as you can add bookmarks to audio files. On the plus side, video playback proved clear, crisp and bright with decent colour saturation. The screen was remarkably tolerant of oblique viewing angles too. The Opus also supports PlaysForSure DRM, so you can watch videos downloaded from iPlayer. By way of a test we downloaded an episode of Top Gear and found it eminently watchable on the Opus.
As with the GoGear Spark, sound modification software is limited to Philips' proprietary FullSound system. We were impressed with FullSound when we first came across it on the Spark and are no less impressed with it on the Opus. It's easy to use, gives the music a pleasant sense of warmth and depth and doesn't require that you spend half an hour setting it up as is the case with iRiver's effective but mind bogglingly complex SRS WOW system. The Opus also offers ten EQ settings.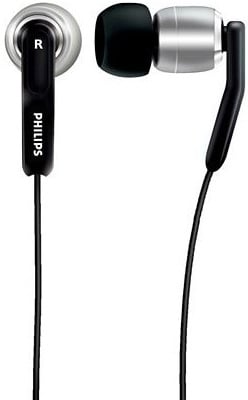 Head candy: undoubtedly, one of the loudest PMPs we've tested
After chucking a selection of our favourite albums at the Opus, we wouldn't say it is the best sounding music player we have come across of late – that accolade still belongs to Sony's S-Series Walkman – but it's certainly up there with the best of the rest from the likes of Sandisk, Samsung, iRiver and Cowon and is considerably better than anything you can get from Apple. It also has a lot of volume on tap. In fact it's just about the loudest player we have tested of late.
Sound quality is helped by Philip's inclusion of a rather decent set of canal style earphones. Again, these are not Sony quality, but they are still very comfortable and produce a fine sound with solid bass and good definition. A pity Philips doesn't supply different size sets of rubber ear buds – the one set you do get are just a bit on the small side.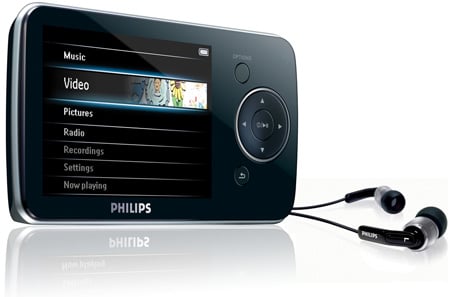 Video features tend to be limited on such small screens, but the sound is excellent
Fortunately, Philips fully recognises the value of playlists and tracks can easily be added to an on-board list or any number of them can be synchronized via an MTP media player. Beyond media playback the Opus also comes fitted with a rather fine RDS FM radio, complete with 20 pre-sets and an off-air record facility and a voice recorder. All recordings are encoded as MP3 files.
Rummage about in the menu and the Opus will let you set its computer connection to either MSC or MTP so Linux and Mac users won't be left spinning in the wind. Philips claim the 880mAh battery is good for 30 hours of audio and six of video but, as is usually the case, we found those numbers to be a just a shade optimistic and only managed 26 and 4.5 hours, respectively.
The Opus comes bundled with a re-branded version of ArcSoft's MediaConvertor for video reformatting and a video download tool for snagging videos from YouTube and the like. Buyers also get a free 30-day trial membership of Napster To Go, the chance to download a free audio book from Audible and plastic slip case.
At £99 for the 8GB and £129 for the 16GB version, the Opus seems reasonable value for money considering you pay around £20 more for a 16GB Samsung P3 and a whole lot more for a 16GB Sony X-Series Walkman. Indeed, both of those devices are better video players but, if most of your time is going to be spent listening to music, we reckon the Opus makes a fair degree of fiscal sense.
Verdict
The Opus is another solid effort from Philips, its conservative looks, slow start up time and merely adequate video performance notwithstanding. In its favour it produces a very good sound, is extremely easy to use, has a very fine FM radio, decent format support, comes bundled with a pair of earphones that you don't need to immediately replace and doesn't cost the earth. All Philips needs to do now is make a version with a 4in VGA screen and a microSD expansion slot and we'll be singing its praises. ®
More PMP Reviews...
| | | | |
| --- | --- | --- | --- |
| Sony X-Series Walkman | iRiver P7 | Samsung P3 | Archos 7 |