Original URL: https://www.theregister.co.uk/2009/06/10/intel_atom_future/
Whizz for Atoms: inside Intel's next netbook generation
Picking up the 'Pine Trail'
Posted in Personal Tech, 10th June 2009 14:39 GMT
Intel's Atom initiative may have proved successful so far, but the chip giant has done itself no favours by releasing two versions of the chip.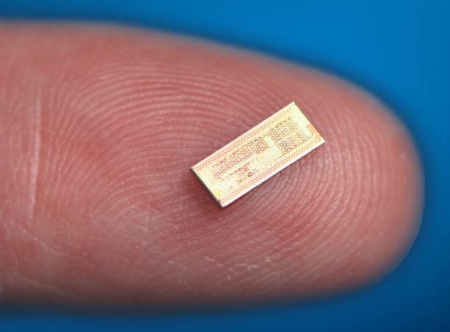 Intel's Diamondville: Pineview will be bigger, thanks to the on-board GPU and memory controller
Atom is currently available in two forms: 'Silverthorne' and 'Diamondville'. One's for handheld internet tablets - what Intel calls Mobile Internet Devices (MIDs) - and the second for netbooks and, in a dual-core form, for desktops. Nice and clear cut product differentiation, but you can buy netbooks based on Silverthorne chips, which are sold as Intel's Atom Z series.
And it doesn't look like that situation is going to change any time soon. Intel recently revealed a little more about 'Pine Trail', the next release of its netbook-centric Atom CPU and chipset combo series, and it bears a remarkable resemblance to 'Moorestown', the follow up to the Atom platform for MIDs.
Pine Trail comprises the 'Pineview' processor and a chipset, 'Tiger Point', connected over a DMI (Direct Media Interface) link. Pineview inserts a GPU and a memory controller into the CPU package - Intel isn't saying whether they're on the die or simply stashed in the same ceramic - allowing Tiger Point to focus solely on I/O operations.
Incidentally, Pineview's CPU core is called 'Bonnell', which is the overarching codename for the core design employed by 'Silverthorne' and 'Diamondville' - and by Moorestown's 'Lincroft' CPU core and the one in Moorestown's system-on-a-chip successor.
Intel stresses that this is three chips becoming two, with the middle part of the old CPU-northbridge-southbridge tryptic being cut out of the picture. That, it says, means lower costs to machine makers, lower power consumption and improved performance, though the latter's not entirely a result of the integration.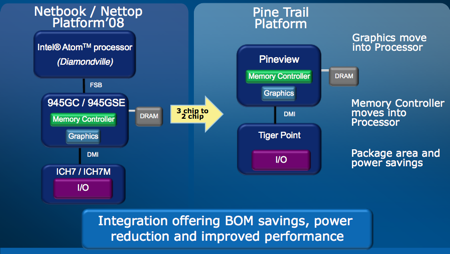 Atom evolution: from Diamondville to Pine Trail
Pine Trail's due in Q4, Intel has said, but its sticking with its 2009-2010 release timeframe for Moorestown. Like Pine Trail, Moorestown comprises Lincroft and an I/O chip, 'Langwell'. There's no, more narrow, window for Moorestown's launch, but Pine Trail looks like it will debut in October, presumably to allow manufacturers to get new netbooks out in time for Christmas.
Intel has vaguely said of Pineview that "graphics move onto the processor", but based on what we know about Lincroft, 'graphics' means not only the 2D and 3D processing core but also a video decoder and a display controller. Like Pineview, Lincroft has its own memory controller. What types of memory they will support has not been disclosed, but single-channel DDR 2 running at up to 667MHz seems the most likely memory spec.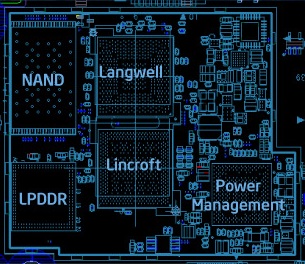 Moorestown on a motherboard
Lincroft's CPU core is codenamed 'Bonnell', and it's essentially a Silverthorne processor taken from today's Atoms. Given that Lincroft will be fabbed at 45nm - as Silverthorne is - it's no surprise that the new processor will be somewhat bigger. Silverthorne has die area of 24.2mm² whereas Lincroft's will be 69mm² - almost three time the area.
Accompanying Lincroft will be a new I/O chip, 'Langwell', which will handle audio, USB, memory cards, directly connected Flash storage and ATA devices. It'll also have a phone camera controller, which its predecessor, 'Poulsbo' - shipping as the US15W - lacked. Then again, Poulsbo had PCI Express linkage - Langwell doesn't.
Tiger Point does, though, and Serial ATA besides. It clearly will provide more laptop-style features, supporting the devices and interconnects a netbook will need while an MID will not.
That explains, in part, why Intel's not being specific about Pine Trail's power consumption characteristics. Moorestown was originally hailed as burning only a tenth of the Wattage of its predecessor - codenamed 'Menlow', and the combination of Silverthorne and Poulsbo - in standby mode at least. Earlier this year, Intel said the platform would now consume only one-fiftieth of Menlow's standby power demand.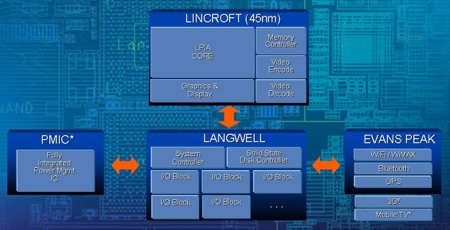 Moorestown itself looks a lot like Pine Trail
Going flat out is another matter, of course, and that's not only why Intel only talks about Moorestown's idle power consumption but has, since first discussing the platform in public, downgraded it from the basis for both MIDs and smartphones to just MIDs.
Smartphones won't seriously be contenders for Intel chippery until the 32nm 'Medfield' ships some time in 2011. Medfield, incidentally, uses the smaller process to cram the I/O into the processor package in a system-on-a-chip design. That aside, it's essentially a Linfield die-shrink containing a - smaller this time - Bonnell CPU core. We'd expect the 32nm version of Diamondville/Pine Trail to be the same.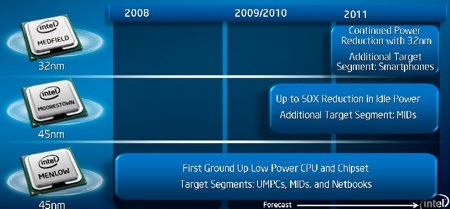 Cutting power: the move to 32nm Atoms
Back to Pine Trail, and Intel will only say its TDP will be lower than the version currently on sale. That - the 945GSE chipset combines with either the 1.6GHz N270 or the 1.66GHz N280 - consumes 8W.
We can say The Pineview/Tiger Point combo will consume 7W when the processor's clocked at 1.67GHz. We've seen slides indicating Pineview will have 512KB of L2 cache on board. So does Diamondville, which suggests that just as Lincroft is an existing Silverthorne with added northbridge bits, so Pineview is Diamondville plus said.
Whether Pine Trail will come to market with a 1.66GHz clock speed remains to be seen, but that's certainly what the most recent roadmaps suggest. Intel may trade that 1W-lower TDP for a higher clock speed, but we suspect it will primarily pitch Pine Trail on its graphics performance, as Nvidia is trying to do with its Atom-oriented chipset, Ion. Intel, for now, isn't saying. It all depends on whether punters value battery life more than performance, or vice versa. Since it's netbooks we're talking about, the former seems more likely.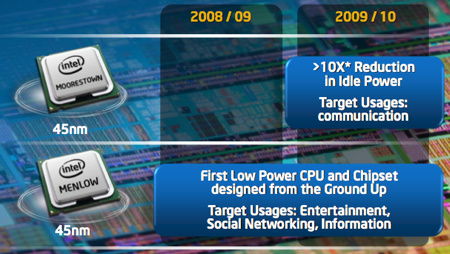 Intel used to talk about a >10x idle power reduction
Battery life will certainly be a driver for Moorestown which will have a thermal envelope of 1.5-2W, but its usage model delivers a "scenario power" average consumption of 0.3W. Idling it consumes just 20mW, apparently. That's delivered by power-gating Lincroft's cores, allowing them to be turned off entirely. There's a cost - the time taken to power up a core and restock its cache memories - but the power savings overall should boost battery life considerably, Intel reckons.
Eight hours, it says, with an always-on wireless connection.
It hasn't said how much longer netbook batteries will last with Pine Trail in the driving seat, but that 1W reduction in TDP doesn't suggest an awful lot. Like Diamondville, it has SpeedStep technology to lower the clock frequency when it can, and we've seen documentation that points to an average platform power consumption of 2W - half that of the 4W the N270/945GSE combo eats up on average.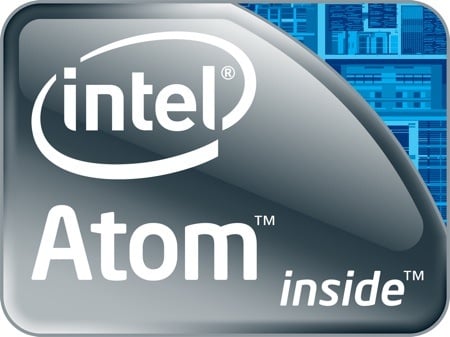 Intel does like to talk about thin, fanless designs, but always with the caveat that "finless [machines] may require configuration trade-offs depending on scenario power workload" - they won't run as quickly as kit with fans will, in other words.
That suggests we're not suddenly going to get six-hour or longer runtimes from slim, three-cell batteries, so netbook buffs won't see the end of machines with bulging batteries hanging off the back just yet, even if the lower power consumption figures suggest otherwise. Recall how disappointed we all were with early netbook battery lives, especially after being all Intel's talk about how Atom was such a low-power part.
No, Pine Trail seems more about delivering better performance - graphical horsepower in particular - within the same machine designs, at a slightly reduced cost. Lower cost to vendors that is, not necessarily to consumers.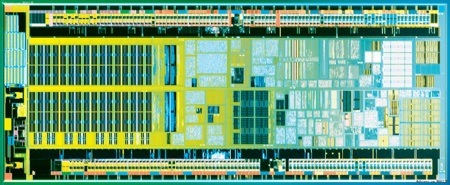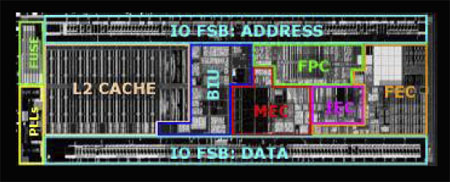 Inside Silverthorne: Pineview's CPU until will be much the same
Intel hasn't detailed Pineview's on-board GPU specs, but it's expected to be the same GMA 500 core found in today's US15W chipset. It'll run at 200MHz, up from the 133MHz the GMA 950 core in the 945GSE chipset is clocked at. The GMA 500 is essentially Imagination Technologies' PowerVR SGX core. Unlike the 950, it's a full DirectX Shader Model 3.0 part, so it's better for gaming, and it has VC-1 and AVC/H.264 decoding as well as being able to handle MPEG 2. The 950 didn't have hardware support for those HD codecs.
Just as the Diamondville-based netbook CPUs have desktop equivalents - the single-core 230 and the dual-core 330 - so Pineview will also have a desktop version. Roadmaps suggest the dual-core D510 - note the introduction of the 'D' prefix - will come first, in Q4, followed by the single-core D410 in Q1 2010. Pineview is expected to come to market as the Atom N450.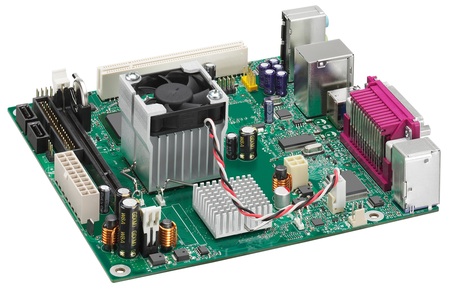 Will the desktop Pineviews require as much cooling as the Diamondvilles did?
Like today's desktop Diamondville's, the Dx10 series will support 64-bit computing. Early indications - though Intel hasn't said one way or the other, officially - are that so too will the N450. The N270 and N280 don't, presumably to allow the extra circuitry required to support the technology to be disabled for power-conservation reasons, just as a number of the Z-series Atoms like HyperThreading.
Finally, we come to 'Sodaville', a rarely mentioned system-on-a-chip part that's due to ship this year as a product aimed at consumer electronics kit.
Crucially, that's what are called "non-battery" CE devices, so think set-top boxes and such like. It certainly contains an Atom processing core and it's also said to integrate a PowerVR SGX graphics unit.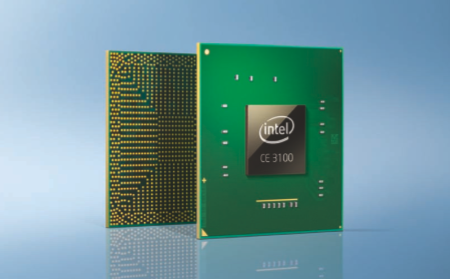 Atom will replace Pentium in Sodaville, the CE 3100's successor
It's the successor to 'Canmore', the media-player oriented SoC that Intel launched in the Autumn of 2008 as the Media Processor CE 3100. It combines a 90nm 800MHz Pentium M core with a GMA 500 GPU, networking, security, and controllers for a display and a wide range of other peripherals. ®