Original URL: https://www.theregister.co.uk/2009/06/09/review_mobile_phone_orange_vegas/
Orange Vegas
Less Elvis, more Johnny?
Posted in Personal Tech, 9th June 2009 08:02 GMT
Review Would you take a punt on a sub-£50 touchscreen phone? With a wallet-soothing price but few must-have features, Orange's own-brand Vegas plays a very different hand to most high-rolling touch-operated devices currently available.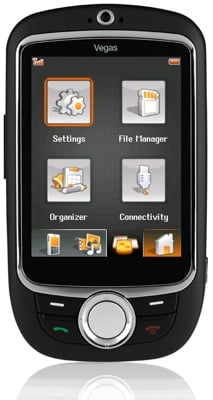 Orange's Vegas: budget touchscreen
There are no iPhone-alike pretensions here, as you might guess from a phone that sells for £49 on pay-as-you-go. Instead, the Vegas goes for a budget-chic approach, with a compact design based around a small, 2.4in, 320 x 240 touchscreen.
All that cash-squeezing is reflected in a modest features rundown. The Vegas covers the essentials for an entry-level handset - music player, FM radio and camera – but offers none of the punch that some might crave in a touchscreen phone. There's no 3G, for instance, and the camera is a low-grade 1.3Mp job.
The Vegas isn't only the cheapest touchscreen phone in town, it's also the smallest and lightest to hit the UK, measuring in at 93 x 53 x 16 and weighing 84g. Bucking the current trend, its compact design – built by Chinese handset maker ZTE – is less like a mini-iPhone and more like a shrunken Windows Mobile device.
Available in either black and edged in chrome, it's attractive enough for a budget phone, and feels solid in-hand. It's also available in pink.
While the Orange Vegas is touchscreen-based, its physical controls offer users an alternative, more conventional way of navigating their way around the phone's functions. For the most part, many of the menus and features can be accessed and operated without having to press at the touchscreen at all – although without a physical numberpad, texting and dialing do depend on on-screen tapping.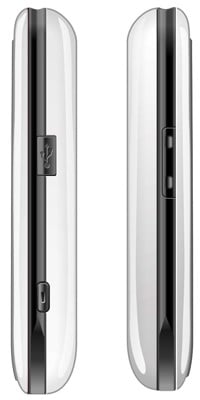 The mini USB port takes the earphones too
There's little in the menu navigation set-up to throw newcomers. The Vegas has its own proprietary OS and UI, which aren't particularly sophisticated or confusing. For long menu lists, like contacts, you can easily scroll down with a finger stroke, or tap in text to search. It's far from iPhone-slick, but it does the job functionally.
There's a bit of swipe action as well as simple screen pressing. The automatic homescreen lock can be opened with a sideways swipe and the main menu can be engaged with a vertical finger stroke. You can press menu keys to achieve the same results.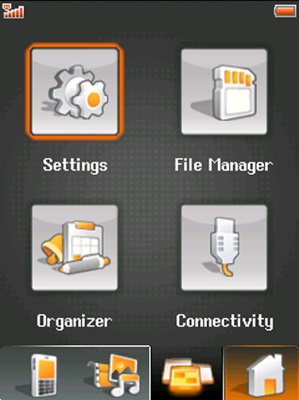 The UI's almost as easily controlled from the buttons as the touchscreen
Swiping across the clock at the top of the homescreen opens up a bank of eight shortcut icons. Four of these are already set, although all eight can be re-defined in the menus, as can the four navpad shortcuts.
There's haptic feedback to confirm that some screen presses have been activated, but not all. This can be a bit disconcerting. With menu lists, for example, you don't get feedback. As this touch UI isn't the quickest to respond, you can find yourself momentarily wondering whether you've tapped correctly.
Dialling a new number requires a simple press on one of the homescreen icons to bring up the numberpad. Keys are reasonably sized, though we found our fingers straying onto adjacent keys. One way to avoid this is to use the telescopic stylus slotted into the back panel.
This provides a more reliable way to select some options on the small display and especially for SMS. Fast texting is often troublesome on touchscreen phones, and the Vegas is no exception. Again, you have to be very careful with your letter-pressing, and the larger-fingered may find it tricky to use without a stylus. The predictive word-selection system may also be unappealing. It only adds words to the main body text when you've selected from the options offered in a bar beneath. It works, but it's still not as simple or fluid as the most other phones make it.
A Qwerty keyboard is available, though the character keys are absolutely tiny – the stylus is most definitely required. Alternatively, there's a handwriting recognition option for text input.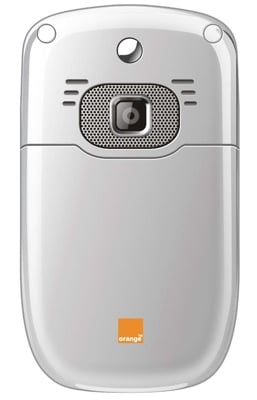 The camera's mediocre
Among the selection of regular phone features at users' fingertips, the Vegas's music player is somewhat disappointing. Its control interface looks attractive, but the music content menu is pretty basic, listing tracks in rudimentary order without the usual category headings. And if you want to listen to tunes on the phone, adding a memory card is essential. Orange claims that this phone has 64MB of memory, but our review sample had only around 0.5MB of free available user storage – not enough for a single MP3 track, and barely enough to hold a handful of pictures. The Vegas supports Micro SD cards of up to 4GB capacity, though one isn't supplied.
The bundled low-quality earphones plug into a mini USB connector on the side, rather than a standard 3.5mm headphone socket. Sound quality isn't great, lacking clarity, depth and bass.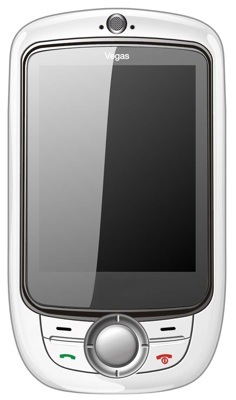 Viva the Vegas?
Imaging isn't a strong suit for the Vegas, either. Its 1.3Mp camera has no autofocus system or flash, making it only suitable for snap-and-send shots. The camera fires up in one or two seconds, and is very slow at capturing and processing images, taking several seconds after you click the shutter to record shots. This can result in blurred photos, and is frustrating.
The Vegas's camera also does video shooting, though its quality is poor. It captures footage at maximum 176 x 144 and 7f/s, so playback is ropey and jerky-looking.
Orange is hoping the Vegas will appeal to users of social media, by offering the Vegas on a Dolphin pay as you go deal which includes free access to sites such as Facebook, Bebo and MySpace via the Orange World portal. But with only a GPRS connection, the Vegas offers a pedestrian browsing experience.
Thankfully, the Vegas offers a reliable, no-nonsense voice-call performance. Battery life isn't so impressive, however. Orange estimates the phone can deliver up to three hours of talktime or up to seven days on standby, both low for a device that doesn't do 3G. In our tests, we regularly managed over two days between charges, albeit without working the music player too hard.
Verdict
For touchscreens, the Vegas is the cheapest game in town, and with touch control the hottest mobile must-have, there's bound to be interest from bargain-hunting buyers. The handset's attractively compact and mostly simple enough to use.
But the touchscreen adds little additional usability or practical functionality over and above what you get from an average low-cost handset. ®
More Budget Mobile Reviews...
| | | | |
| --- | --- | --- | --- |
| HTC Touch Viva | Doro PhoneEasy 345gsm | Nokia 6600 Fold | Sony Ericsson Cyber-shot C510 |