Original URL: https://www.theregister.co.uk/2009/06/07/bezel_blaster/
RadTech's iPhone lust revival kit
Don't replace. Refinish its face
Posted in Personal Tech, 7th June 2009 21:14 GMT
With the next-generation iPhone - the iPhone Video? - a near certainty to be revealed on Monday at Apple's Worldwide Developers Conference, millions of iPhone 3G owners will stare longingly at their scuffed-up Apple smartphones and lust after a bright, shiny new model.
To the rescue comes veteran accessorizer RadTech. With the help of this Earth City, Missouri company, you can revive your dear ol' pocket pal, restoring it to its original glossy greatness.
And it'll only cost you eight bucks.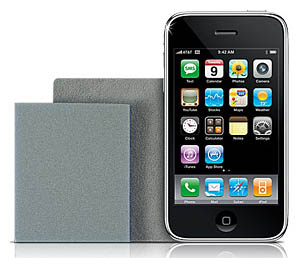 This time machine is powered by elbow grease
The rejuvenating secret is RadTech's new and marvelously named Bezel Blaster, a reincarnation kit that consists of a reuseable 1500-grit refinishing pad and an Optex polishing cloth that's as smooth and soft as a baby's bottom.
According to RadTech, Bezel Blaster will return your "moderately scuffed and scratched" iPhone to its original loveliness in a mere two minutes.
Would that all of our faded infatuations could be so easily reinvigorated. ®