Original URL: https://www.theregister.co.uk/2009/06/05/up_and_coming_celeb/
Home and Away star in 'Lewinsky' moment
Captured for posterity on mobile phone
Posted in Bootnotes, 5th June 2009 10:17 GMT
The Oz TV world is reeling today after Home and Away star Lincoln Lewis admitted filming a sex vid on his mobile phone and then showing the amateur grumble flick to fellow cast and crew members.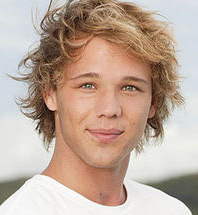 The offending footage was apparently grabbed last year and involved the active participation of a "teenage TV starlet", as the Herald Sun discreetly puts it.
The exact nature of her contribution to the video is not noted, but Lewis's mum Jacqui suggested her son may have enjoyed a White House intern moment when she thundered: "He is an adult and he was an adult when he was doing this. She must have said she was willing, to do it.
"I think as a female, I wouldn't be doing any of that because do you know what? Females keep things. Have a look at Monica Lewinsky, she kept the dress. You've got to get smart."
Lewis lamented: "You do stupid things when you are young. But you learn from your mistakes, that's part of growing up. This mistake, and what I have learnt, will contribute a lot to making me a better person in the future."
Lewis is about to participate in Channel 7's Dancing With The Stars. The network has disciplined their young up-and-coming celeb, but programming director Tim Worner insisted it would stand by him.
He said: "Lincoln is a young man of tremendous character. He acknowledges and can accept and take responsibility when he has made a mistake, and regrets the event which transpired over a year ago." ®
Bootnote
You can forget trawling the net for the footage. Lincoln's mum confirmed it had been deleted.