Original URL: http://www.theregister.co.uk/2009/06/05/review_notebook_hp_pavillion_dv2/
HP Pavillion dv2 AMD Neo notebook
Thin'n'light laptop CPU takes on the netbooks
Posted in Personal Tech, 5th June 2009 16:51 GMT
Review The first Asus Eee PC was only released a little over 18 months ago, but given the sheer number of Small, Cheap(ish) Computers on the market you could be forgiven for thinking it had been around for much longer.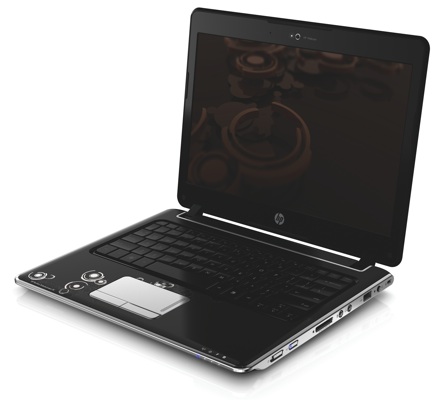 HP's Pavillion dv2: AMD's Neo - not Intel's Atom - inside
With the Eee PC and its clones occupying the entry level, if you want something small and portable but with a bit more oomph, then you're venturing into expensive sub-notebook territory. There's very little in the middle, which is where the HP Pavilion dv2 comes in.
It's the first machine to use AMD's Athlon Neo processor, which was designed with thin, light laptops in mind but also with a careful eye on the price tag as well.
Three flavours of the dv2 are available. The entry-level dv2-1010ea comes in at £499, followed by the dv2-1030ea, reviewed here, for £599 and the top-of-the-range dv2-1035ea, which will set you back £699. They're all powered by the same 1.6GHz Athlon Neo MV-40 chip but pack 1GB, 2GB and 4GB of memory, and 160GB, 320GB and 500GB of hard drive storage, respectively.
The entry-level model is equipped with AMD's own ATI Radeon X1250 graphics chip and runs Windows Vista Home Basic, while the more expensive models come with more graphical grunt - an ATI Mobility Radeon HD 3410 - and are pre-loaded with Vista Home Premium. The latter two gain an HDMI port although, somewhat strangely, the most expensive machine loses the Bluetooth capability seen on its cheaper siblings.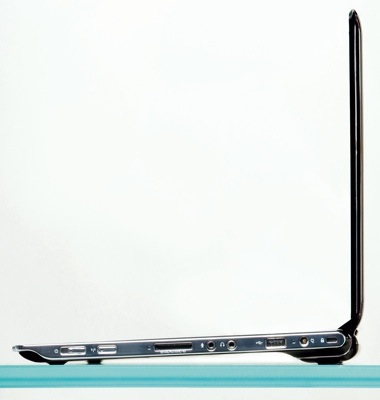 Not quite Air thin, but not far off
It's all wrapped up in a case with a 292 x 240mm footprint that measures 24mm at the front, rising to 33mm at the rear, and weighs in at 1.7kg. That's not quite MacBook Air thin and light, but it's not a million miles off.
Unlike the cheaper netbooks available, which are more functional in their design ethic rather than stylish, HP has put some effort into the dv2 and turned out a very nice looking machine.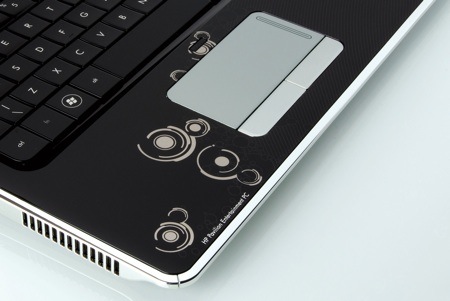 Oh, for a bigger touchpad
The extra space available means there's room for a big keyboard, which doesn't feel overly cramped to type on. The touchpad is also a decent width, although it would benefit form being a bit taller, which would bring the added advantage of pushing the buttons onto the bottom edge of the machine, making them easier to locate without looking.
On the left of the machine you'll find Ethernet, VGA, HDMI and two USB ports. Over on the opposite side sit power input, one USB port, headphone and microphone jacks, a memory card reader (SD, MMC, Memory Stick, xD), a wireless switch and a power button.
The screen stretches to 12.1in - although if the surrounding border was a bit thinner there'd probably room to squeeze in a 13in model - and the resolution runs to a 720p friendly 1280 x 800. The glossy finish provides vibrant colours, but at the expense of increased reflectivity. Above the display sits a webcam.
Like all the netbooks out there, there's no optical drive here, but HP has put an external USB Lightscribe DVD writer in the box so it's there if you need it.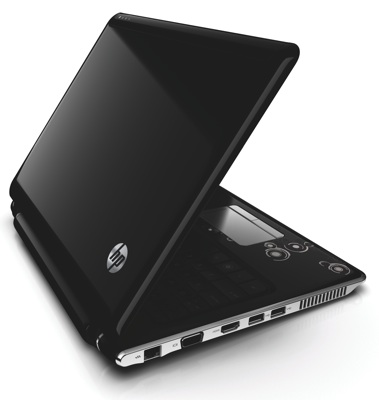 Standard netbook port array
Despite its relatively slow processor, the promotional material mentions the dv2 supports Blu-ray playback using a second, optional external drive. Like the Asus Eee Box B206, however, this support for HD material comes not from pure processor grunt but from the graphics chip thanks to DirectX Video Acceleration (DXVA) which can be tricky to harness at times.
In order to get it all working, the software needs to be specifically DXVA compatible, otherwise you're simply relying on the might of the processor. Using the excellent open source VLC, which doesn't support DXVA, saw minor dropped frames when playing back 720p material and a stuttering mess when we switched up to 1080p.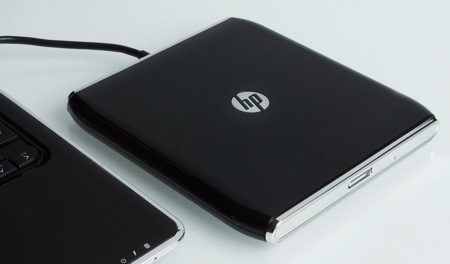 External DVD writer comes bundled
Media Player Classic Home Cinema (MPC-HC), which includes experimental support for DXVA, saw perfect 720p playback but it still struggled when faced with 1080p content. We also tried streaming content from BBC iPlayer which resulted in decent playback of standard definition material, but it wasn't up to the job of high definition.
3DMark06 Results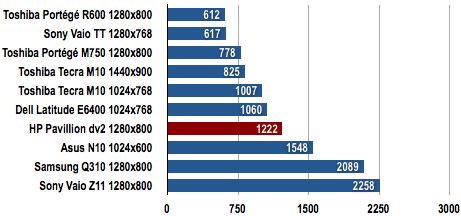 Longer bars are better
Battery Life Results
Notebook-centric PCMark05 Test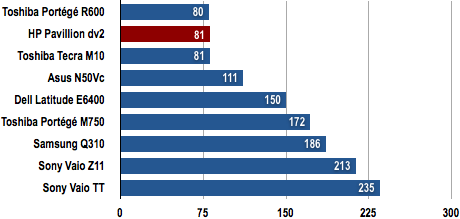 Battery Life in Minutes
Longer bars are better
Netbook-centric Video Playback Test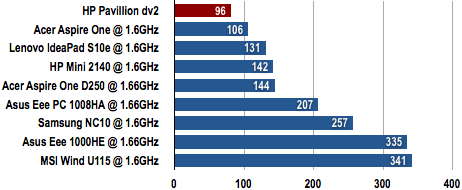 Battery Life in Minutes
Longer bars are better
PCMark05 Results
CPU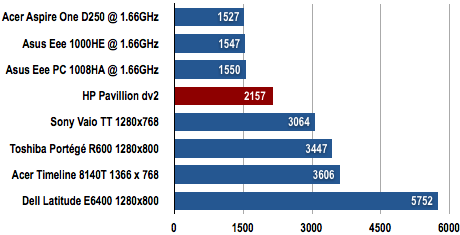 Longer bars are better
Memory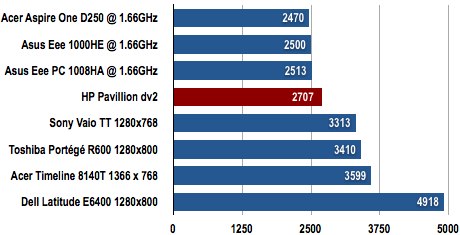 Longer bars are better
HDD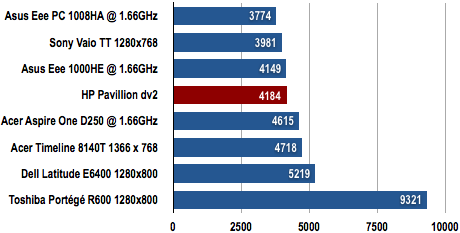 Longer bars are better
Graphics

Longer bars are better
Overall

Longer bars are better
Note: PCMark05 doesn't generate a Graphics results on netbooks' 1024 x 600 native resolution and so does not provide an Overall figure, either.
HP no doubt has all the necessary software pieces in place to enable Blu-ray playback without a glitch, although we weren't able to test it as the review unit was only supplied with a DVD drive. Just because it can play Blu-ray, however, doesn't mean you can expect it to stretch to other HD formats as well, due to the complexities of DXVA.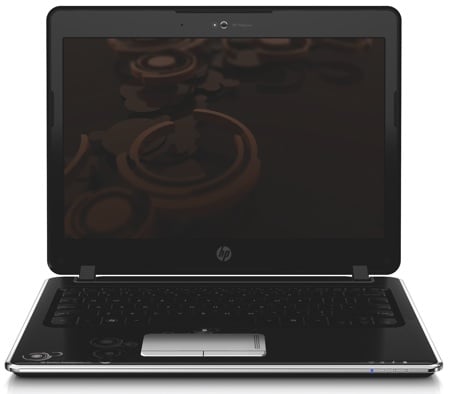 More stylish than most netbooks
As the dv2 has a bigger screen resolution than most netbooks, we could run the full PCMark05 test, resulting in an overall score of 2257. Its CPU and Memory scores were significantly better than most netbooks we've seen - around one and half times better when it comes to CPU performance. While it has the edge over the netbooks, though, it's still significantly slower than an Intel Core 2 equipped laptop.
Running our standard netbook GIMP Gaussian blur test it showed a slight improvement at 3.8 seconds compared to around 5 seconds for most netbooks.
Switching to battery life, however, the test results were far less impressive. In our standard netbook test, which involves playing a standard definition H.264 video on a loop until the battery gives up, it only managed to hold out for 96 minutes. Our standard laptop test of running PCMark05 on a loop was even more short lived - just 81 minutes. Both these are extreme tests, so you could probably expect around three hours of more moderate use, but they're nonetheless disappointing.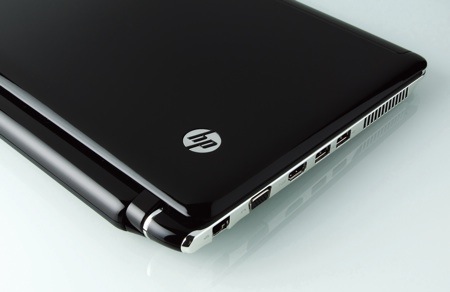 Disappointing battery life for a laptop
While the dv2 has more processing power than most netbooks, it's worth noting that it can run pretty hot when stressed. It doesn't take much before the fan kicks in and you wouldn't want it on your laptop for too long when it's doing some serious number crunching.
Verdict
For its £599 price tag, the dv2 offers a decent compromise between performance and affordability. It's also much more stylish than many machines at this price. It doesn't have the raw performance of a fully-fledged laptop, but it packs more punch than most netbooks and comes with a larger screen and keyboard to boot, although its battery life is lacking. ®
More Thin'n'Light Laptop Reviews...
| | | | |
| --- | --- | --- | --- |
| Acer Timeline 4810T | Toshiba Portégé R600 | Apple MacBook Air | Asus Eee PC 1008HA Seashell |