Original URL: https://www.theregister.co.uk/2009/06/05/review_hd_tv_pioneer_kuro_krl_37v/
Pioneer Kuro KRL-37V LCD TV
LCD with with plasma pretensions
Posted in Personal Tech, 5th June 2009 08:02 GMT
Review Pioneer makes great plasma TVs featuring the deep blacks and impressively high contrast that this technology offers. For years the company's mantra was akin to 'Plasma good, LCD bad'. So it was a surprise last year when Pioneer announced it would be making LCD screens. Like the plasma models, these screens are called Kuro. The word is Japanese for black and the brand is synonymous with high-contrast, high-priced, high-performance screens.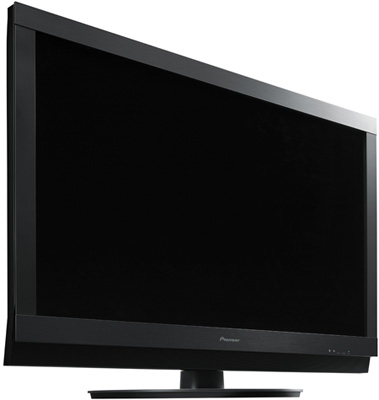 Black is black: Pioneer's Kuro KRL-37V
The thinking behind LCD sets, Pioneer explained, was the opportunity to make smaller screens – a place where plasma cannot easily go. After all, you'd be hard-pressed to find a Pioneer plasma smaller than 50 inches, and not everyone has room for that or its 60in sibling. So, by utilising the high-contrast filter used on its plasma models, Pioneer claims this new Kuro range affords deeper blacks than previously seen on LCDs.
The Kuro KRL-37V is one of the first LCD TVs from Pioneer, with a panel made in conjunction with Sharp. Before we even get to look at the screen, there's a nice-if-tiny detail to enjoy. As you unpack the TV, the screen stand is packed separately in protective foam. You need to assemble this and the cute detail is that Pioneer supplies a long-bladed screwdriver to make this a simple matter. Thoughtful.
Once assembled, the screen looks smart but perhaps not outstanding. Although the brushed aluminium is classy and outguns the ubiquitous high-gloss black plastic of many rivals, its finish may be too subtle to be immediately eye-catching. No big speakers to bulge the frame, thank goodness, but hardly the fetching slimmer bezel of Toshiba's PictureFrame TVs either.
Setup is simple enough – though as you plug in your Sky+ HD box, Blu-ray player and PS3 you'll notice you've just used up all the HDMI sockets. For the price premium this set commands, a fourth socket on the side of the TV would have been expected, but no, three's your lot. Otherwise, the interfacing is standard: component, composite and so on are all here.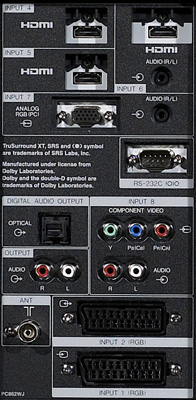 Socket central, but only three HDMI connectors
The satisfyingly heavy, classily built remote control is covered in tiny well-labelled buttons and is enjoyable to use, but here's no backlight, which is a shame. Press the power button and an onscreen menu leaps into view to choose language and locale. TV tuning of digital stations commences – showing a highly detailed display listing every station's frequency – before putting the channels in order.
Then you have merely to finesse sound and vision to your liking. Sound appears to just mean Surround Sound on or off. The Surround Sound effect was rather echoey and best left off except for extreme blockbuster movies.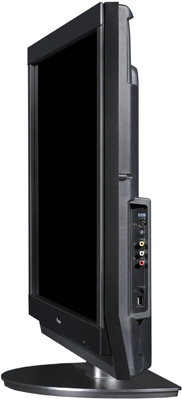 Sideshow: additional interfacing for camcorders and the like
Picture manipulation is not much more complicated and the factory default settings are pretty good. And the picture, let's be clear, is darned impressive. No pasty greys from an over-dominant backlight, with colours muted into pastel versions. The contrast is deeply impressive, the blacks are much stronger than on most LCDs and Pioneer has matched the film-like quality its plasmas excel at. Is it as good as plasma at deep, rich blacks with details leaping out of shadows? No, but it's certainly better than most other LCD screens.
The Pioneer filter on the front of the screen is remarkably successful. This TV is a trifle more reflective than regular LCD screens, which takes getting used to, but it imbues everything with a cinematic sheen. The KRL-37V also has an ambience monitor which adjusts the brightness of the backlight according to the light in the room, which helps with the cinema feel. The 100Hz refresh rate also smoothes the picture.
This is a Full HD panel so, as you'd hope, it's especially strong with HD content. In an episode of Lost on Sky 1 HD, the lush jungle shone out appealingly, while gushing flames in the ancient undercover lair – we'll avoid spoiling too much for those waiting for the DVD – were glossy, but persuasive. Since a lot of HD drama is shot with little or no make-up for the men, it's there we need to look for detail. Skin tones, from Jack Shephard's blood-blotched complexion to Locke's sweaty permatan were convincing.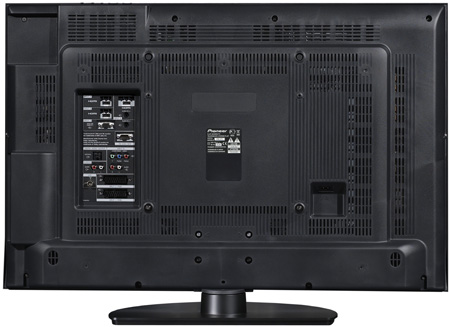 Base concerns: free screwdriver with every set
Older footage such as Mary Poppins on Disney Cinemagic HD had that reassuring Technicolor warmth we recall from childhood, with great sharpness and detail even down to Dick Van Dyke's sooty chimney-sweep clothing.
As always, the real test of an HD panel is its response to standard definition signals and the Pioneer does well. Britain's Got Talent had the right gaudy brashness, Ant and Dec's suits showing up as the most tasteful part of the evening. US ad-exec drama Mad Men gleamed with suitably retro colours and rich skin tones and bright-coloured lips – even on the men.

A reassuringly robust remote
However, there are some motion blur issues. Not consistently and not fatally, but some fast moving action wasn't as sharp and well-defined as it should have been. On a lower-priced set this would have been grudgingly acceptable, but the KRL-37V is really not cheap. Even though you can find it online for around £900 – substantially less than the suggested £1,300 – it's still more than you need to spend for a screen this size. A basic HD-ready screen from a big name can cost less than £500, with Full HD only £100 more.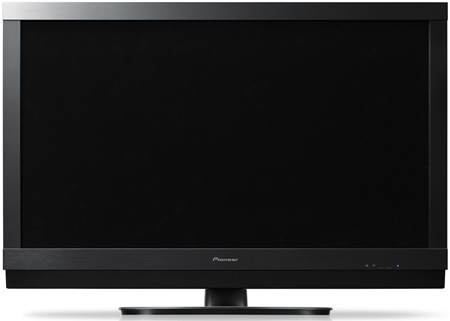 Image conscious: what price this picture?
On the other hand, you just won't find detail, depth and blackness to match this set on other LCDs. True, the latest LED screens have exceptional contrast for the technology, but none has yet obliterated the halo effect entirely. Undoubtedly, the Pioneer front filter works wonders, that other TVs don't.
Verdict
If you want to save money, there are plenty of ways to do so – maybe opt for a less discreet screen frame or make do with HD-ready instead of Full HD. As the price goes down, you'll have to compromise on contrast and colour richness too. Moreover, with a flatpanel, the picture quality can owe an awful lot to the image processing, and the high achievers in this respect are the big name manufacturers. Pioneer is showing ingenuity with its exceptional high-contrast front filter and while the picture is enough to command a price premium, whether it's strong enough to justify this much extra money, is a grey area. ®
More HD TV Reviews...

Sony Bravia
KDL-37S5500

LG 42LF7700
Freesat TV

Philips Ambilight
42PFL9803H/10

Samsung
LE40A786