Original URL: https://www.theregister.co.uk/2009/06/04/bing_review/
Microsoft's Bing feeds you, tries to keep you captive
Fully featured Google inertia beater?
Posted in Policy, 4th June 2009 04:51 GMT
Review Considering the amount of time, money and effort that's gone into Bing, Microsoft's made some truly odd decisions in connection with its new search engine.
Never mind the odd name. Did Microsoft really not foresee that Bing could be used as a handy way to side-step porn filters? And was it really necessary to bolster Wikipedia's position as the web's number-one source of truthiness?
But the real question is: How does Bing rate as a search engine? Search has been one of Microsoft's biggest failures. The company has just 5.5 per cent market share compared to Google's 81.5 per cent, even though Internet Explorer remains the most popular browser and defaults to Live Search.
Bing is the latest attempt to win back some users. It is not just a rebranding exercise. Although the core Live Search index remains the same, Microsoft has introduced a new way of categorizing results that affects the ranking of results as well as new features in the user interface.
Microsoft is rolling out Bing gradually. The US gets the full Bing experience now, but most of the world does not. In the UK, for example, Bing is in beta. "We've been announcing our brand," explains UK product manager Marie Thirlwall, "but we are not releasing the whole categorized experience. That will be a beta for the next six to nine months."
This review is based mainly on the US Bing, which Microsoft says is feature complete.
Whereas Live Search seemed to imitate Google's sparse home page, Bing tries to be different. It sports a background image with rollover hotspots, and currently changes daily. Gimmicky, but at least users will realise that Bing is not Google.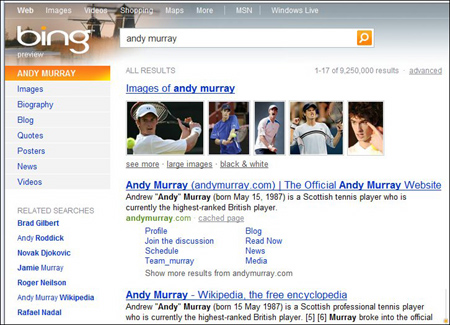 Searching for tennis pro Andy Murray returns a menu of categories to refine your results
The real change comes when you perform a search. If you happen to choose a Bing-optimised subject, such as the name of a celebrity, you get results sorted by category, along with a menu at the left that lets you refine your search with topics such as Images, Biography, Quotes and News. Search for a product such as an iPod, and you get categories including Shopping, Types, Buying Guide and Reviews. Microsoft calls these Web Groups, and although they only cover a small subset of possible searches, they are a key Bing concept that will be extended in future.
Microsoft calls Bing a decision engine. Why? "That's our goal of not just providing links but helping you solve the key task that you're trying to do," says Program Manager Nathan Buggia. "That's the whole point behind the categorised search, the instant answers, and a lot of other features."
Instant answers is a feature that aims to resolve your question without needing to leave Bing. Type "London weather", for example, and you get a summary of weather in London now and for the next five days.
Another Bing feature, Best Match, shows up when you perform a search with a highly predictable result. Type a company name, and it is a fair bet that you are looking for its official web site. Best Match shows this at the top of the results, with deep links into common destinations on that site, a telephone number, and sometimes a search box that likes to the search engine on the site itself.
Money searches
Many of Bing's best features are reserved for users who look as if they might spend money. Search for "New York restaurant", for example, and you get an instant answer listing. Click Local, and you can sort by rating, price, cuisine and more. Click a restaurant name, and you get ratings in numerous categories, reviews, map, opening hours and telephone number, all without leaving Bing. Other areas of special focus are shopping and travel. Ratings and reviews are not derived from the whole web, but only from a few trusted partners and aggregators.
One feature common to all Bing results lists, even in the UK, is a quick preview that appears on mouse rollover, which makes it easier to tell whether the link is worth clicking. Preview is also used to good effect in video results, even if there are unfortunate side effects when it comes to porn - seriously, didn't anybody inside Microsoft see that one coming? Preview plays for 30 seconds in thumbnails within the page.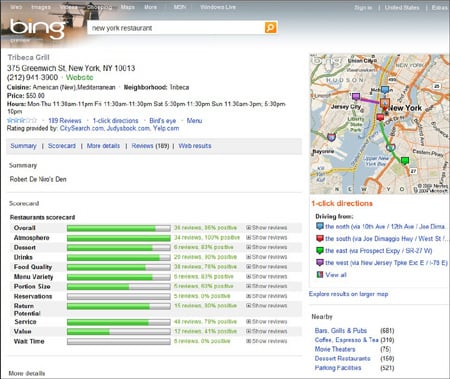 Restaurant searches pull back contact details, ratings, reviews and directions
You can also play the entire video within the top half of the Bing result page. Webmasters can apparently disallow these preview features if they would rather users came to their own site immediately, and it will not be a surprise if many of them do just that. Google might not welcome users enjoying the full range of YouTube videos without leaving Bing.
Returning to the original question, how good is Bing? I tried around a dozen searches and compared Bing's results to those in Google. Most results seemed about equal in quality, though I preferred Google in a couple of cases. That said, Bing's site preview helped greatly in checking out the links without navigating away from the page. It seems a substantial improvement over the old Live Search, and a credible alternative to the market leader.
Like every search engine, Bing can get the user's intent spectacularly wrong at times. Bing has a mobile version, m.bing.com, on which I searched for Windows Mobile. At the top of the results were glass companies in the city of Mobile in the US state of Alabama.
Bing's biggest problem is that Google is more than good enough, and most users will not bother to switch. Further, Google experts will know that it already has features that match some of what Bing does, like best match site summaries, an options pane, and a related search pane.
Google does the same trick with weather searches as Bing while Web Groups in Bing are to a large extent related searches in disguise. And, if Bing does take off then its tendency to keep users on the search page, driving fewer hits to the source sites, will not be popular with publishers or sites that rely on clicks for money.
Still, Bing surpasses expectations and its preview feature is actually useful. Overall, surprisingly good.®