Original URL: https://www.theregister.co.uk/2009/06/03/reviews_mouse_mice_roundup/
12 of the best... mice
Rodent wars
Posted in Personal Tech, 3rd June 2009 12:30 GMT
Round-up Mice are probably the most common peripheral in the computing world and any old one should perform the basic function required of it with a reasonable degree of competency. But which is the best? Which takes the concept of the mouse just that little bit further and pushes the proverbial envelope? Which indulges in a spot blue cheese thinking? Which sticks its tongue out at convention? Which is just plain cool? Or odd? To find out Reg Hardware has got hold of half a pound of metaphorical cheddar and is away behind the technical skirting board to track down a dozen of the best in the great mouse hunt.
3Dconnexion Space Navigator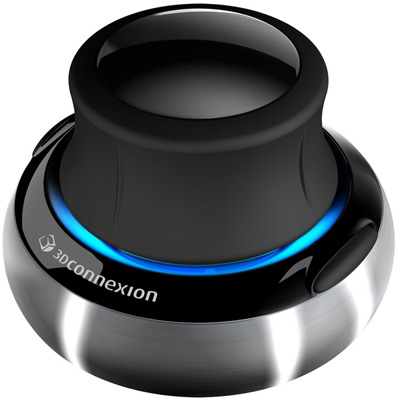 The Space Navigator is not actually a mouse, but rather a 3D navigation aid aimed at artists, designers and folk who spend a lot of time nose-to-nose with CAD software. Admittedly, it should be used in conjunction with a conventional mouse; the idea being the right hand uses a mouse for mousy stuff, while the left operates the Space Navigator to manipulate images and models in 3D. The half kilogram device – it needs to be heavy so it stays put when you pull 'up' on the controller – comes with a very comprehensive set-up wizard so you can optimise it to your personal needs and tastes. It works with over 100 programmes including Google World, SketchUp and Photoshop and, while it takes some getting used to, after a little practice you will zipping around the globe and spinning your models with gay abandon and wondering how you ever got by without one. Fortunately, 3Dconnexion supply drivers for Windows, Mac and Linux.
Reg Rating 85%
Price £50 Click for the best online price
More Info 3Dconnexion
MoGo Mouse X54 Pro Bluetooth Mouse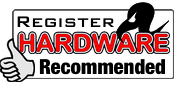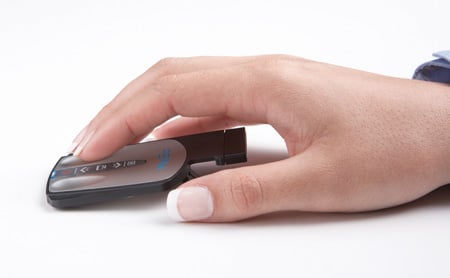 The MoGo's ace in the hole is that it lives and charges in your laptop's ExpressCard/54 slot. When in the slot barely 3mm of the mouse protrudes so you can leave it there without fear of damaging it or your laptop. Connection is via Bluetooth so once paired all you have to do is pull it out of the slot, fold down the rear support and you are good to go. For something so slim the MoGo proved remarkably easy and comfortable to use even over lengthy periods of time. The Pro doubles up as a presenter controller complete with built-in laser pointer but is also available in a media optimised version with the Pro's presenter controls replaced by basic media buttons that will run iTunes, WMP and other popular media players. A full charge will keep the MoGo running for around 8 hours, which isn't at all bad, nor is the 30 minute charge time.
Reg Rating 90%
Price £27 Click for the best online price
More Info MoGo
Logitech TrackMan Wheel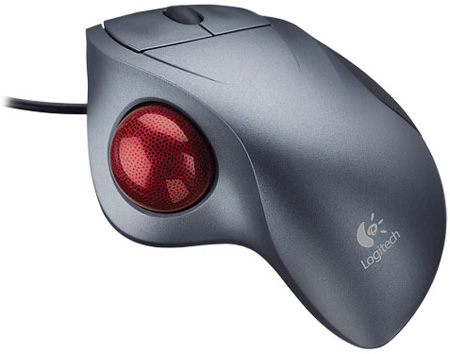 Available in both cordless and wired form Logitech's trackball sits along side the Microsoft Navigator as a near definitive exemplar of the breed – providing you use your right hand of course. The thumb ball itself is perfectly sized, while the sculpted body should fit comfortably into nine out of ten hands. What separates the Logitech from other trackballs we have used is the greater degree of freedom in the ball movement and its tendency not to accumulate organic detritus in the socket. A well thought out and well made device that does exactly what it says on the box. As a bit of kit that has been in constant use here at Vulture Central for several months, we can testify, first hand, to both its durability and reliability.
Reg Rating 90%
Price £40 Click for the best online price
More Info Logitech
Belkin Washable Mouse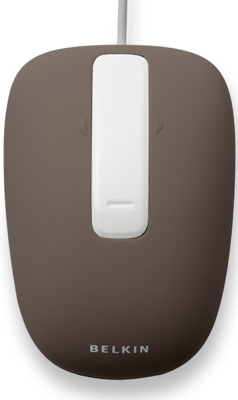 Even those with Howard Hughes-like levels of personal hygiene sometimes recoil in horror from the organic gunk that accumulates in the nooks and crannies of their mice and trackballs. For the mysophobic amongst you, Belkin has come up with the washable mouse. The upper surface of the mouse is coated in a thin sheet of brown rubberised plastic which covers the left and right click buttons and has a white touch sensitive scroll bar seamlessly stuck to it. So, no nasty crevices for sweat and grime to find a home in. The rubber cover feels a little unusual to the touch, but not unpleasant and has the added benefit of damping the click function making the Washable rather agreeable to use. Belkin stresses the Washable is not dishwasher or washing machine proof . Washable, in this instance, means a rinse under the tap with some soapy water.
Reg Rating 75%
Price £20 Click for the best online price
More Info Belkin
Microsoft Explorer Wireless Mouse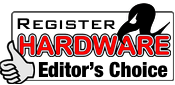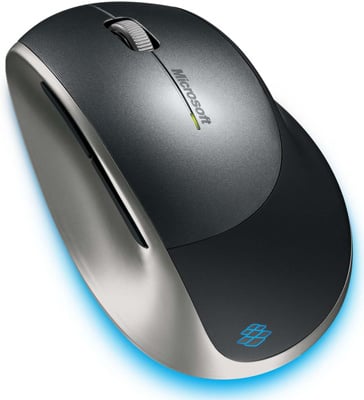 The daddy of conventional mice that comes with something called BlueTrack that enables it function on just about any surface irrespective of texture, colour or albedo. Whatever the science behind BlueTrack's blue laser, it works. We tried in on a shiny white desktop that usually puts the kibosh on any laser mouse and it performed faultlessly. Power comes from a rechargeable AA battery, which can be replaced by a normal cell if circumstances dictate and you get two programmable function buttons. Though of no practical use, the base glows a lovely blue when you turn it on. In fact, we rather wish we could have had the blue glow on all the time, reduced battery life not withstanding. The scroll wheel could do with standing a little more proud of the device in order to make moving left and right across documents easier and the USB dongle doesn't lie flush when clipped into the underside of the mouse for storage – and that's the only way of turning the mouse off – but, ultimately, these are peripheral grumblings. Microsoft also supplies a mains charger, so you can top up the battery without having to turn your computer on.
Reg Rating 95%
Price £43 Click for the best online price
More Info Microsoft
Gyration E3900 Air Mouse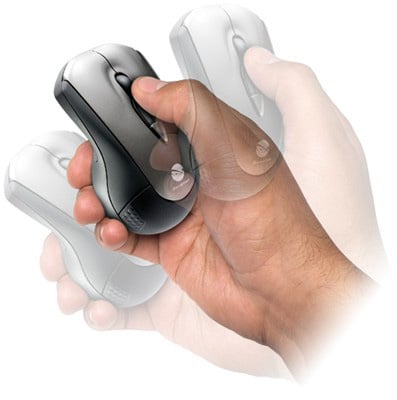 Appearing as a conventional wireless mouse, the Air actually lets you navigate by waving it around in the air like Micky Mouse's wand in the famous bit from Fantasia. A hold down trigger on the bottom of the mouse activates the 'In-Air' function – release the trigger and the Air reverts to being a normal wireless laser mouse. Using the Air does require some practice but once you have developed the knack of keeping your arm still and letting your wrist do the work, it becomes very easy to move the cursor quickly and position it accurately even on an small 8.9" netbook screen. For Window's users, numerous individual profiles interpreting different sets of shake and swipe gestures can be configured as commands to initiate literally dozens of actions including launching a specific file, opening a virtual keyboard or managing Windows Media Centre. Kick back in your armchair and use the Air with a media PC running on your wide screen telly and you will wonder how you ever managed without it.
Reg Rating 85%
Price £75 Click for the best online price
More Info Gyration
Kensington SlimBlade Trackball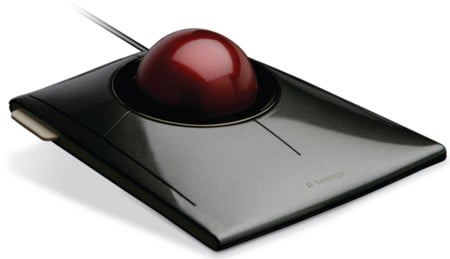 The first thing that will strike you about the SlimBlade is the enormous size of its ball - with a 55mm diameter it's about the same size as a snooker ball and not far off the same weight. Being so big and heavy it 'rests on' rather the 'clips into' the base which, in itself, is on the large size – 150x135mm at its widest. The left and right click buttons are actually the two large areas behind the ball. With the Windows or Mac software installed, the forward left button activates Media mode while the forward right button puts it into Document View mode. A handy on-screen icon flashes up to let you know which mode the Slimblade is in. As the keen-eyed of you will have noticed, the SlimBlade lacks a scroll wheel. To scroll up and down pages you have to twist the trackball to the left or right, an operation made rather satisfying by a pleasant 'click' action. Not cheap at almost £100 but you do get a lot of mouse for your money.
Reg Rating 80%
Price £100 Click for the best online price
More Info Kensington
3M Ergonomic Mouse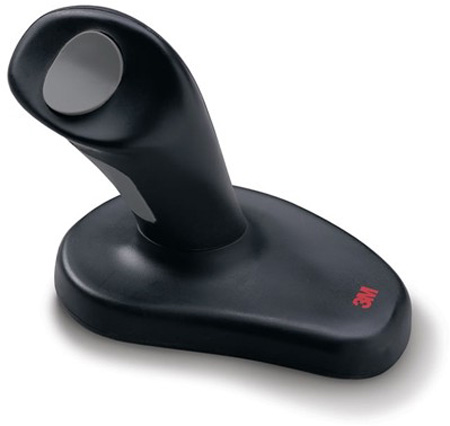 Though 3M's mouse may look like a joystick it isn't. You hold it like a good old fashioned gaming control but, to make it work, you have to push it around as you would a conventional mouse. This feels a little strange at first because you have to you use your arm rather than wrist, but that's the whole point. 3M has a specific aim in with this model; to prevent RSI and carpal tunnel syndrome in very heavy duty users. Left and right click buttons are replaced by controls on the top of the stick and next to the finger rest, which both fall naturally to hand after a short while. Available in both small/medium and large sizes, the 3M may not be a beauty but it's a solid recommendation for anyone whose mouse usage goes beyond the usual domestic levels.
Reg Rating 85%
Price £60 Click for the best online price
More Info 3M
Targus Rechargeable Wireless Mouse With 3-port USB Hub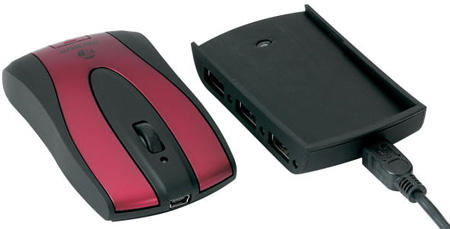 You don't have to listen to too many MacBook Air users moan about their paltry, single USB port to see where Targus are coming from with its combined mouse and USB hub. Rather than labour the problem, Targus has opted for simplicity. This basic but perfectly serviceable mouse connects wirelessly to the USB hub, which, in turn, plugs into the USB port of the computer. To charge the removable AA battery while in use, simply hook up the mouse to the hub using the second USB cable Targus thoughtfully provides. When not in use the USB hub and mouse slot together to form one easily pocketable item. Not rocket science, but still a well thought out device that should find more customers as slimline laptops with fewer USB ports become more common.
Reg Rating 85%
Price £25 Click for the best online price
More Info Targus
Raptor Gaming M3 Platinum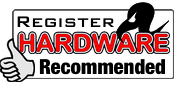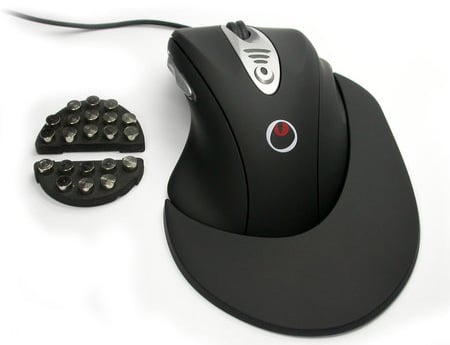 Ah, gaming mice. We've never been wholly convinced that mice optimised for gaming have to be quite so highly specified, but if needs must, then the Raptor M3 is one of the best. With four variable DPI laser settings, weight adjustment between 110g and 155g, six separate exit channels for the USB cable to connect to, plus programmable function buttons, and the M3 is already in a different class. Add to that, the detachable wrist wrest and weight cubby hole covers that can be swapped over to change the size of the contact patch between mouse and mat, plus two nylon cases – one for the mouse and one for the weights. Certainly, you get a lot for your money. The matt body is a nice touch – even after long and sweaty nights on the front lines against the Covenant or the Helghast – it stays firmly in your grip as you leap into the mêlée and generally endure. Not the easiest bit of kit to get hold of in the UK, but worth the effort just so you can say your mouse is called a Raptor.
Reg Rating 90%
Price £75
More Info Raptor
Macally mGlide Wireless Mouse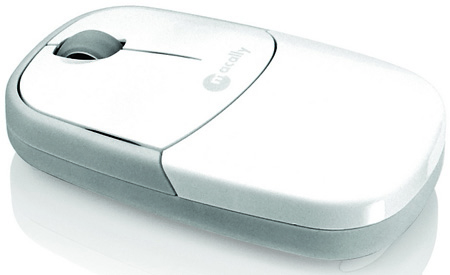 No round-up would be complete without at least one device in Mac-a-like white and Macally's shiny new mGlide fits the bill perfectly. Beyond its sleek and sexy aesthetics, what we really like about the mGlide is its tiny USB dongle for wireless connectivity ¬– it's one of the smallest wireless we have seen – and the way the body slides open to reveal space for two AA batteries and a home for the USB connector. When you clip the dongle into this housing, the mouse automatically switches itself off and comes back to life when you remove it. This strikes us as a pretty effective way of ensuring you don't leave it switched on and don't lose the dongle either. A fully ambidextrous design, all the buttons on the mGlide are programmable for both Mac and Windows users.
Reg Rating 85%
Price €30
More Info Macally
Evoluent VerticalMouse 3 Wireless
Evoluent's VerticalMouse is another design that aims to reduce the risk of RSI, this time by taking the conventional mouse design and turning it on its side rather than on its head. We found the VerticalMouse a little easier to get used to than 3G's Ergonomic Mouse, simply because the buttons were pretty much in the same place – relative to our palm – as on a standard mouse. It's just the angle of the arm that is different. The device itself really is a very comfy fit in the hand and even has a little lip at the bottom to prevent mouse mat burn on the pinky. Although the VerticalMouse comes with five buttons, they are really only of use to Window's users. Plug it into a Mac or Linux box and can only use the normal left and right click buttons. ®
Reg Rating 90%
Price £85 Click for the best online price
More Info Evoluent
More Mouse Reviews...

Hippus
HandshoeMouse

Logitech V550 Nano
wireless laptop mouse

2P Slim-Mouse

Logitech
VX Revolution