Original URL: http://www.theregister.co.uk/2009/06/02/review_storage_network_promise_smartstor_ns4600/
Promise Smartstor NS4600
Stylish storage with server pretensions?
Posted in Personal Tech, 2nd June 2009 12:42 GMT
Review The term Network Attached Storage or NAS seems rather simplistic and doesn't really do justice to a device like Promise's Smartstor NS4600, which comes with four drive bays and a heap of server abilities. Add to this its polished black shell, funky blue lights, built-in power adapter and exquisitely quiet fan, and you've got yourself a living-room-friendly storage behemoth.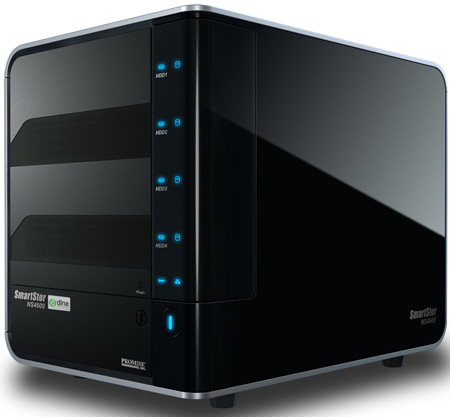 Promise Smartstor NS4600: a quiet beast, but power hungry
The big button on the front of the NS4600 is a one-touch backup button, not the power button as we thought for the first 10 minutes of using (or not using) the NS4600. The power button hides around the back beside a Gigabit Ethernet port, two USB ports and one eSata port for external hard drives.
Opening the front door reveals the four hot-swappable 3.5in bays, each with a simple plastic caddy that is fixed to a drive using four screws. The caddy system makes drive installation a breeze and also does well at dampening hard drive noise. Being a bare bones system, you'll need to supply and instal your own drives.
As well as 256MB DDR2 Ram, the Smartstor NS4600 has Intel's new Tolapai's system on a chip with an integrated Pentium M CPU inside. There's support for 32 simultaneous users and all the usual file sharing protocols: SMB, CIFS, NFS, AFP, plus there are FTP, print and web servers on board – php included, but no MySQL support at present.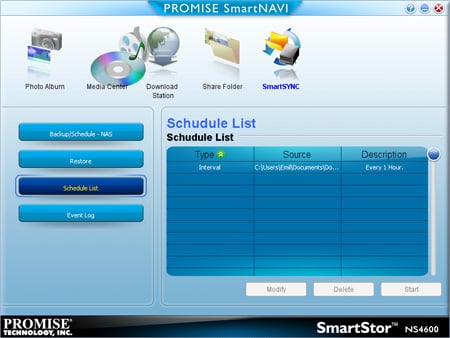 Smartnavi provides controls for both Macs and PCs
Installing Promise's Smartnavi application enables control of most functions from a PC. Among other things, it lets you schedule backups of your PCs and start bittorrent downloads. With the latter, you drag and drop the .torrent file onto a "drop zone" – a small icon that floats on the desktop – to get the NS4600 downloading. SmartNavi also works with Macs and is used to integrate the NS4600 with Apple's Time Machine backup application as well as supporting Bonjour networking to access storage devices and printers.
Firing up a web browser is needed for more in-depth tweaking. The web based interface has a 1990s design, but does display lots of useful information like system temperature – a reasonable 50°C – and SMART hard drive monitoring, while email alerts and Jumbo frames can be also enabled here.
At present, remote file access is achieved by using a DDNS service but, in Q4 of this year, Promise plans to implement a Gatekeeper service so you don't need to know your broadband's IP address or setup a DDNS account. Gatekeeper services make remote access much, much easier but, until now, only Lacie has really committed to a free gatekeeper service on its NAS boxes.
In use, the DLNA support is second to none – it comfortably streamed a 10GB 1080p movie to a Playstation 3 and fast forwarded through content with ease – while Xbox 360 video streaming worked fine for us too. Media can be streamed via iTunes or through a web browser using Promise's Remote Access Media Center, which separates your music, videos and photos into categories for immediate playback. This facility will come into its own when the Gatekeeper comes online; enabling easy access to media across the Internet.
To test file transfer speeds, a 901MB file was copied in Windows Explorer across a D-Link DIR-855 Gigabit router. Jumbo frames were disabled and our 2GHz Core 2 Duo test laptop had a 1GB software Ram disk installed, so the laptop didn't have to access its own drive.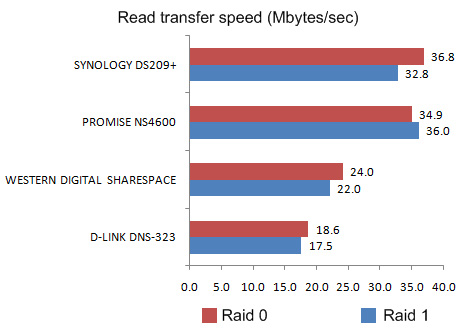 The read transfer speeds are top notch, although Raid 0 should be faster than Raid 1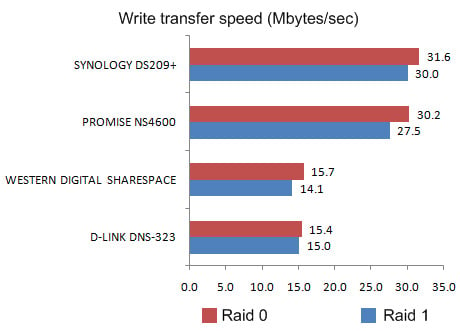 The NS4600's high write speeds can only be achieved with a gigabit router or better
For comparison, we also tested Western Digital's Sharespace, Synology's £400 DS209+ and D-Link's £120 DNS-323. The Sharespace is a direct competitor with the Smartstor NS4600, since it has four drive bays and the Synology and D-Link only have two. All the NAS boxes were tested with two 1TB Western Digital RE2-GP hard drives. Raid 5, 0, 1 and 0+1 are all supported, so you can setup your hard drives for performance, redundancy or a mix of both.
As you'd expect, the NS4600 is quicker when writing in Raid 0 than Raid 1 but, inexplicably, it was slightly faster in Raid 1 than Raid 0 when reading data. Overall, the Promise NS4600 is just a smidgeon behind the Synology DS209+, while it comfortably beats the similarly priced Western Digital Sharespace. With transfers at over 30MB/s, anyone with a 100Mb/s router will need to upgrade to a Gigabit version to take full advantage of the NS4600.
We tested load power measurements when the NAS was streaming a 1080p video clip to a Playstation 3 and idle measurements after 15 minutes of inactivity – a period when the hard drives were set to spin down.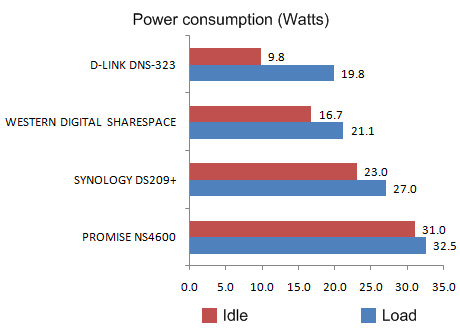 The NS4600 has comparatively high power consumption and no hibernate feature
Excellent file transfer speeds appear to have come at the price of above average power consumption. The idle power consumption is particularly odd and we suspect the NS4600 isn't slowing down our RE2-GP hard disks properly. At 31W and running 24 hours a day, the NS4600 has running costs of £30 per year.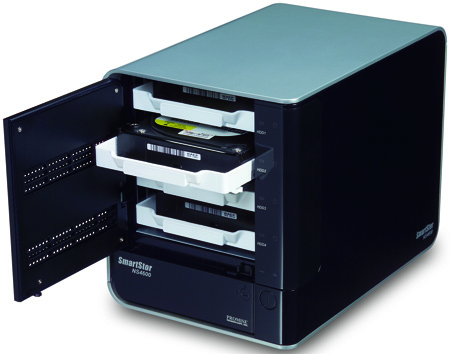 The hotswappable caddies can be pulled and replaced as needed
There's no scheduled on/off on the NS4600, which lets some other Nas boxes hibernate at any time you please, perhaps during the night time, so they draw just half a watt and make no noise. Instead, the NS4600 will carry on chugging away until you manually turn it off, when it draws an unreasonable 4W. Its saving grace in this area comes from its wake-on-Lan function, which lets you turn the NS4600 on remotely using the SmartNavi utility.
Verdict
The lack of MySQL and scheduled on/off are arguably the NS4600's biggest flaws but, according to Promise, these features should appear in future firmware updates. If all goes to plan then such addictions, along with the Gatekeeper service, will put the NS4600 on the top of the NAS box shopping list. For those wanting these functions now, there are plenty of 4-bay NAS alternatives for £400 that will do the trick. Nevertheless, the SmartStor NS4600 still has more features than most. It's quiet and has excellent media streaming capabilities with very fast transfer speeds. In this capacity, it certainly lives up to its promise. ®
More NAS Reviews...

Western Digital
Sharespace

Cisco Linksys Media Hub

EZY Technologies
MyXerver MX3600

Iomega Home Media Network