Original URL: http://www.theregister.co.uk/2009/06/01/review_media_player_sony_x_series_walkman_nwz_1050/
Sony X-Series Walkman
Does it kick the iPod into touch?
Posted in Personal Tech, 1st June 2009 12:14 GMT
Review For the last few years, Sony has applied its iconic Walkman brand to Sony Ericsson products and performed sterling work in developing sound quality and user friendliness in media playing mobile phones. The new X-series Walkman has no phone element whatsoever, but it does have an OLED touch screen, built-in Wi-Fi for Internet access, video playback and an FM radio.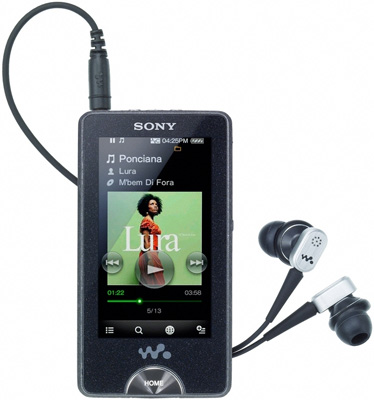 Sony's X-Series Walkman available in 16GB or 32GB capacities
With its capacitive touch screen, the X-series Walkman Sony is clearly gunning for the iconic iPod Touch. They are, however, different beasts. The X-series is considerably smaller at 98x53x11mm – the iPod Touch measures 110x62x9mm – but the Sony model also has a 3in, WQVGA 432x240 OLED screen, rather than Touch's 480x320, 3.5in LCD.
The X-series comes in two flavours, the 16GB NWZ-X1050 and the 32GB NWZ-X1060. Encased in glossy black plastic on the front and back, there's a sort of stone-effect surround on the sides, which makes it easy to grip, and also gives an impression of ruggedness.
There's a large home button on the front in the shape of a semicircle and on top there are hard controls for play/pause, FWD and RWD, plus another semicircle button on the back for locking the controls. On the sides are the volume rocker and noise cancellation button. The proliferation of hard buttons seems a bit cluttered when compared to the iPod Touch, but they do provide the option of controlling the device while keeping it in your pocket.
OLED screens are being touted as the next great leap forward for TVs, with their enviably sharper resolution, faster rendering speed and wider viewing angle, but those benefits aren't quite so obvious on the very small screen. Watching the same video concurrently on Walkman and Touch however, Sony's OLED screen is clearly superior – sharper, with richer colours and more precise definition. That said, we did find ourselves wishing it were a little bigger though.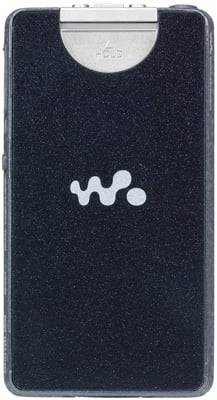 Get stoned: mock ruggedness from Sony's earthy styling
The noise-cancelling function does work, and can come in handy for blocking out ambient noise on an airplane or train, though it's not as effective as some of the systems we've tried on full-cup headphones. Moreover, this feature will only work with the supplied headphones, which aren't bad at all, if perhaps a little weak in the bass. Using alternative headphones is easy enough, as the X-series features a standard 3.5mm mini jack socket.
Sony audio goodies include Clear Stereo and Clear Bass and the Digital Sound Enhancement Engine (DSEE). The latter aims to emulate sonic elements lost in compression but – unless you've got so used to that tight bandwidth MP3 sound that nothing else will do – you'll never want to switch it off. With this additional processing, and a quality set of headphones, the sound was rich and rewarding, and just about the best we've heard from a portable player.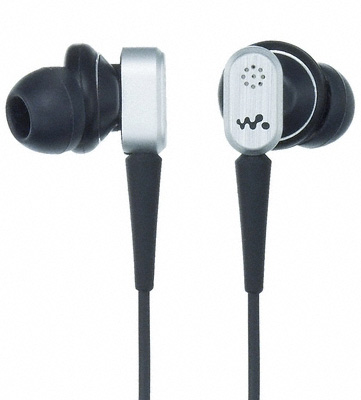 Noise-cancelling headphones as standard
Conveniently accessible from the music player, the five-band graphic equaliser features five presets, plus a further two that you can customise. There's also a selection of ambient treatments provided by Sony's Virtualphones Technology (VPT), which offers effects such as studio, live, club, arena etc. These offer clear differences to suit the type of music you're listening to, although some seem a bit gimmicky. We can't imagine anyone subjecting themselves to the ultra compressed and seemingly flanged sound of the karaoke setting for long.
Supporting a broader range of formats than Apple's alternative, the X-series accommodates Microsoft's WMA, plus MP3, AAC and lossless PCM, although you won't be able to play FLAC, or, indeed, Apple Lossless. For video there's H.264, MPEG4 and WMV9. Sony's Media Manager software certainly lacks the grace and far-reaching capabilities of iTunes but it is easy to use.
Unlike Apple's iTunes, Sony's Media Manager only works on Windows PCs. If you haven't got a Windows XP or Vista machine, the flash drive will still mount as a storage device for drag and drop use on Macs and Linux machines. A facility that runs contrary to Sony's own website FAQ claims that there is no Macintosh support. In use, Media Manager can be set to automatically sync data with your PC, or you can drag and drop files individually. It'll also automatically pull in any tracks you already have on your computer, even from your PC version of iTunes.
Wi-Fi proved to be easy to set up, but when it comes to web browser design, Sony would have done itself a favour by having a quick consultation with Sony Ericsson on its excellent phone-based versions. Alas, the X-series browser is sadly wanting, with an awkward interface for inputting URLs that uses a phone-style keypad rather than a QWERTY keyboard. Also, we were shocked to discover we had to physically enter 'http://' at the beginning of a URL – it was like something out of the nineties.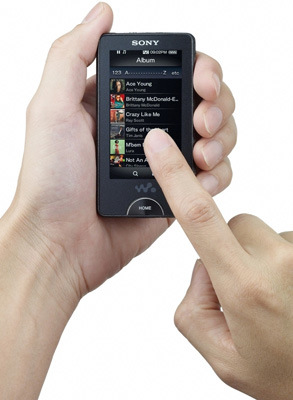 Smaller than the iPod Touch, but a smaller screen too
The bundled Youtube application works well for playback but, when browsing, the pages didn't always render properly, so it was a bit of a disappointment overall. On the plus side, you can swap the resolution to landscape mode and zoom in and out of pages, but it's really not as easy and intuitive as it should be for a modern handheld browser.
The FM radio has 30 presets and gives the option of listening in mono or stereo, depending on the quality of reception, which seemed pretty decent overall. Battery life is a fairly impressive 33 hours of audio playback with nine hours for video, which puts it on a par with the iPod Touch.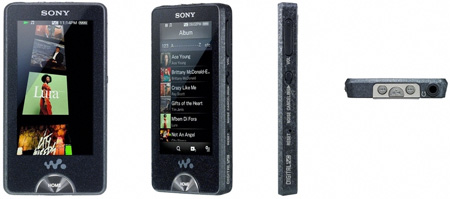 Plenty of features but the X-Series only integrates with Windows PCs
Sony appears to have pitched the price a little high, since it's within a fiver of the iPod Touch, which would be fine if it was clearly in front, but that's not really the case. The Walkman certainly has the edge in terms of overall sound and video quality, and has more options to play with so you can mould your music to your personal taste. But the Touch sound is perfectly decent, certainly decent enough to keep most music fans happy for most of the time.
Verdict
It's a very good quality music player, and a more than decent video player too. If it's purely sound and video quality you care about, then it definitely has the edge on the iPod Touch, with its superior sound quality and better, albeit slightly smaller, screen. Yet it's only really a sliver of an edge, since the Touch beats it for web browsing and the additional functionality offered by both iTunes and the App Store. Still, it's a very good portable media device, but not quite the Touch beater Sony was, no doubt, hoping for. ®
More PMP Reviews...
| | | | |
| --- | --- | --- | --- |
| iRiver P7 | Samsung P3 | Cowon iAudio O2 | Archos 7 |