Original URL: https://www.theregister.co.uk/2009/05/29/ground_soldier_ensemble_raytheon_deal/
Smart-map battle network for footsoldiers gets $12m demo
Covert special-ops smartphone version also offered
Posted in Networks, 29th May 2009 11:13 GMT
Weaponry globocorp Raytheon has announced the inking of a $12m deal with the US Army, under which the firm and its subcontractors will demonstrate nifty networked smart-map computers for use by American footsoldiers in combat. Troops will be able to see enemies and each other on the digital maps even where GPS satnav is unavailable.
The new kit is known as "Ground Soldier Ensemble" (GSE).
"GSE will provide decisive tactical awareness to the infantry soldier through real-time display of networked battlefield information ... finally linking the most important element, the dismounted soldier [to the battlefield network]" said Glynn Raymer, Raytheon war-net veep.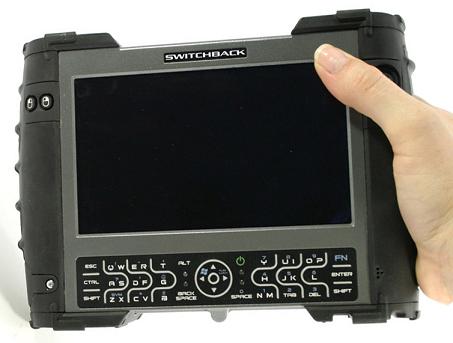 Insert your Blue Screen of Death gag here.
Raytheon's GSE contender will be based on the SwitchBack rugged computer from Black Diamond Advanced Technology. The standard SwitchBack is built around a 1 GHz Celeron processor, has up to 2 GB of DDR RAM and comes with Windows XP (though Vista or Linux are available as options). There are the usual bells and whistles: spinning hard drive or SSD for ultimate toughness, Bluetooth, WiFi, GPS satnav etc.
The SwitchBack's main special sauce is the eponymous swappable "BackPack" modules which users can attach to the back of the machine. These can feature a mixture of extra ports and connectors, as well as peripherals such as cameras, magnetic stripe readers, barcode scanners, RFID, biometrics and "custom communications".
The box is heavily ruggedised to withstand being dropped on concrete from three or four feet, immersion in water, baking heat etc. It weighs three pounds.
DC4S: At last, the phrase 'killer app' takes on some meaning

Previous versions of the no-satnav-required man tracker.
As GSE, various new things will be put onto the SwitchBack to make it suitable as an infantryman's network terminal. Specifically, Raytheon mention DC4S*, a system which lets troops keep track of each other even where there's no GPS signal - as inside a building or a tunnel complex. DC4S involves users wearing an inertial-navigation unit and computer hooked up to military communications (usually a tactical UHF data radio). Every trooper can thus see where his team-mates are, and so avoid accidentally shooting them or blowing them up. The system allows a stricken soldier to press a "man down" button, and everyone can see where he is in order to rescue him. Small-unit commanders can see where all their men are; everyone can see where airstrikes or artillery are being called in, where their team-mates have spotted enemies etc etc.
DC4S has already been extensively tested using ruggedised PDAs, UMPCs and so forth. There's even a "covert" option available, according to this company pdf, where the application runs on a Windows Mobile smartphone - so allowing a team of clandestine special-warfare operators to use DC4S while appearing merely to be making calls, checking their email etc. (Presumably in this case the concealed inertial-nav unit would connect to the handset via Bluetooth, and the data might be carried on cellular channels rather than military UHF.)
A DC4S troop-net can also connect to other things - gunshot detectors, unmanned ground and air vehicles (with "near streaming video"), laser/compass target locator scopes which can mark an enemy's location exactly on the networked map as soon as he's spotted.
Hook this up to the XM-25 Judge Dredd smart-rifle, and you can shoot people you can't even see
Raytheon's DC4S/SwitchBack system is only one contender to be the US Army's chosen GSE of the future, however. General Dynamics' "Land Warrior", built around a mobile ARM processor, has already seen combat service with US Infantry units in Iraq: it includes extras such as a helmet-mounted monocle handsfree display, and originally featured a telescopic camera mounted on the soldier's M-4 carbine - allowing shooting around corners without exposing one's head.
Land Warrior gained mixed reviews from US troops: the always rather laughable gun-cam was discarded almost at once and in general the kit was worn only by team leaders and up. However General Dynamics have seriously reconfigured the equipment since it first went to war, and it has its fans.
This sort of connectivity among ground troops could allow some fairly neat tricks as time goes by. A soldier of the near future might mark a target precisely on the network map using a laser rangefinder/compass rig, or the system itself might get a fix on a sniper using networked acoustic shot-spotters or whatever.
Another soldier, equipped with the rather Judge Dredd-esque XM-25 computer smart-rifle but unable to see the enemy himself, might select that target icon in his system. The XM-25 would work out just where it needed to be aimed in order to lob an explosive 25mm smartshell to a point just above that enemy, to his side etc: and set the shell's time fuse accordingly. The soldier would put his crosshairs on the mark generated in his gunsight and pull the trigger, and the shell would fly over walls, through windows or through foliage as required to the chosen point before airbursting and spraying the target with shrapnel.
Scratch one enemy, without the man firing the shot ever catching sight of him. There are other science-fictional ideas circulating in other digi-soldier projects: medical vital-signs telemetry, for instance, of the sort used by the fictional US Colonial Marines in the film Aliens. This would remove the need for a stricken soldier to hit his "man down" button - his kit would send the alert for him. And it gets madder: exoskeletons, petrol packmules, spyeye hover-bots, ground-crawling heavy weapons droids.
That's all pretty fancy. But anyone who's experienced the difficulties of infantry operations - even just during exercises, still less the far tougher conditions of actual combat - will know just how desirable a real-time moving map showing where all your men are would be to unit commanders. That at least seems like a feature likely to be very popular.
It'll be interesting to see how much of this stuff becomes reality in years to come. ®
*Dismounted Close Combat Command & Control System