Original URL: https://www.theregister.co.uk/2009/05/28/reviews_bluetooth_headset_aliph_jawbone_prime/
Aliph Jawbone Prime Bluetooth headset
Is wind a problem during conversation..?
Posted in Personal Tech, 28th May 2009 08:02 GMT
Review Last year Reg Hardware ran the first UK review of Jawbone II, the second Bluetooth headset from Aliph. This wasn't just another gizmo for hands-free phone calls, it looked better than the rest, was easier to set up and reliable too. It also featured effective noise-cancelling characteristics, based around technology developed in conjunction with an American military agency. If it's good enough to use in a battlefield, then it's good enough to report, 'I'm on the bus'.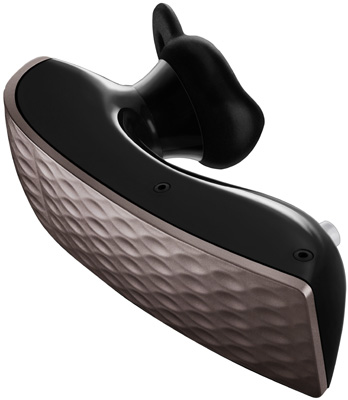 Aliph's Jawbone Prime: keeps you talking when wind breaks
Even though it was a big step forward from the first in the series – it was smaller and lighter than its predecessor – the Jawbone II wasn't perfect. Wind was a problem – no, not that kind – and is a factor the new Jawbone Prime has been designed to suppress.
Since its inception, the Aliph Jawbone has featured a Voice Activity Sensor (VAS) at the front of the headset. Sensitive to low frequencies, it presses against your cheek and monitors vibrations to detect when you're talking, automatically activating noise-cancelling when needed.
The headset also features two electret microphones that interact with the VAS using NoiseAssasin processing to minimise background noise and to adjust the earpiece volume to match ambient noise. It's an effective system that ensures the Jawbone wearer doesn't even need to raise their voice.
While the first model, which was big and relatively heavy, held the sensor to the cheekbone by a sprung earclip, last year's Jawbone II was too small and light for this to work. So the headset didn't stay in place reliably, often compromising the noise-cancellation capabilities. And since the second version was wearable with or without the earclip – without is handy if you're wearing specs – this soon emerged as a problem.

Ergobuds come as standard
In response to these issues, Aliph devised an ergonomic earbud, which successfully positioned the device in place, and these earbuds are still available for Jawbone II users. For the Prime, though, the ergobuds come as standard, in three sizes and there's also an earclip, if you prefer. The Prime also features the Acoustic Voice Activity Detector (AVAD), a software solution to the positioning problems, just in case the sensor doesn't touch your face.
This is a much-improved system and in our tests there were no audibility issues even when driving – the engine noise didn't intrude and even the open window had little impact. The new earbud works well to hold the Prime in its proper place and even holding the sensor away from the cheek didn't spoil things entirely.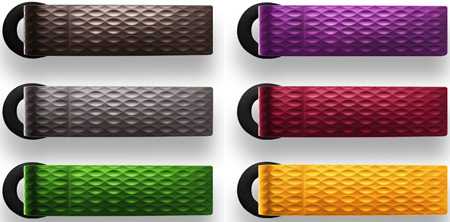 Also available in black
None of this addresses that wind problem, though, which was certainly an issue before. The new technology here is Sensor Signal Fusion which utilises the cheekbone sensor's signal. Although the output from the VAS isn't intended for sound reproduction on its own, it does form part of the sonic reconstruction that the Sensor Signal Fusion performs from its three input sources.
The VAS also has the capacity to sense buffeting wind noise and this information, combined with its own low frequency vocal audio together with the higher frequency signals derived from the two microphones, is used to deliver clear speech even when affected by wind noise. Aliph admits this won't make for interference-free audio in gale-force winds, but it's aimed at helping with a sudden whippy gust that picks up unexpectedly.
Battery life seems unchanged from last time around – just over a day of regular but not extensive calling. With heavy use you can expect a day's service. Charging times are short; getting up to 80 per cent in half an hour or so. The battery life is extended because after 15 minutes it switches itself off when out of range of the phone. Along with the different-sized earbuds and earloop, there's a neat grey charger with removable USB cable, so you can recharge from a laptop, too.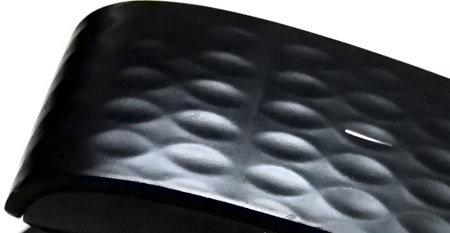 Light touch: the activity indicator is certainly understated
The new Prime isn't an unalloyed success, mind, although it's close. The position of the on light is still wrong, I think. The Jawbone mechanics are simple: the main section is one button and there's another at the end. Although a design change helpfully makes the separation clear, the discreet light which tells you your Jawbone is on, ready to pair or running out of juice is right under where your finger naturally presses so you can't see what you're doing properly.
Mind you, one of the ways Bluetooth headsets have failed in the past has been a complicated pairing system. Here it's simple and reliable – and you can even set it to pair to two phones at a time. So you can connect to two different phones consecutively without re-pairing. Neat.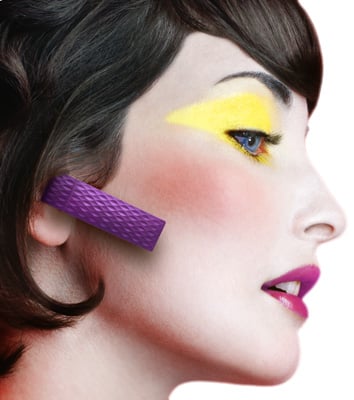 A word in your shell-like...
The Prime isn't cheap compared to some models. You can snag a serviceable headset for under £20. It won't have noise reduction capabilities and you will probably notice interference if you move. A better comparison is with higher-end models. Like Sennheiser's VMX100 which has a neat over-the-ear clip which includes the battery. In our tests we found the fit of earpiece speaker to lughole wasn't perfect though the noise-cancelling (from a company that knows a thing or two about the subject) was good.
Or there's Jabra – whose hardware has given Aliph's a run for its money in the past. Its latest models include the small but chunky JX20 Pura which is at a similar price point to the Prime. This is stylish and partly made of titanium, but lacks the cuteness of the Prime and doesn't quite match the sound quality, either. Finally, if you want to make a statement with your headset, the Prime is unbeatable, being available in five electric-bright colours as well as the more demure black, brown and silver versions. They're all the same price, too.
Verdict
If you only use a Bluetooth headset in controlled circumstances, like at home, then consider cheaper alternatives, unless you really can't resist those colourful options. Although expensive, the Jawbone Prime easily handles noisy environments and even combats gusts of wind, which defeated the previous model. Small and cute, the Prime's marriage of style and performance is certainly impressive. ®
More Bluetooth Headset Reviews...

Sennheiser VMX Office
multi-source Bluetooth
headset

iSkin Cerulean F1+TX
Bluetooth
stereo headset

Aliph Jawbone II

Ten of the Best...
Bluetooth
headsets