Original URL: https://www.theregister.co.uk/2009/05/28/review_ssd_drive_clickfree_traveler/
Clickfree Traveler SSD
Credit card-sized, no-brainer backup
Posted in Personal Tech, 28th May 2009 11:56 GMT
Review The Clickfree concept is to provide effortless file backups for people who want hassle-free security from data loss. Yet the original Clickfree Portable drive received a mixed reception from Reg Hardware readers, comparing it unfavourably with 'regular' USB hard drives. The latest incarnation is a little different and relies on an SSD for storage. It's intended for backing up laptops and netbooks on the move and is considerably more compact than the Portable.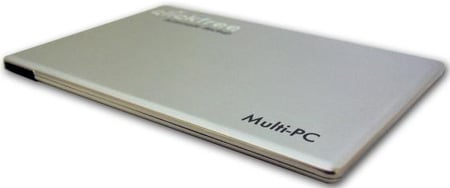 Clickfree's Traveler: SSD with a difference
The Clickfree Traveler has the same footprint as a credit card and a 3.5mm thick, brushed aluminium case. It feels solid enough and weighs just 12g, so could easily be carried in a wallet. There are three capacities: 16GB, 32GB and 64GB, but none of them are cheap, ranging from £80 to £200.
Connection is made via a swing-out, flexible PCB arm, complete with a skeleton USB plug on the end. The Traveler is light enough to hang from the arm, so doesn't normally need an extension cable – with a laptop, it should be able to rest on the desktop beside. A pin-head, white LED set into the USB plug flashes to show data transfer.
Clickfree works like this. You plug the drive into a USB socket on any Windows 2000 or later PC or on an Intel Mac running OSX 10.5 or above. There are no Linux drivers we're aware of. The Clickfree back-up software runs automatically from the drive and backs up everything in My Documents, as well as pst email files, jpgs, tifs, wavs, mp3s, wma and wmv. In other words, most of the things you'd typically want to secure.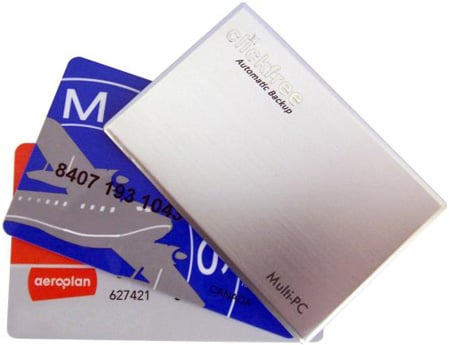 Your inflexible friend
It does this without any intervention, completely automatically and secures them in a folder specific to the computer it's copying from. Space permitting, it can do this for up to 10 different machines, and on subsequent backups, it recognises the machine and incrementally backs up any additions to the same folder. If you're satisfied with the default file-set it backs up, you don't need to make any setting changes and the process really is plug and go.
The settings can be easily adjusted, although the only, slightly unnerving, way into the options menus is to interrupt the back-up countdown, after the Traveler's been plugged in. Files can then be selected by category to exclude from the backup. These categories, which include headings like Documents, Videos, Music and Financial, can span all the drives on the target machine, but you can also select by drive, or by individual folders within those drives' trees.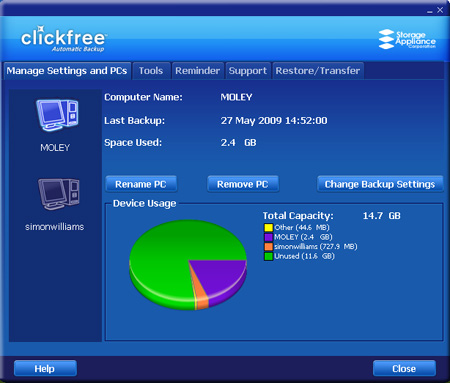 Spatial awareness: handy overview of backup space usage
The Clickfree software is well-written and easy to navigate. It includes helpful displays, showing the exact number of files in each category copied from each machine and a pie-chart of how the contents of the drive breaks down by machine backup.
The Clickfree software also auto-updates to the drive whenever you plug it in, as long as it can get to the Internet, so you should be running the latest version all the time. The same drive can be plugged into PCs and Macs, so you could use the device to transfer files in bulk from one platform to the other. You can restore individual files, folders, drives or complete backups and view files in situ within a backup.
The Clickfree drives don't do encryption or compression, which fits with the ethos of keeping things simple; the files you back up are there to get at without special software. However, if you're being encouraged to take your back-up device around with your laptop, then more advanced customers will bemoan the lack of encryption, with Clickfree's password protection being the only security option, which should satisfy most users.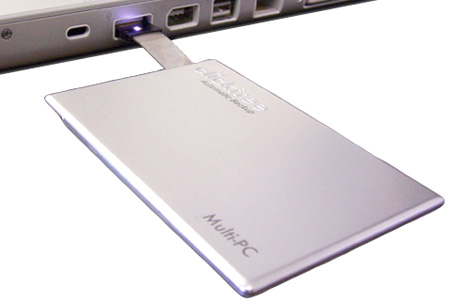 Easy backup for Macs and PCs on the move
To test the backup speed, we plugged the Clickfree Traveler into our test desktop, where it spotted 4,318 files (2.45GB) just crying out for duplication. It took 25m51s to do this, which is pretty slow. To compare, we ran exactly the same backup on the 120GB Clickfree Portable hard disk drive we reviewed last year. This test took 9m20s, not much over a third of the time. Both tests were run as new back-ups, using the same version of the Clickfree software, updated fresh before we started.
Looking at these results, you have to conclude that the 120GB HD version of Clickfree, also around £80, is a lot quicker and a lot more capacious than the Traveler. The HD is quite a bit bigger, but at the size of a pack of cards, it's still manageable when you're on the move.

On the cards: a convenient but, alas, a slow backup device
A typical 16GB SSD Express Card costs around £40, so you're paying another £40 for the backup firmware. You can buy back-up software for less than £40, but we've not seen another product that runs automatically without the need for set-up. For the particular kind of customer Clickfree aims at, the price premium probably won't be a problem. If your backup concerns don't warrant the extra security of an SSD, of course, you can buy a 16GB flash drive for under £20 and run it with backup freeware.
Verdict
The concept of having a back-up device, which does the whole thing automatically, is a really good one for those who either don't have the skill or inclination to configure settings. Yet the issues with this particular implementation are that you're paying over the odds for the SSD and it takes far too long to complete a backup. ®
More External HDD Reviews...
| | | | |
| --- | --- | --- | --- |
| Freecom ToughDrive Sport 250GB | Samsung S1 Mini | Clickfree Backup | Verbatim 500GB |