Original URL: https://www.theregister.co.uk/2009/05/28/kamen_bionic_arm/
Segway inventor builds shoe-controlled bionic arm
Kamen's vibro-limb tried out by US veterans
Posted in Science, 28th May 2009 13:13 GMT
Famous inventor Dean Kamen has developed a revolutionary new bionic arm for use by US troops injured in combat. The arm, now in beta testing, is manipulated from a foot-operated control panel inside one of the user's shoes and employs a vibrating feedback mechanism.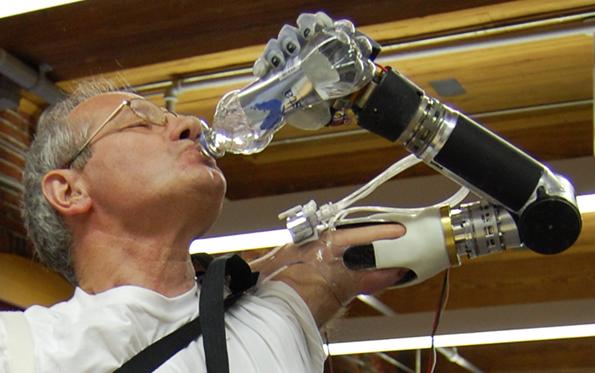 More useful than a Segway?
The new cyberlimb is built by DEKA, the tech R&D firm run by Dean Kamen of Segway and man-hurling cannon fame. It's being developed by Kamen for the US Veterans Administration (VA). The American Forces Press Service reports:
A unique feature of the advanced arm is its control system, which works almost like a foot-operated joystick. An array of sensors embedded in a shoe allows users to maneuver the arm by putting pressure on different parts of the foot. The current version uses wires to relay the signals to the arm, but future versions will be wireless. The arm also can be adapted to work with other control systems, including myoelectric switches, which are wired to residual nerves and muscles in the upper body and respond to movement impulses from the brain, shoulder joysticks or other conventional inputs.
The arm can apparently be fitted to a user with an arm missing "up to the shoulder" and is capable of reaching above the head, which the VA says is "a previously impossible maneuver for people with a prosthetic arm".
Another nifty feature is the arm's grip-strength feedback, provided using vibration. The wearer knows how forceful a grip the robotic hand is exerting by the strength of the arm's vibro signal felt in the stump.
The new cyber tech is now being tried out by suitably disabled US veterans. It's received glowing reviews already from Frederick Downs, chief of the VA's Prosthetic and Sensory Aids Service, who lost an arm fighting in Vietnam. He says he was "brought to tears" by the experience of being able to smoothly lift and drink from a bottle using his new foot-operated arm.
"Learning to use the controls is not difficult," according to Downs. The VA says that the arm lets users "pick up a key or hold a pencil". ®