Original URL: https://www.theregister.co.uk/2009/05/27/review_printer_canon_pixma_mx330/
Canon Pixma MX330
Small office all-in-one inkjet without the photo frills
Posted in Personal Tech, 27th May 2009 08:02 GMT
Review Recent offerings suggest a handful of printer manufacturers are trying to move inkjet technology into the lower-end small office, SoHo space, by targeting those wanting the superior colour inkjets can produce, without all the glossy photo facilities of family and photo-buff models.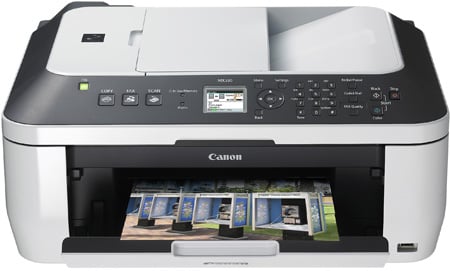 Doing the business: Canon's Pixma MX330 all-in-one inkjet
Indeed, Canon is doing its bit to differentiate between the two markets by producing the PIXMA MX range of business-oriented all-in-ones, as well as the older PIXMA MP range with extra photo facilities. The MX330 is a mid-range device, coming in at just over £100 and offering an Auto Document Feeder (ADF) and walk-up scan to USB drives, but no memory card slots or CD/DVD print.
The new design features a wraparound, black band, which surrounds the 30-sheet ADF and has the control panel built into it. The top surface is neatly flat when the machine is closed, as the ADF feed tray folds over to complete its lines. When open, it still isn't raised lifted very high and scanned pages feed to an output tray directly beneath it.
The print feed tray is angled more steeply and mounted at the back of the machine, although there's no separate, slide-in paper cartridge at the front to offer twin paper sources. This might have been an idea as, even without the need to load plain and photo paper, it would be useful to be able to load letterheads at the same time as follow-on sheets. Paper feeds to the fold-down front cover of the machine and, intelligently, this has an auto-release, if you fail to open it before starting a print run.
The control panel is well laid out, running the full width of the front and includes a full colour – if small, at 45mm – LCD display, designed primarily to show menu options, rather than photo thumbnails. To the left of the display are three illuminated buttons to select copy, scan and fax modes and to the right are navigation buttons, a number pad for fax dialling (no quick dials) and start and stop buttons for black and colour copies and scans.

The colour LCD shows options rather than image thumbnails, but still a surprise at this price
Click for a larger image
Lift the scanner lid and there's a normal, A4 glass flatbed, equipped with a Contact Image Sensor (CIS) scanner, giving less depth of field than a conventional scan head. The depth of field can be important if you're scanning material from books or magazines, where the spine ensures a page will never make complete contact with the glass.
The whole scanner section also hinges up, so you can get at the device's ink cartridges easily. There are two of these, one black and the other tri-colour and they're easy to fit, though not as versatile as having separate cartridges for each colour.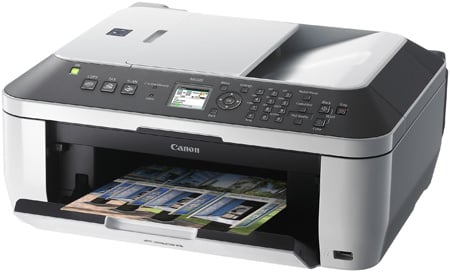 Scanning to a USB drive is a handy option, but no memory card slots are included
Although there are no memory card sockets, there's a PictBridge socket for camera connection and this doubles as a link for scanning jpegs of pages to USB drives. The same socket can also take an optional Bluetooth adapter, so you can print directly from mobiles and Bluetooth-equipped cameras. At the back are sockets for USB and a fax line.
Physical connection is easy and the supplied software bundle includes OCR software as well as document management applets for scanning and copying. Drivers are supplied for Windows 2000 through to Vista and for Mac OSX10.3.9 and above. Canon also provides separate drivers for Debian and 'other' Linux varieties, from the download pages of its site.
The Pixma MX330 has fairly modest print speeds with claims of 7.5ppm for black and 4.5ppm for colour. This is using the new ISO methodology for testing print speeds, a long overdue benchmark to curb the more outlandish claims of some manufacturers.
In our tests, the PIXMA MX330 printed a five-page, black text document in 59 seconds, giving a speed of just over 5ppm, but this climbed to 6.4ppm for a 20-page job. A five-page black text and colour graphics document took 2m14s, which is a speed of 2.2ppm, so we're still not hitting the published figures, even though they're supposed to include page rasterising as well as printing time, as ours do.
A single page colour copy from the flatbed glass took 44 seconds and a five-page black text document fed from the ADF in 1m17s. Both these times are very reasonable for an inkjet all-in-one at this price point. Although, as we've said, there's less emphasis on photo print in the MX series of machines, a 15 x 10cm photo print from a PC took 1m33s and from a PictBridge camera the time dropped to just 57 seconds.
Canon uses a pigmented black ink, with dyes for the cyan, magenta and yellow primary colours. The idea is to get the best of both ink worlds. Certainly, the black pigment gives a very dense solid text, with no sign of ink bleed into the paper, and colour print is still vibrant where needed for business graphics. Black text over colour, again, showed very little sign of ink bleed, often a problem when trying to register black text over coloured fills.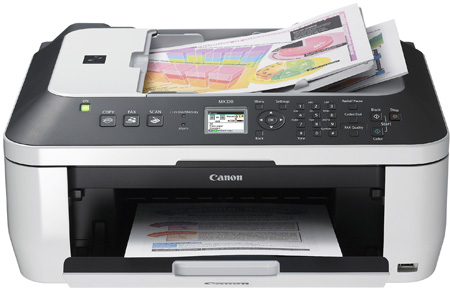 The write stuff: relying on twin cartridges is a cost compromise
Colour copies, as so often the case, showed some lightening of colour shades, in comparison with a coloured original and this is true, to a lesser extent, of colour scans. In neither case, though, is it that obtrusive, and some compensation can be made in software.
Photo prints are still very good on Canon's photo paper and are very acceptable for day-to-day images. In fact, we could see very little difference in quality between the prints produced by this MX machine and those from equivalently models in the MP range.
The price of the two ink cartridges gives costs per page of 3.1p and 7.5p for black and colour ISO pages respectively. These are both reasonable, sitting pretty much in the middle of the field, when compared with other all-in-ones in the same price bracket. Canon has tied down its intellectual property quite tightly and there are fewer compatible cartridges around than for some other brands. There's still quite a variation in Canon ink costs between different suppliers, though.
Verdict
Delivering good quality prints and useful extras, such as scanning to a USB drive, it's quite unusual to find an all-in-one with an ADF at this price, particularly when a full-colour LCD display is also included. Showing better integrated styling and featuring intelligent updates from the previous range, the Pixma MX330 is an excellent, mid-range all-in-one machine. ®
More All-in-One Printer Reviews...
| | | | |
| --- | --- | --- | --- |
| Kodak ESP-7 | Brother MFC-990CW | Epson Stylus Photo PX800FW | Brother MFC-5890CN |