Original URL: https://www.theregister.co.uk/2009/05/27/review_network_media_player_netgear_eva9150/
Netgear EVA9150 Digital Entertainer Elite
Looks good, plays well... pricey though
Posted in Personal Tech, 27th May 2009 12:07 GMT
Review The EVA9150 is the latest addition to Netgear's Digital Entertainer family of media streamers and it picks up pretty much where its predecessor - the EVA8000 - left off. The main draw of the EVA8000 - providing you were running latest beta firmware version and not the shipping release - was its ability to chew through almost any file format you chose to throw at it and spit out decent quality video.

Netgear's EVA9150 Digital Entertainer Elite
The EVA9150 uses the EVA8000 firmware as its starting point, and then adds extra features, so you get the same level of file support plus some new additions to boot. The hardware has also been given an overhaul, most notably with the addition of an internal 500GB SATA hard drive and support for 802.11n Wi-Fi.
The case has also been tidied up slightly, so it now looks more at home sat among other consumers AV kit than the wide, thin EVA8000 ever did. The Wi-Fi antennae are now built in instead of protruding vertically from the rear of the unit, which obviously makes for a neater look. Still, this could present reception issues if the EVA9150 is sat at the bottom of a stack of other devices.
The hard drive is mounted in a quick release caddy, so it's easy to get too - just pull down the flap at the front and push the big button to slide it out. There are four screws holding the disk in the caddy, so if you want to physically swap hard drives then it'll take longer unless you have more than one caddy to hand.
The EVA9150 comes with all the ports and connectors you'd expect to find; HDMI and Component Video for HD output, plus Scart, S-Video and composite for standard def. There are also coax and optical connectors for digital audio, regular analogue phono outputs and a wired Ethernet port plus two USB sockets - one at the front and another round the back.
Setup is extremely simple - switch on the unit and it'll guide you through a number of screens to establish the basics, such as the display resolution, Internet connection and your location. You'll then be prompted to install the Digital Entertainer software on your Mac or PC, which provides an easy way to get content onto the device. Thankfully you can skip this step and let it operate as a standalone unit all on its own.
Once it's up and running, you need to tell it where your media files are. It'll have a look what's available on the network and can access shared folders on your PC or network attached storage (NAS) drives as well. Like the EVA8000, this model likes to scan all locations first and build a library of what's available, which can be a time consuming process if there's a lot of data to index.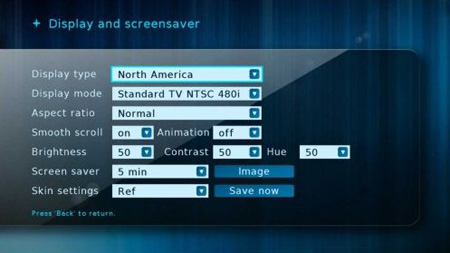 Setup pages are easy to navigate
The EVA9150 does add the option of live folder browsing, however, so you can go stumbling around your network delving into locations that haven't been indexed already. It's obviously not as fast as flicking through the indexed version, but it's better than having to perform a new scan just to find one file you want to watch.
When it comes to replaying content, the EVA9150 can handle all the likely candidates. It supports MPEG 1, 2 and 4, H.264, WMV 9, VC1, Xvid and Divx with container support covering not just the usual AVI, MP4, Quicktime MOV and WMV but also stretching to the open source Matroska MKV format. It can also open unprotected DVD image files, including full menu support, so it's like watching the disc in a standalone player.
In order to ensure uninterrupted playback the EVA9150 uses the hard drive to cache files played back over the network. This makes a big difference if you're using a slow connection such as 802.11g, but it does mean you have to wait longer for the file to buffer before you can actually start watching it.
Although the cache helps, you still need a fast network connection if you want to stream high bitrate material. Even after waiting four and a half minutes for a 1080p MPEG 2 clip to buffer, it still ran out of cache and had to re-buffer when played over 802.11g.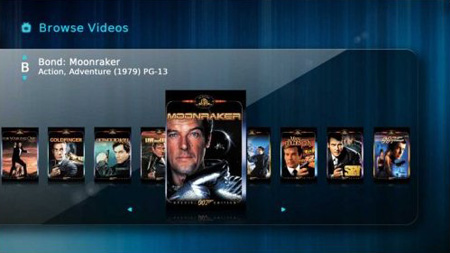 An impressive array of video formats are supported
In general, our tests showed that if you want to watch 1080p material, you're better off sticking to wired Ethernet or the internal hard drive. If you want to go wireless, then with 802.11n 720p shouldn't prove a problem. However, if you've only got 802.11g available, then you're better off sticking to standard def.
The addition of the hard drive improves the fast forward and rewind functionality since, once the file has been cached, the EVA9150 is accessing the local copy rather than pulling it across the network at high speed.

The hard drive is encased in a removable caddy and can easily be upgraded
Hit the power button and by default the machine will go into standby mode, which keeps the disc spinning and network access alive, so you can drag and drop files onto it without waking it up. It'll be ready for action in about ten seconds in this mode. Alternatively, you can set it to power down more fully - either when you press the off button or after a period of inactivity - which saves juice, but it'll take around a minute to start up from this state.
In addition to playing back content stored on your network, the EVA9150 can also pull in files from the Internet. Full YouTube access requires the PC software to be running, but most of the functionality is available in standalone mode too. As the unit now uses the high quality YouTube video by default, the results aren't bad. You can also access video RSS feeds and the content is cached to the hard drive, so playback is pretty good.
The remote control has also received an overhaul and feels more sturdy and robust than the previous incarnation and it now doubles as a universal remote control for up to three other devices.
The biggest problem with the EVA9150 is its price tag - at £380 it's an expensive piece of kit. It's considerably more than the EVA8000, which had an asking price of £220 when it was introduced and can now be picked up to around £160, if you know where to look online.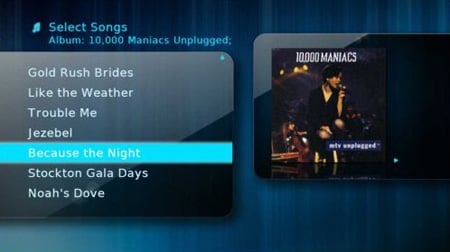 Media selection is swifter after indexing
The market has also moved on significantly since the launch of the EVA8000. Back then if you wanted to watch 1080p material you either needed a dedicated Blu-ray or HD DVD (remember them?) player or a pretty powerful PC. 1080p from a standalone streamer was unheard of. Now you've got devices such as Popcorn Hour's A-110 which bundles full HD playback and even a 500GB hard drive for around £250.
That's not to say that the EVA9150 isn't an improvement over the EVA8000 - it not only tidies up a number of niggles but also adds extra features such as support for 802.11n and a 500GB internal hard drive. It feels a lot more finished than its predecessor and overall the interface appears more polished than before.

Easy to use, but is it worth the money?
Yet, are all the differences are worth the considerable price hike? Certainly, it appears this device is another exchange rate casualty, with it retailing at $400 in the US, almost matching the figure in sterling, but its ease of use may be a price worth paying for some.
Verdict
The EVA9150 is a very good network streamer with comprehensive format support and good quality playback. The new additions such as the hard drive and 802.11n support are welcome features and, overall, it's more refined than its predecessor. However, its price tag lets it down - if it was £100 cheaper it'd be much easier to recommend but, currently, it's just a bit too expensive. ®
More Network Media Player Reviews...
| | | | |
| --- | --- | --- | --- |
| Archos TV+ 250GB | SiliconDust HDHomeRun | Solwise DMP-1120w | Netgear EVA8000 |