Original URL: https://www.theregister.co.uk/2009/05/27/epson_inkjet_oled/
Epson inkjet tech promises larger OLEDs
37in OLED TVs on the horizon, apparently
Posted in Personal Tech, 27th May 2009 15:20 GMT
Sod Sony's 11in XEL-1 OLED telly, Seiko Epson has perfected a technology that it's claimed could pave the way for 37in and larger OLED TVs.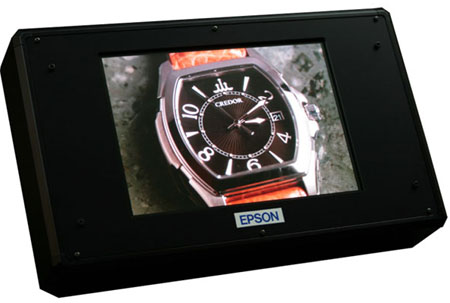 Epson's 14in OLED (above) is based on its perfected inkjet technology
The firm's inkjet technology supposedly enables extremely accurate and uniform ink droplets to be deposited onto the substrate, with an error rate of less than one per cent – even when using multi-size ink droplets.
Epson claimed that the most common existing rival technique – vacuum thermal evaporation – is dogged by technical hurdles, which prevent manufacturers from reliably forming uniform organic layers on large-size substrates.
But by better controlling droplet uniformity, Epson's technique should be able to ensure clear, sharp and bright colours across every inch of a large OLED's screen.
What impact the inkjet technology will have on OLED production costs remains unclear.
The firm's already used the technology to produce a 14in OLED screen that supposedly has the equivalent resolution of a 37in full HD TV. ®