Original URL: https://www.theregister.co.uk/2009/05/26/review_gaming_laptop_toshiba_qosmio_x300_13w/
Toshiba Qosmio X300
Eye candy? Snazzy styling and GPU grunt for gamers
Posted in Personal Tech, 26th May 2009 08:02 GMT
Review Toshiba laptops have always been safe and reliable, and we'll confess to being the satisfied owners of an old Qosmio F20. However, they've never been terribly exciting – as our recent review of the Tecra M10 pointed out in great detail. So when Toshiba showed off its latest models to the press just recently, the lurid colouring of the X300 stood out like a sore thumb.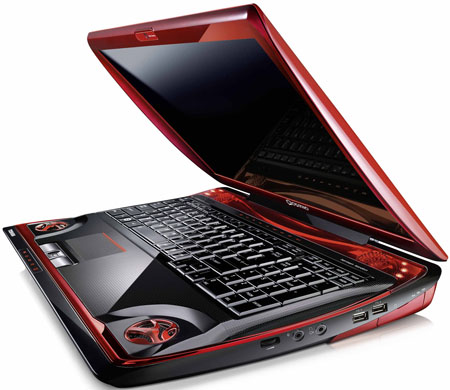 Toshiba's Qosmio X300-13W, equipped with go-faster stripes
The bright red 'sharkfin' design makes an obvious statement – Toshiba is leaving behind its sensible, business-like laptops and entering Alienware gaming territory. They've got the look right – the flame motif, gratuitous glowing red lights, and the tapering fin-like edges give the X300 a powerful but streamlined look that will appeal to the gaming fraternity.
The 17in widescreen display provides very good image quality, although its 1680 x 1050 resolution isn't quite Full HD. There's also a built-in 1.3Mp webcam and a fingerprint sensor tucked between the trackpad buttons, as an added security option. The only unsightly element is the mains adaptor, which is about the size of a couple of netbooks bolted together, but at least you can hide that out of the way on the floor.
Audio quality is also very good, thanks to the five-channel Harman Kardon speaker system. This includes a pair of stereo tweeters on the back edge of the keyboard, as well as two bass speakers on the front corners, and a separate sub-woofer on the underside of the unit – which can be quite interesting at times if you have the machine sitting on your lap.
The X300 has a good selection of ports and interfaces scattered around the case. On the right-hand edge are two USB 2.0 ports, memory card slot, volume control, audio line-in and a line-out, that also functions as a headphone socket and SP/DIF digital audio output. You'll find another USB 2.0 port over on the left-hand edge, as well as a 'combo' port that can also be used as an eSATA interface for high-speed connectivity with an external drive.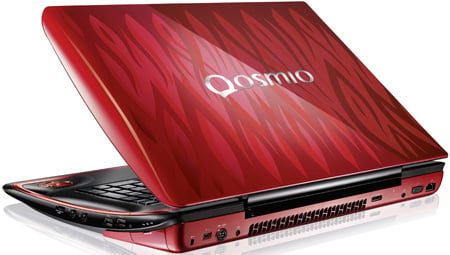 Lap dancing: the subwoofer can be a bit of a knee trembler
Tucked around the back of the unit are Gigabit Ethernet and iLink/Firewire interfaces, as well as VGA, HDMI and Displayport connectors for hooking the laptop up to an external computer monitor or HD television. There's also 802.11n wireless networking.
The maximum resolution when connected to an external screen is 2048 x 1536, so full-HD is possible if connected to an HD television. There's no Blu-ray drive though, as Toshiba are still a bit touchy about the whole 'Blu-ray versus HD-DVD' business. The standard-definition 8x DVD±RW and On/Off switch for the 802.11n WiFi appear on the front edge – we prefer having the optical drive on the side, but that's not a major problem.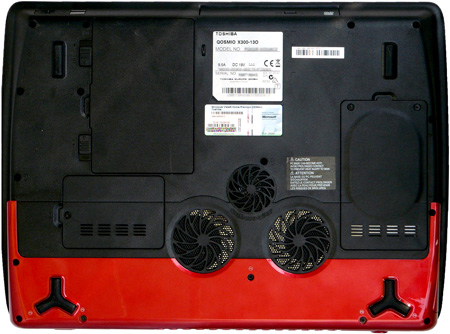 Heavy breather: sizeable air intakes keep this Tosh cool
We were, however, a bit more concerned about the two air-intake vents on the base of the unit, which suck in air to cool the CPU before pumping it out of the large air vent on the back of the unit. Toshiba's manual points out the obvious risk of sucking in dust and debris through the base of the unit, and warns you that blocking the air-intake vents could cause the CPU to run more slowly or even shut down altogether in order to prevent it overheating.
That's a bit worrying – especially when using our padded Belkin Cushtop for testing at home. To be fair, the Qosmio didn't overheat or cause any problems during our tests, but we can't help thinking that having those two intakes right on the base of the unit is offering up a hostage to fortune.
X300 prices start at about £1200 for the X300-11S model, which has a Core 2 Duo processor running at 2.4GHz, as well as 4GB of RAM and 320GB hard disk. We tested the top-of-the-range X300-13W, which comes in at £2250 with a 2.53GHZ Core 2 Extreme.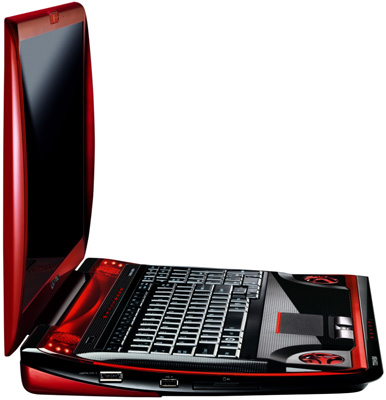 Top of the class: two 512MB GPUs and a 12Mb level 2 cache feature in flagship models
We should mention that Toshiba's web site is a mess, and that the prices and specification for the X300-13W vary from one web page to another. In fact, one page currently lists the X300-13W as being on special offer at £1949, although Toshiba told us that they weren't sure how long this offer might last. It took us several days to confirm the correct price and specifications with Toshiba, so we'd recommend double-checking everything with their telephone sales staff before placing any orders.
Battery Life Results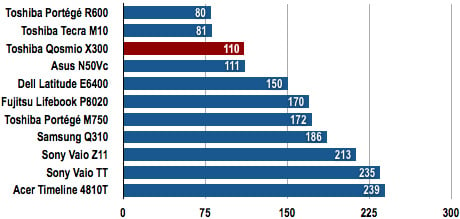 Battery life in minutes
Longer bars are better
PCMark05 Results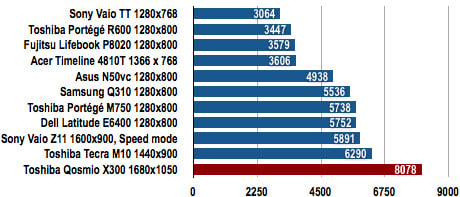 CPU score
Longer bars are better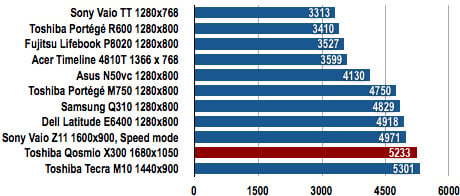 Memory score
Longer bars are better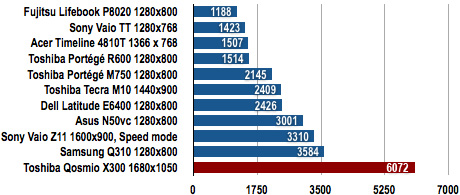 Graphics score
X300 running two GeForce 9800M GTS GPUs
Longer bars are better
3DMark06 Results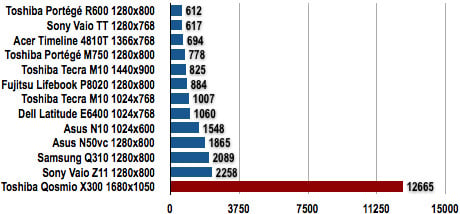 3D score
X300 running two GeForce 9800M GTS GPUs
Longer bars are better
Other features include 4GB of 1066MHz DDR3 memory, and two 320GB/7200rpm hard disks, one of which is partitioned into two equal parts, with the operating system and recovery files stored on one while the other is set aside for your own data. There aren't any recovery disks supplied with the X300, which is rather annoying considering this machine costs well over £2000.

Not the slimmest by any means
We were also mildly surprised to see that Windows wasn't even pre-installed on the hard disk. When you turn the X300 on for the first time its installation utility asks you whether you want to install the 32-bit or 64-bit version of Vista Home Premium. The manual also explains that you can burn your own recovery disks onto DVD if you want to.
All this is fine for people with a bit of technical know-how, but ordinary home users who were simply seduced by the shiny go-faster stripes might be a bit baffled by all this, so Toshiba could make a bit more effort to simplify the initial set-up process.
About 45 minutes and umpteen restarts later, we found ourselves presented with a Vista desktop covered in annoying shortcut icons for assorted bits of bundled trialware, such as Microsoft Office and McAfee Internet Security – and even links to eBay and Amazon thank you very much. After dumping that lot straight into the trash, we installed a few bits of software of our own to test the X300's performance.
At this point we discovered another error on Toshiba's web pages. The specification for the X300-13W correctly states that it has a pair of GeForce 9800M GTS graphics cards, each with 512Mb of dedicated video memory. Delving into Device Manager, we also found a less powerful integrated GeForce 9400M G graphics processor on the motherboard, which isn't mentioned on the web site or the spec sheets that we'd seen from Toshiba.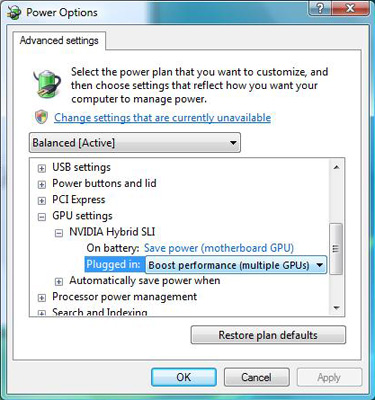 Dual GPUs deliver a hefty performance boost
Another week of phone calls to Toshiba eventually confirmed the fact that the 9400M G is indeed a standard feature – which is good news, as it means that you can use the 9800M GTS SLI rig for playing games and then switch to the 9400M G when you want to save battery power for web surfing and other tasks that don't require super-fast 3D graphics. Switching between the two graphics options is easy – you can simply switch between them in the Power Options control panel, and don't even have to log-out or restart the laptop.
Mind you, battery life isn't great even when using the 9400M G graphics. We got about 110 minutes of video playback with the 9400M G, and switching to the SLI graphics for playing games reduces that time to about 90-100 minutes. However, a laptop of this size and weight isn't necessarily going to be carried around to coffee shops. Home use is more likely, moving room to room and plugging it into the mains when you need to top it up. With this in mind, we wouldn't consider the limited battery life to be a major weakness.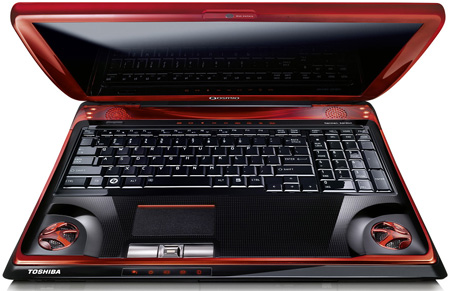 Impressive audio and graphics hit the spot for gamers
For some reason, PCMark 05 took a dislike to the partitioning on the primary hard drive, preventing it from running its hard disk tests and producing an overall score for system performance. However, tests for components such as CPU and memory performance all produced impressive scores – as did gaming sessions with Call Of Duty 4.
Set to 1024 x 768 resolution with its SLI rig turned on, the X300-13W had moments where it actually hit 200 frames per second, although the average score was around 150-160f/s. As you'd expect, cranking the resolution up to 1680 x 1050 caused the frame rate to drop, but it still managed a very respectable 110-120f/s.
Verdict
The X300-13W may be a bit of a departure for Toshiba, but it certainly has the looks and the power to make a fine gaming laptop. It's not badly priced either, as similar 17in laptops from gaming specialists such Alienware, also come in at well over £2000. Its size, weight and limited battery life mean that it's not the most portable of laptops, but it's an excellent option for gamers who are looking for an alternative to a conventional bulky tower PC. ®
More Notebook Reviews...
| | | | |
| --- | --- | --- | --- |
| Acer Timeline 4810T 14.1in | Fujitsu LifeBook P8020 | Toshiba Portégé M750 | Samsung Q310 |