Original URL: https://www.theregister.co.uk/2009/05/21/review_netbook_msi_wind_u116/
MSI Wind U115 Hybrid
The first netbook with an SSD... and an HDD
Posted in Personal Tech, 21st May 2009 12:02 GMT
Review From the outside, the Wind U115 looks like your average 10in Small, Cheap Computer - which makes the fact that MSI has managed to squeeze in not one but two storage systems all the more impressive.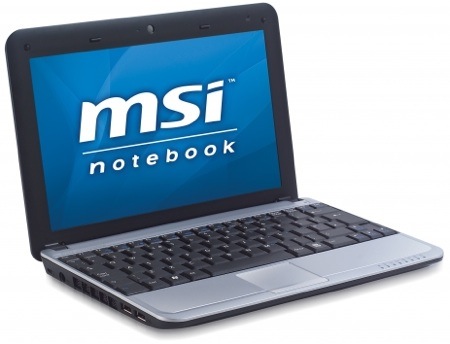 MSI's Wind U115: old styling, new approach to storage
With most netbooks, you face the choice between either a shock-proof but small solid-state drive, or a capacious but fragile HDD. Opt for the Wind U115 and there's no longer any need to choose between the two as you'll find both inside, in this case an 8GB SSD and a 160GB HDD, but there will also be 16GB SSD and 120GB HDD options in the range.
The idea is to load the netbook's OS and applications onto the faster - at least at reading data - SSD and keep frequently written files on the HDD, to take advantage of its more rapid recording speed. When you're hooked up to the mains, both drives are active, but when you switch to battery you can disable the HDD to eke out extra power savings.
Obviously, anything stored on the HDD would be inaccessible in this mode, but with a little bit of planning you shouldn't get caught out. Plus, if you find you do need something on the disk, you can always spin it up again. It only takes ten seconds or so to re-enable.
Despite its extra innards, at 260 x 180mm the U115's footprint matches that of the original Wind as does its 36mm height, rising to 46mm once you've clipped on the supplied six-cell battery. It weighs the same 1.3kg too, making MSI's engineers seem a little like magicians.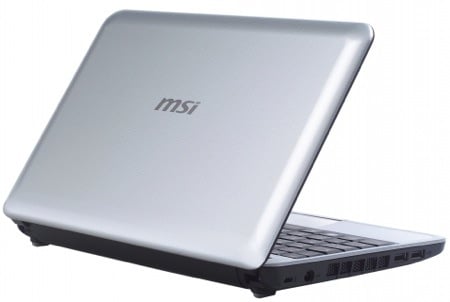 Six-cell battery included, upping the Wind's height
Another area that sets it apart from the current crop of SCCs is that instead of running the near standard 1.6GHz Intel Atom N270 processor MSI, has opted for a 1.6GHz Atom Z530 chip instead, which promises lower power consumption, though it was designed for handheld internet tablets rather than netbooks. It packs a 1GB DDR 2 memory and comes pre-loaded with Windows XP.
The screen stretches to 10in and is surrounded by a fairly thick bezel. There's a 1.3Mp webcam built into the the top of the bezel and a microphone positioned over to the right. The 1024 x 600 resolution screen has a matte rather than glossy finish, so it doesn't suffer from the high reflectivity seen on shinier models. That said, the colours are a little less pronounced, but still reasonable.

The classic MSI Wind profile
The U115 retains the same curvy looks as the original Wind, although this time it's finished in grey and black.

Standard netbook ports
The netbook's well equipped for wireless communication, with both Bluetooth and 802.11n built in. The ports are split between the two sides, with power and two USB sockets on the left. Over on the right-hand side you'll find 10/100Mb/s Ethernet, VGA, headphone, microphone, four-in-one card reader (SD/MMC/Memory Stick/Memory Stick Pro) and an additional USB port.
The card reader doesn't swallow the card whole, leaving it protruding slightly from the edge of the machine, so it's not really suitable to use for permanent storage. However, given the amount of disk space already on board this isn't the issue it might be on less-capacious netbooks.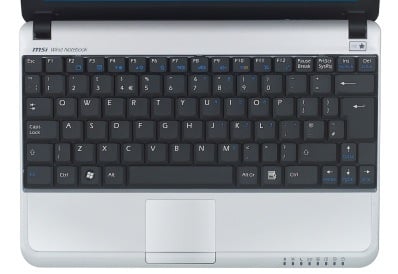 A decent keyboard - despite the placing of the Fn key
The keyboard fills the width of the unit and features decent-sizes keys, so you shouldn't find typing a problem with a little bit of practice. Annoyingly, however, the Fn key occupies the bottom left spot where you'd expect Ctrl to be, so if you use a lot of keyboard shortcuts you may find you keep pressing it by accident. The touchpad is a little on the small side too - odd, given how much space there is to accommodate a wider one - but it's still usable.
Our standard set of benchmark test proved no problem for the U115 - it breezed through PCMark05. It put in a very good CPU performance, coming in just between the best N270-based netbook and those fitted with the faster N280. It was a little bit slower on memory performance but its hard drive score more than made up for it. It was second only to the astonishingly fast Asus Eee S101 and still a fair way ahead of the rest of the pack in the hard disk test.
PCMark05 Results
CPU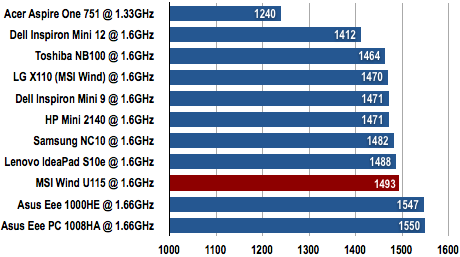 Longer bars are better
Memory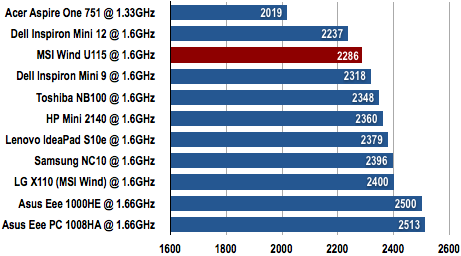 Longer bars are better
HDD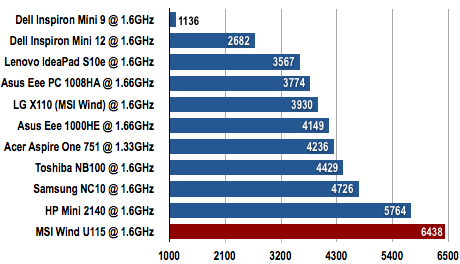 Longer bars are better
But it's battery life where the U115 really makes its mark, notching up the longest times we've seen so far and by quite a large margin. Running our standard test, which involves looping a standard-definition H.264 video until the battery runs out, saw it manage to keep going for 341 minutes with both drives activated.
Video Playback Battery Life Results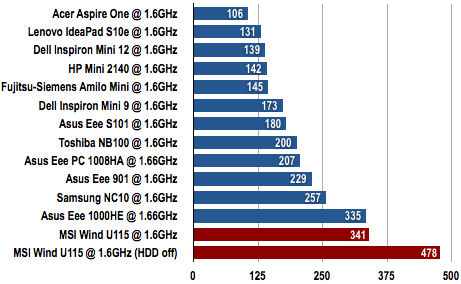 Battery life in minutes
Longer bars are better
Shutting off the HDD pushed the battery life up to 478 minutes - just two minutes shy of eight hours, and well beyond the Asus Eee 1000HE, which majors on the long duration of its big battery. This is a pretty extreme test, so if you're just doing a little web surfing and the odd bit of typing you should expect much more.
With super long battery life, decent performance and the best of both worlds when it comes to storage, at first glance the U115 would seem like the ultimate netbook. However, it does have one significant downside: its price tag. At £450 it's significantly more than the £329 asking price of its predecessor, putting it head to head with Asus's luxury S101. The S101 may not pack two hard drives, but it's not exactly short on storage with 32GB available and it's a much more stylish netbook and considerably slimmer too.
Verdict
There's no denying that the U115 offers extraordinarily long battery life and its performance scores are up there with some of the best SCCs we've seen. The combination of both SSD and HDD in one unit is a clever trick, so you can use each storage medium for what it does best.
The big problem with the U115, though, is its price. Even if it was just £50 cheaper, it'd be much more compelling. It doesn't have the looks to pull off a premium price tag and although it's a good performer, it's verging into traditional laptop territory. ®
More Netbook Reviews...
| | | | |
| --- | --- | --- | --- |
| Asus Eee PC 1008HA | Acer Aspire One 751 | Samsung NC10 | Lenovo IdeaPad S10e |