Original URL: https://www.theregister.co.uk/2009/05/21/hover_barges_airships_for_albertan_oil/
Brit hover barges, airships offered to Canadian oilfields
Can Blighty beat the (partly) Canadian blimpcopter?
Posted in Science, 21st May 2009 14:23 GMT
British firms are pitching retro-futuristic transport ideas for future energy projects intended to exploit the "oil sands" of Canada's Alberta province. Two ideas being touted are riverine "hover barges" and monster heavy-lift "hybrid" airships.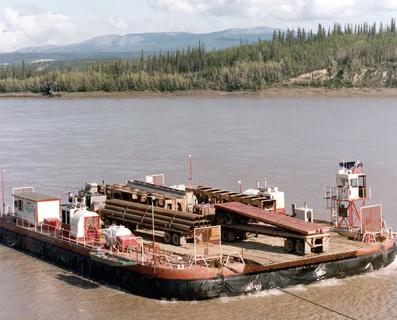 Tomorrow's wilderness heavy lift - brought to you yesterday
Fort McMurray Today reports from a transportation planning meeting hosted in Alberta by energy companies and local government, seeking to find ways to get access for oil exploitation to remote areas. The Alberta provincial government estimates that there are oil reserves of 173 billion barrels accessible with today's technology in the region, and is understandably interested in getting them out.
Thus far, transportation to support oilsands energy projects has been conventional, involving new roads capable of carrying heavy equipment and big expensive construction efforts far from heavily-populated areas.
But it could be easier and cheaper to bring in mostly prefabricated, modular plants and pipelines - if you could move really heavy loads into the interior of Alberta. It wouldn't make sense to build even bigger roads for more or less one-off use, though: which is where radical transport ideas come in.
"It's time to start shifting cultures," Wes Holodniuk, assistant deputy chief administrator of the Regional Municipality of Wood Buffalo, told Fort McMurray Today.
One ploy that might do the job is the use of "hoverbarges", essentially very large hovercraft, to bring the new oil plants. Normal barges able to carry hundreds of tonnes would need a certain minimum depth of water, but a hover barge needs only a reasonably flat surface. It laughs at mud or sand banks, shallows, swamps and even quicksand - a loaded hoverbarge's ground pressure (one pound per square inch) is much less than a human's.
Stuart Turner of Southampton-based Hovertrans says that a 200-tonne hoverbarge can drive over eggs without breaking them. His company offers designs capable of carrying loads up to 2500 tonnes, though they can only be self-propelled up to 200 tonnes. Above that they need to use some form of surface traction, usually supplied by a towing or pushing vehicle or vessel - though there's a "bolt-on" kit too.
Turner told Fort McMurray Today that hoverbarges were used back in the 1970s on the Yukon river, and they could easily haul in prefabricated oilsand rigs up Alberta's Athabasca river.
Hover barge? Pah. You want an airship. Or a SkyHook.
Meanwhile another British firm, Hybrid Air Vehicles, says that mere ground-skimmer barges are unambitious. What you want is a trendy "hybrid" airship - a refinement on traditional dirigibles, using aerodynamic lift to supplement that from internal helium gas cells.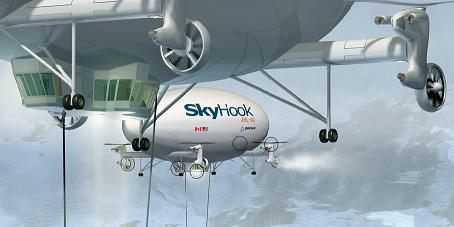 The Canadian SkyHook JHL-40 option (being built by Boeing)
The company submit for consideration their mighty SkyCat 200, capable of lifting 200 tonnes and roughly 100 times the size of dead jubtabulous gold-digger giantess Anna Nicole Smith in length and dimensions through the body (in some directions at least). The gigantic gasbag features a massive cargo bay, and could dispense even with rivers while hauling in Alberta's new generation of oil plants.
That said, such craft usually need to take on ballast when landing cargo in order to avoid suddenly taking off again willy-nilly. The SkyCat, like most modern airship proposals, is designed to use vertical thrust and fly heavy, but even so it would seem likely to have difficulty staying under control without taking on any weight to replace a 200 tonne payload.
There are airship designers who claim to have cracked this problem, but it's noticeable that the only plan to receive backing from a major aerospace firm, the SkyHook JHL-40, uses rotor blades to keep its payload up - the gas cells are purely to support the craft itself.
The JHL-40 is actually intended for the very sort of market represented by the Alberta oilsand fields, and is actually to be operated by a Canadian firm as well - though built by Boeing. Much though Fort McMurray Today doesn't mention the big blimpcopter, it wouldn't be at all surprising to see SkyHook International beat Hovertrans and Hybrid Air Vehicles to a lot of the oilsands transport business - assuming the work doesn't simply get done by road or rail, the way such things have mainly been done for the past century and more. ®