Original URL: http://www.theregister.co.uk/2009/05/19/review_netbook_asus_eee_pc_1000ha/
Asus Eee PC 1008HA Seashell
The skinniest netbook yet - and the best?
Posted in Personal Tech, 19th May 2009 12:02 GMT
Review We liked the Asus Eee PC 1008HA - aka Seashell - when we first saw it at the CeBit show this past March. Asus has done 'luxury' netbooks before - most notably the Eee PC S101 - but they never won us over. Just too darn angular for us. You might as well have a regular netbook and pay a lot less for it.
But the 1008HA, with its MacBook Air-inspired curves, contoured port covers and, crucially, sheer darn skinniness made us think it might be something worthy of purchase.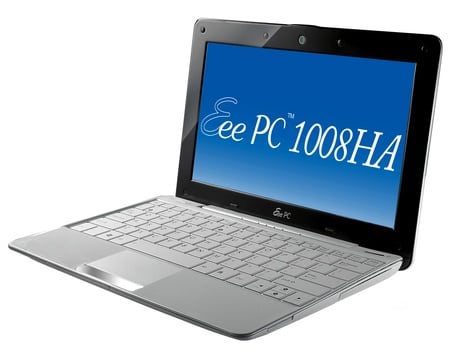 Asus' Eee 1008HA: MacBook Air for buyers on a budget?
The potential stumbling blocks were, as always, price, performance and practicality. Asus' most stylish netbooks have never been cheap, and then there was the company's confession that the 1008HA has a built-in battery that you can't take out and replace.
If the ability to swap the battery, no matter how long its runtime, is a deal-breaker for you, the 1008HA's performance and styling are unlikely to win you over. Fear not, Asus has an alternative model on the way, the 1005H. It does have a removable battery and sports the 1008HA's features and looks. It'll be cheaper too, though the catch is that it'll be substantially thicker and heavier than the machine we have in front of us here.
We'll be taking a look at the 1005H shortly. In the meantime, if you want a really slim and sexy netbook, the 1008HA is the only option available to you right now. And there's a lot to enjoy. Like the Air, the Seashell is considerably thicker in the middle than it is at the edges, but it's still very thin. Closed and sat flat on the desk, its lid doesn't even reach as hight as the keyboard of our Aspire One A110 - and that's the thinner version of the Acer, the one with the SSD rather than an HDD.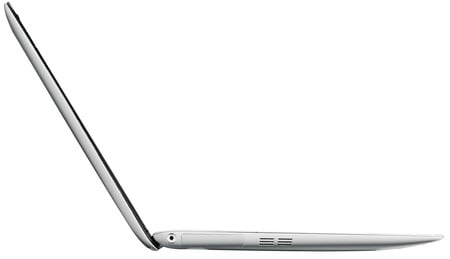 Very thin
The 1008HA has a hard drive, a 2.5in 5400rpm Sata unit with a 160GB capacity, the de facto storage standard for netbooks now. Unlike past Eees, the 1008HA doesn't have any hatches on the base for access to the HDD or the memory. So that's easy upgrades out of the question.
You might consider changing the hard drive because, as our tests show, it's not the quickest of netbook HDDs, falling well behind the drives in rival mini laptops. Not so the 1008HA's 1.66GHz Atom N280 processor and its 1GB of DDR 2 memory which, tested in PCMark05, showed it to be the fastest netbook we've yet had in for testing.
PCMark05 Results
CPU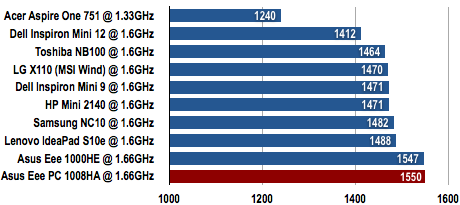 Longer bars are better
Like other Eees, the 1008HA has Asus' Super Hybrid Engine utility. Yes, it's a daft name, but it does something potentially useful: lets you over- or underclock the CPU. Put it into Super Performance mode, and the Atom runs at 1.71GHz. Flip it to the Power Saving setting, and the clock speed falls to 1.4GHz. That said, they made only negligible differences to the Seashell's PCMark05 scores. The results quoted above were taken running at standard speed.
PCMark05 Results
Memory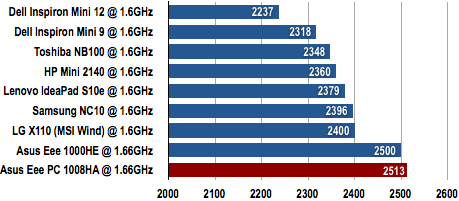 Longer bars are better
We also ran 3DMark06 - the 1008HA's score of 80 was weak but not at all surprising given the use of Intel's GMA 950 integrated graphics core. Since the Seashell's screen is the regulation 10.1in with a 1024 x 600 resolution - gloss covered with an LED backlight - any HD content you play is going to be downscaled anyway, but the machine had no trouble playing our standard-definition H.264 video full screen, even with the CPU in Power Saving mode. So the slower-then-par hard drive was no impediment to smooth playback either. Indeed, in general usage the 1008HA's HDD didn't seem slow at all.
PCMark05 Results
Hard Drive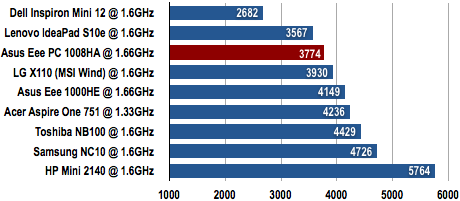 Longer bars are better
The screen's glossy bezel is black no matter whether you have white 1008HA or a black, blue or red one. The single-colour machine we tested looked good, but it inevitably shows up fingerprints. The screen surround contains a 1.3Mp webcam - most netbook cams are 0.3Mp - and there are two array microphones in there too, to improve VoIP call pick-up.
The standard Eee status LEDs - power, hard drive activity, wireless and Caps Lock - are here mounted in the hinge, which pivots within the thickness of the machine, angling the screen lower than it is on may other netbooks, including Asus'.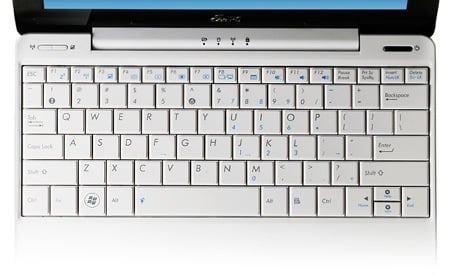 A good keyboard for typing
Below, the keyboard's angular but not the chiclet kind. Still, it's got a reasonably solid foundation, extends almost the full 262mm width of the machine and is comfortable to type on.
Actually, the trackpad's comfortable too. Like the one on the pre-production Seashell, it has no edge, allowing you to run your finger from one side of the 1008HA to the other with no interruption. That was slightly odd before, but Asus has now given the touchpad a bump texture to give you a tactile guide to its limits.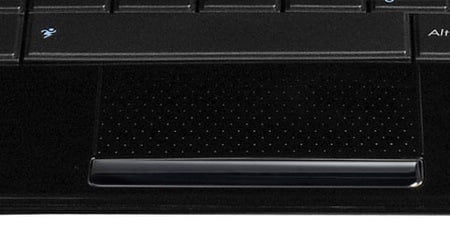 The odd, bumped trackpad is surprisingly nice to use
We like it. You don't slip off the edge and wonder why the cursor's not moving yet there's no edge to get in the way. The bumps are tiny and don't impede your fingers progress. It's multi-touch too, but only to allow pinch-to-zoom gestures. Where's the two-finger scrolling, Asus? That's the only multi-touch gesture worth having.
The buttons are formed from a single, smooth piece of plastic, but unlike the ones on many early netbooks, the Seashell's have a gentle action, triggering with a light tap rather than a good, hard push. Thumbs up for that.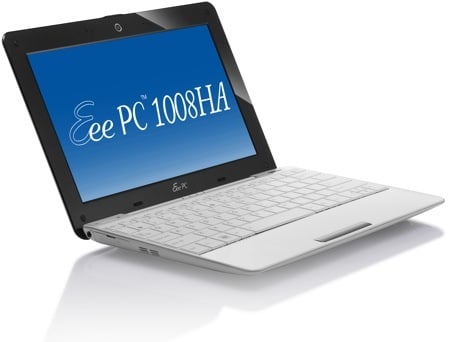 One of the more work-friendly netbooks around
We're less sure about the covers over the 1008HA's ports - which include only two, not three USB sockets, one on each side. They're no substitute for the Air's flip-down port mechanism, leaving you to pull off plastic covers every time you need a port. Unlike the Air, you do get a second USB port, Ethernet (behind its own cover, which opens sideways and barely far enough for the cable header), a 3.5 audio in as well as an headphones port, and a VGA connector.
Well, sort of. It's a mini port that requires an adaptor. No sweat, though. In a piece of truly excellent engineering, said adaptor fits smoothly into a dedicated bay on the base of the netbook so you need never risk leaving it at home.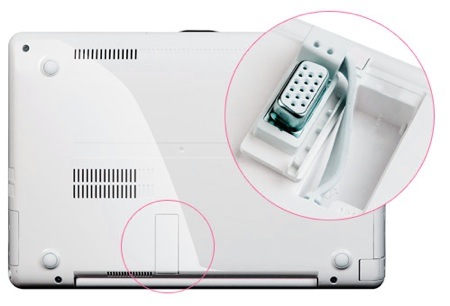 The built-in but removable VGA adaptor is smart
When closed, the covers keep the 1008HA's lines intact, but while its aesthetically pleasing, it's just not practical. Folk with large USB gadgets, like TV tuners, will need extension cables as the 1008HA's ports are inset. Again, the upcoming 1005H improves on this with standard, flush-fitted exposed ports.
Many folk will say the same about the integrated battery, but at least you should have no worries about its runtime. Using our standard test - set the screen to maximum brightness, keep the Wi-Fi on and associated with an access point, and loop-play an SD H.264 video until the power goes - the 1008HA lasted 3h 27m minutes.
That's not a class-leading performance, but it puts the 1008HA toward the top of our table. You can double that span for a more typical usage pattern. With some judicious disabling of wireless features and by dimming the backlight, Windows will tell you you've got more than seven hours' runtime.
We'd also point out that the 1008HA remained effectively silent throughout the video and benchmark test. There is a fan in there, but it's darn quiet. And while the machine got hot on the base, it was cool on top.
Video Playback Battery Life Results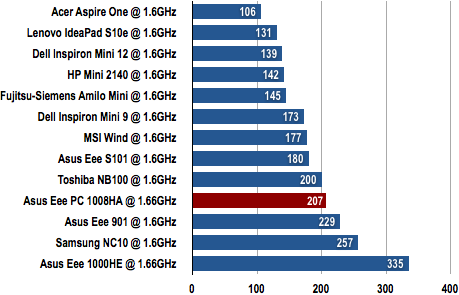 Battery life in minutes
Longer bars are better
Still, there's the issue of an eventual replacement. If the battery goes tits up in the first 12 months, Asus will collect your 1008HA, fit an new power pack and return the machine to you. But in three years' time will you be bothered enough to pay for a replacement should the battery go kaput then? We suspect most folk will just buy a new machine. Most of them will do that even if the battery's replaceable. So why worry about one you can't swap? For 90 per cent of the people likely to consider buying the 1008HA, the sealed in cell isn't really an issue. The remaining ten per cent will look elsewhere in any case.
We were more concerned about upgradability, especially with Windows 7 on the horizon. Want to add some extra memory? Impossible without taking the machine to bits. We didn't try it, so we can't honestly say you'd find a spare Dimm slot in there if you did.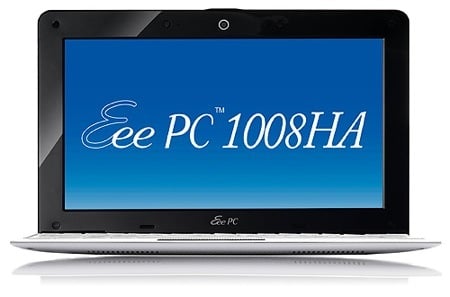 You're paying for portability and performance, not practical upgradability
Final thoughts? The Seashell has Bluetooth 2.1+EDR and 802.11n Wi-Fi, so Asus isn't skimping on wireless connectivity. If you like to listen to music through the speakers, the Eee has a very decent volume for a machine this small. If you don't like Windows XP, you'll have to pay the tax anyway, but Ubuntu 9.04 booted up and ran nicely off our Live CD - or as nicely as it can without Wi-Fi. That said, this is a common problem with netbooks, and we're satisfied this could be fixed after a full install.

Then there's the price: £380. We think netbooks should really come in under £300, so you're paying a lot for a great design, it seems. But you do get the fastest netbook out there, top spec Wi-Fi and Bluetooth, and really portable slimness. If you don't like bulk, this is the netbook for you. If you're only interested in price, look elsewhere.

Very easy to carry
Verdict
Get over hang-ups about built-in batteries and you'll see the 1008HA as not just a very, very sexy, slimline netbook but as an eminently portable and a powerful one too. The only aspect we don't like is the very limited upgrade path. We'd like the price to be keener, but you do get an impressive feature set for your money, certainly more than much cheaper netbooks provide. If you're willing to make a few trade-offs, this is one gorgeous netbook. ®
More Netbook Reviews...
| | | | |
| --- | --- | --- | --- |
| Acer Aspire One 751 | HP Mini 2140 | Asus Eee PC 1000HE | Dell Inspiron Mini 12 |