Original URL: http://www.theregister.co.uk/2009/05/19/review_headset_plantronics_audio_655_skype/
Plantronics .Audio 655
First certified headset for next-gen Skype audio
Posted in Personal Tech, 19th May 2009 08:02 GMT
Review Skype's voice-over-IP software has emerged as a major challenger to traditional telephone companies in the last couple of years, especially when it comes to saving money on expensive international calls. Now featuring SILK, a new wideband audio codec, Skype has raised its sonic standards and the latest Plantronics headset, the.Audio 655, supports this technology.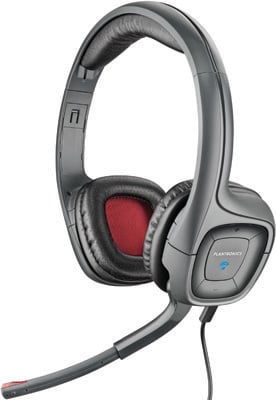 Sound judgement? Plantronics' .Audio 655 is a USB-only affair
Besides Bluetooth headsets, Plantronics also makes a number of headsets designed specifically for using Skype on a personal computer. Successor to the company's popular 625 model the .Audio 655 is touted as the first headset certified for use with SILK, which is featured on 4.0 version of Skype for Windows, but not yet on the current Mac version.
Considering most personal computers are sold with either built-in or bundled microphones and speakers, so you don't really need to buy any extra kit in order to use Skype on your Mac or PC. Even so, it's still worth buying a decent headset if you use Skype a lot – if only to ensure you've something that's comfortable to wear.
At £40, the .Audio 655 is more expensive than the £25 for its predecessor, the 625. However, the 625 was really just designed for voice calls, the .Audio 655 is intended as a more general-purpose headset, also suitable for playing games and listening to music.
The 655 looks like a fairly conventional over-ear headset. The headband is adjustable and padded for a comfortable fit, and the earpieces are softly padded too. We found the headset light and comfortable to wear and, although the headset doesn't provide active noise-cancellation features, it does a decent job of blocking out background noise – in fact we almost missed a phone call while testing the headset, as we couldn't hear the phone ringing in the next room.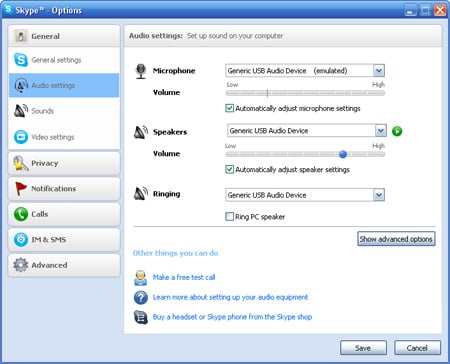 Get set: functions as a generic USB audio device on Macs and PCs
The microphone boom is attached to the left earpiece, and you can rotate the boom up and down, as well as adjusting the length of the boom to position the mic right by your mouth. One handy little feature is that the microphone is automatically muted when you twist it upwards, so you don't need to clamp your hand over the microphone when you want to stop people hearing your voice. The left earpiece also has two buttons on it that allow you to quickly adjust the volume when you're making a call or listening to music.
The 625 model had conventional audio jacks for the speakers and microphone, which could be plugged into the audio connectors on a PC sound card, but also included a separate USB adaptor that allowed you to use it as a generic USB audio device. By contrast, the .Audio 655 is USB-only – although the manual provided with our review unit hadn't been updated, and rather confusingly instructed you to connect the non-existent audio jacks to the PC's sound card. Needless to say, the manual went straight into the bin.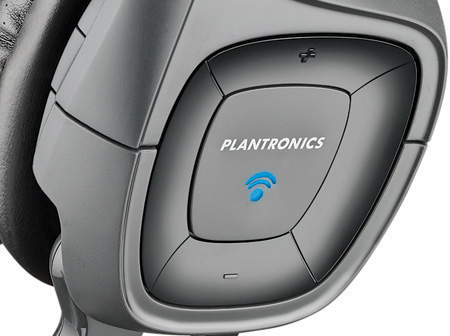 Sound choices: pushbutton controls take care of listening preferences
Fortunately, that was the only glitch we encountered, as the headset worked perfectly with both our Mac and PC test machines as soon as we plugged it into a spare USB port. There's no additional software to install either. At 6.5ft, the USB cable is adequate for use when you're sitting a desk and making calls on a computer, although we were a little disappointed that the new wireless .Audio 955 version isn't available just yet, as the freedom of a wireless headset would be better still.
The audio quality for voice calls is obviously subject to a wide range of factors, such as the available bandwidth and the equipment being used by both caller and receiver. However, we found that audio quality during a number of test calls was very good. We also left ourselves some messages on our office answerphone to see how we sounded on the receiving end of a Skype call to a landline telephone, and the results were good there too.
The headset speakers have a frequency response of 20Hz-20KHz, while that of the microphone is 100Hz to 8KHz. That's perfectly adequate for making voice calls and listening to music, and we found that music playback produced a nice rich sound on mid-range and higher frequencies. Yet, it was a little bass-heavy at times, and lower frequency sounds lacked clarity.
Verdict
There are cheaper Skype headsets on the market – including the original 625 model, which is still available – but the .Audio 655 works well and provides very good audio quality for anyone that uses Skype a lot. It also provides decent – if not outstanding – music playback, ensuring that it will continue to earn its keep if you want to use it for playing games or listening to music or films in your off-duty hours. ®
More Headset Reviews...

Sennheiser VMX Office
multi-source Bluetooth
headset

iSkin Cerulean F1+TX
Bluetooth
stereo headset

Ten of the Best...
Noise-isolating
earphones

Ten of the Best...
Bluetooth
headsets