Original URL: https://www.theregister.co.uk/2009/05/18/review_projector_canon_lv_8300/
Canon LV-8300
It is big, it is clever, it is portable
Posted in Personal Tech, 18th May 2009 11:52 GMT
Review Some portable projectors are intended for home cinema enthusiasts. Others are targetted at business users, trainers and travelling presenters. With the LV-8300, Canon could well be having a creditable crack at satisfying the needs of both types of buyer.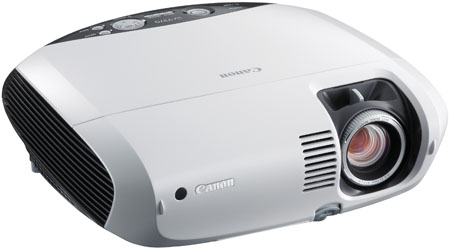 Moving pictures: Canon's LV-8300 comes complete with its own shoulder bag
Although the projector is bigger and more expensive than your average 720p/1080i device, it offers up-to-date native WXGA widescreen resolution, is uncommonly easy to use, and looks very much like a consumer durable sitting on your desk... or coffee table.
Actually, the LV-8300 is not as large as it first appears: it's only 11cm high and 32cm wide. Rather, the shiny white plastic casing that slopes saucily over the top and front of the unit makes it seem bigger. Even the foot-long depth is misleading, since a significant part of this is taken up by a tough curved handle moulded into the casing at the back. Business travellers should note that the unit weighs a reasonable 3.3kg and comes supplied in a carry bag with shoulder strap.
The lens sits under a large, curved dust cap. Zoom (1.2x) and focus are adjusted manually using rings around the lens, and the image size is impressive for a non-conference projector. Even at a modest living room throw distance of 3m, the LV-8300 produces an image more than 2m wide and 1m high. Move the unit just 1m away from your wall, and you can watch a manageable 0.5 x 0.3m projection. Take it to a school hall, set it back 10m from the screen and you will project a massive 6.5 x 4m image.
In small-to-medium sized venues, such as boardrooms and classrooms, this produces quite an impact and at 3000 lumens, the projection is bright enough for this type of partially lit environment too. The device can be switched to a quiet mode that dims the lamp a little and reduces the fan noise, and this would be recommended in all small-to-medium venues. At full pelt, the fan noise is too distracting for entertainment purposes. The contrast ratio is rated at 500:1.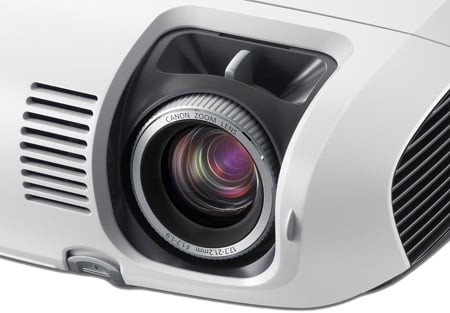 Image size and optical zoom are adjusted manually at the lens
One of the most attractive features in the LV-8300 is its WXGA (1280 x 800-pixel) native resolution. This is virtually meaningless if all you want it for is HD TV, but it makes a subtle but important difference when playing back 16:9 DVDs at full-screen: you get a bigger image. It's good for travellers, too, because the WXGA resolution directly mirrors that supported natively by vast numbers of notebook PCs in the real world. No more fiddling with display properties to get the two screens in sync -- just plug it in and go.
The LV-8300 is quick to set up, with two of the three rubber-soled feet being adjustable for height. The front foot can be screw-adjusted or you can use a quick-release button. One of the rear feet can be adjusted to compensate for tilted surfaces. Canon has thoughtfully put all the ports and the power input together at the rear, where they ought to be. In use, the plugs hanging out the back are well protected by the large, moulded carry handle.

Ports at the back are unambiguously labelled in writing, rather than just icons
There are two standard computer inputs -- VGA analogue and HDCP-compatible DVI-I digital/analogue -- each with their own stereo audio line-in sockets. RCA-type video and stereo audio ports are included too, as is an S-video port. Business and education users will be pleased to see monitor-out and audio-out ports, letting them work at a mirrored desktop computer screen rather than rubbernecking to see the projected image.
Serial and Ethernet 'service' ports are provided too. Canon says these are intended for remote management use in multi-device educational setups. Don't expect a built-in web-based management, though: you have to converse with the projector using arcane serial commands. It's a bit like reprogramming a 1200-baud modem in 1988.
While not exactly common on projectors, the lack of HDMI port is disappointing. But all the ports are labelled in English. No incomprehensible icons. Joy.
Not that we would be tempted to connect any audio input, unless it was to send the audio out immediately to some external speakers. The internal 7W mono speaker was no louder, nor offered any distinguishable quality advantage, over the tinny little speakers on our notebook PC, and at least they are stereo. For a projector of this size, we expected better.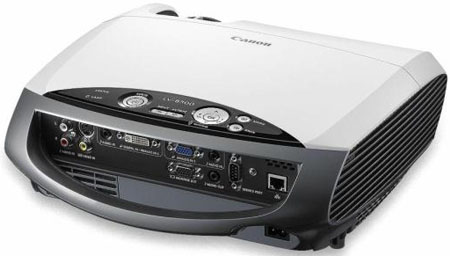 No burnt fingers: the control panel remains cool to touch
Operating the LV-8300 is surprisingly easy, especially given the expansive range of image controls available to you. Most projectors come with tiny overly detailed menu windows and a complex routine of selection, adjustment and acceptance. Not so the LV-8300, whose big on-screen menus seem really straightforward and quick to navigate.
Better still, Canon has built a basic, boring and wonderfully usable remote control handset for the projector. The buttons are spaced apart, they are immediately responsive rather than spongy and, yet again, they are all labelled in English. That's all you need from a remote control, and Canon has delivered. Why do other manufacturers find this kind of thing so difficult?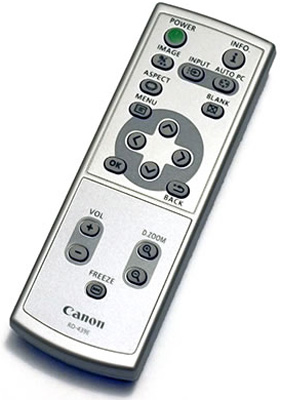 Well-spaced buttons and not too many of them. All labelled in English
Overall, image performance is good and we perceived no flicker when projecting movies and animations. This will be due to the progressive scanning. However, torture-testing the LV-8300's capabilities using the industry-standard DisplayMate utilities revealed that, while testing analogue input through the VGA port, the projector can sometimes struggle with ultra-fine, pixel-width detail. Nothing we could do with clock, tracking, scan, video filter, sharpness, or any other control would correct these occasional moirés. However, no such problem was encountered with the digital input.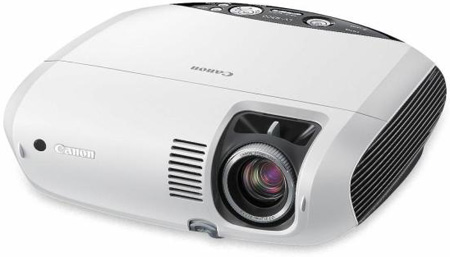 At last, a projector that doesn't look like a toner cartridge from the set of Aliens
After this disappointment, we were cheered up by the Screen Colour function, which alters the tone of the projected image to compensate for non-white projection screens. For example, if all you have at your disposal is a green, blue or yellow-painted wall, the LV-8300 can alter the image colours accordingly. A low-power, low-noise mode is also available, helping reduce reflective spots when projecting onto shiny, dry-wipe whiteboards.
Verdict
This is a very likeable projector. The connectors are spaced out nicely in the right place and all properly labelled, and everything is so easy to set up. The image is big and friendly. Even the look of the projector itself is big and friendly, like a futuristic, one-eyed sandwich toaster. It is neither perfect nor cheap, but in a market stuffed with hideous, poorly thought-out and impractical compact projectors, the LV-8300 is joy to carry around. ®
More Projector Reviews...

Acer K10

Epson EH-DM2
with built-in DVD player

Infocus X10

3M MPro110
handheld projector