Original URL: http://www.theregister.co.uk/2009/05/18/review_mouse_hippus_handshoemouse/
Hippus HandshoeMouse
It's a saddle for your hand
Posted in Personal Tech, 18th May 2009 08:02 GMT
Review Using a mouse in the wrong way for long periods of time will gradually and unremittingly put strain on your forearm. If you are unlucky, the damage may be permanent, leaving you in constant pain. So while you chuckle away at this funny looking mouse, bear in mind that it might just prevent years of suffering and save your livelihood.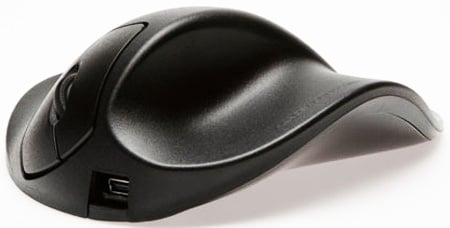 Hippus's HandshoeMouse: a design based on medical research
According to its Dutch manufacturer, Hippus, the HandshoeMouse was developed from ergonomic studies by university medical schools in Rotterdam and Maastricht. These studies show that conventional computer mice induce users to over-exert certain muscles in the hand and arm, which can cause problems all the way up to the neck. The objective, then, was to design a mouse that encouraged the hand to relax.
It may look like a maquette by Henry Moore or a toy stingray, but the HandshoeMouse is supposed to act like a saddle for your hand, requiring no active tension to control.
There is nothing symmetrical in the design. A deep ridge down one side gives your thumb somewhere to rest, rather than something to grip on. A gentler curve down the other side allows your four fingers to lie naturally and loosely together over the top of the mouse. The bulbous central part of the device supports your palm, while the extended flat area towards the back keeps your wrist off the desk top.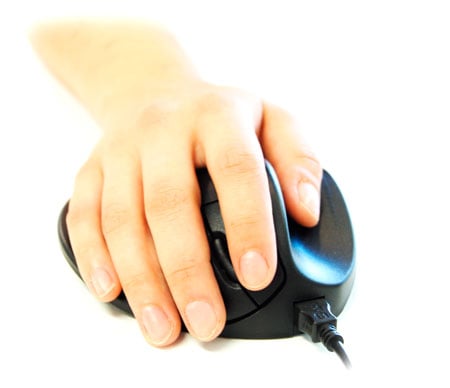 A relaxing hand job from Holland
This support for the wrist is important, as Hippus wants you to relearn how to use a mouse without lots of wrist action. Instead, you should allow your entire forearm to move, which, in turn, allows you to relax your shoulder. Conventional mice usage, by contrast, tends to lead most users to tighten their armpit and restrict the blood circulation -- increasingly so when under pressure.
Your fingers curl naturally over to the front of the unit, with your first and second fingers resting against front-mounted mouse buttons. By positioning the buttons at the front rather than on top, there is no risk of the weight of your fingers accidentally clicking one of them, so there is no need to keep your fingers rigid. The buttons and scrollwheel on the HandshoeMouse are not hair-triggers either, so even heavy-handed users should not find themselves firing off in error.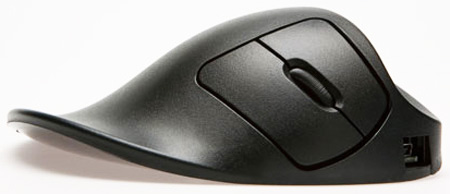 The curled sides let you tip the mouse to reposition it
In use, the HandshoeMouse is certainly comfortable but it does require plenty of practice. The temptation to grip the device between your thumb and little finger in order to lift it up for repositioning, for example, is almost irresistible.
Hippus has thought about this, however, and designed the base of the mouse to curl up at the sides. This allows you to tilt and drag the unit without having to lift it: while tilted in this manner, the optical tracking is inoperative, leaving your mouse cursor motionless on-screen.
With usability still in mind, Hippus has ensured the device is Plug and Play, requiring no drivers on either Windows or Mac platforms. The company warns there may be compatibility issues with graphics tablets, but we experienced none of these with the HandshoeMouse sharing a PC with a Wacom Intuos3 tablet.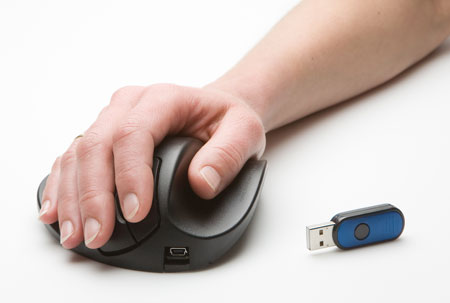 In the right hands, gripping action is avoided but left-handers will go out of pocket
The big challenge, though, is finding enough desk space for such a large mouse. If we devoted this amount of desk space for a conventional mouse, half our RSI risk might be negated anyway. Worse, the USB connector sticks out stiffly at the front by an additional couple of centimetres, so make sure you clear away any coffee cups.
The wireless edition of the HandshoeMouse is less demanding in this respect. This model can be recharged while you work by connecting a USB cable, which is handy, but it costs £22 more. And this is an expensive mouse, make no mistake. Blame the exchange rate if you like, but at £94 you need an absolutely compelling reason to buy one.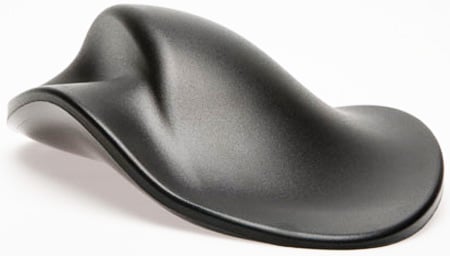 Going Dutch: the only mouse in the world with its own wrist rest
To be fair, Hippus is not selling these in large numbers just yet, and the company is manufacturing the wired versions in three different sizes and three different colours: all this costs money. On that note, additional 'special' sizes and a left-handed model are apparently available for an unlikely £266.00 (€297.50), which will not go down well with the 'sinister' crowd out there.
Verdict
The HandshoeMouse is a well-designed and well-built product, comfortable to use and smooth in action. We cannot prove whether or not it relieves strain to your forearm in the long term, but the background science and our brief experience suggest that it is so. It will certainly relieve your wallet of nearly £100... which is more than the cost of a terabyte hard disk. Which do you need more? ®
More Ergonomic Gadget Reviews...

Logitech V550 Nano
wireless laptop mouse

2P Slim-Mouse

Logitech Alto
keyboard and laptop stand

UGC Renegade
gaming chair