Original URL: https://www.theregister.co.uk/2009/05/15/review_phone_samsung_tocco_ultra_s8300_touchscreen_cameraphone/
Samsung Tocco Ultra Edition S8300
Touchscreen, keypad and a killer camera, but where's the WiFi?
Posted in Personal Tech, 15th May 2009 08:02 GMT
Review While last summer's Tocco proved a hit for Samsung, its follow up isn't simply a feature-refreshed, identikit Mark II model. For this season's flagship Tocco Ultra Edition, Samsung has reconfigured the original minimalist design with a significant extra – a sliderphone keypad – adding a different dimension to the look, feel and playability of Samsung's pocketable Tocco.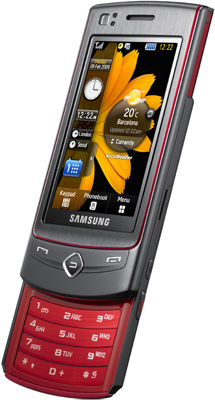 Samsung's Tocco Ultra Edition S8300 opts for 7.2Mb/s HSDPA instead of WiFi
Other makeovers include an 8Mp camera and A-GPS technology provides satellite-based location finding, too. While it packs 7.2Mb/s HSDPA 3G high-speed mobile data connectivity, Samsung hasn't added Wi-Fi to this upgrade. A real shame considering this useful feature is increasingly on the roster of higher-end mobiles.
The Tocco Ultra Edition also runs on Samsung's latest TouchWiz v1.5 touchscreen user interface which, as well as finger swiping controls, supports a larger variety of home screen widgets – including a selection of online mini-apps, just like the Samsung Pixon. The display has been improved, yet it's still a compact 2.8-inch array. The WQVGA 240 x 400 pixels resolution, 16m colour AMOLED screen looks impressively bright and vivid, and gives a reasonably clear account of itself under strong sunlight.
Unlike side-loaded handsets packing a Qwerty keyboard, such as the LG Prada Phone 2, the slide-down keyboard on the Tocco Ultra doesn't add much bulk measuring just 110 x 51.5 x 12.7mm and weighing in at 119g.
The slide-out keypad is there primarily to make it easier for conventional phone fans to dial numbers and, more importantly, compose messages – something many touchscreen phones, including the Tocco, have had issues with. The flush, smooth keypad is suitably responsive and pleasing to use as an alternative to an onscreen touchpad. There is no Clear key however, or navigation/select buttons, so you still have to utilise a bit of touch action when texting.

Trim phone: sleek even with the sliding keypad addition
From the front it appears at first glance that Samsung has done a belts-and-braces control job by adding a diamond-shaped regular navigation D-pad under the screen, between the Call and End buttons. However, this is in fact simply a Back button when navigating the menus; it doesn't do any up/down or sideways positioning. Indeed, touch selection is still the main act on this model.
At first, this Back button can be a tad disorientating, particularly when using the keypad. Instinctively you can find yourself pressing it to select an onscreen option, or to scroll as you would with a navi-pad, only to end up going back a step or exiting a feature. It's frustrating to start with, but the habit soon wears off. After all, you don't buy a touchscreen phone for the buttons, and the Tocco Ultra's compact display does a good job of accommodating finger action. Thankfully, it doesn't feel particularly cramped when fingering through menus.

The diamond button isn't a navi-pad and takes some getting used to
The home screen has three icon-labelled buttons at the bottom for the essentials – Keypad (for dialling), Phonebook and Menu. Alternatively, you can swipe left or right to bring up onscreen the main menu or a set of pre-selected favourite contacts.
The Tocco Ultra Edition's Widgets function, upgraded from the original Tocco's, is a neat way to access certain applications and features quickly and easily from the home display. With a tap on the screen, a hidden toolbar pops out to the left. This contains a scrollable bunch of icons representing individual widgets, covering a wide range of functions, from calendar and memo apps to music player, FM radio and a selection of web-based apps.
A tap of a widget in the toolbar moves it onto the main part of the display. Select as many as you want to show, drag them around the screen, organising them as desired. Close the tabbed toolbar with another tap, and they remain in place until such time as you want to drag them back into the toolbar.
Delving into the main menu, you're presented with a grid of 12 icons for various features. Samsung has spruced up the graphics, and it looks pretty attractive – although it's not quite as whizzy or busy as some the LG Arena's 3D S-Class UI tricks. Tap an icon to open up a sub menu and you're presented with list of options you can scroll through and select with finger swiping and jabbing action. Alternatively, in typical Samsung fashion, options are numbered so you can simply press the numeric key, if the slider's open.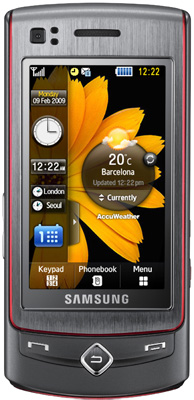 Favourite widgets are easily arranged to customise the interface
Naturally, softkey options on the bottom of the screen and other touch options change dynamically as you navigate functions or select options. Mostly it's a fairly intuitive system to operate, it's responsive and it quickly feels comfortable to use.
Stroking through menus isn't as effortless as Apple's iPhone, and you can't spin through long lists with a single swipe, or pinch to zoom. Still, Samsung has improved scrolling through lists such as the Phonebook. As well as swiping down through a list, or searching by tapping a name, holding down a small arrowed bar will whizz through the alphabet to help locate to the name you're after. Alternatively, simply tap a slider keypad button for the right letter.
Text input is decent for a touchscreen phone too – even though most will opt for the keypad. The touch keyboard fills the screen, avoiding problems experienced on other touch phones, caused by fingers straying on to control buttons mid-message. There is no Qwerty keyboard option, however, which may disappoint some users.

No pinch zoom, but swipes through lists and has improved scrolling
For a compact touchscreen, the Tocco Ultra Edition is noticeably accurate; with large fingers getting by with few accidental strokes. 
The 8Mp camera fires up within a couple of seconds of pressing its side button, switching automatically into landscape viewfinder mode. The slider design keeps the lens tucked behind the bodywork, so it has to be open to use it.
It's amply equipped with adjustment options, with a sharp-shooting autofocus system onboard, Face Detection and a macro mode for excellent close ups. In Smile Shot mode, the camera waits for a subject to smile before snapping. Similarly, Blink Detection can avoid shots ruined by serial blinkers.
Wide Dymamic Range gadgetry improves light handling by boosting sensitivity in tricky lighting situations, while an Anti-Shake option reduces hand wobble problems. Tapping various icons onscreen and selecting options hand you plenty of control over auto camera settings like white balance, exposure and metering, plus ISO for light sensitivity. Various typical cameraphone effects and frames can be added too, plus there are multi-shot, and panorama shot modes, plus timers.
Thanks to the onboard A-GPS, you can also switch on geo-tagging, adding location metadata to shots, so you can view where they were taken on the onboard Google Maps or other suitable desktop or online application.
The results from the camera are impressive. It feels comfortable to use and snap with, and there's minimal lag from pressing the shutter to image capture. It takes terrific shots with colours rendered richly and accurately, with the autofocus capturing crisp, detailed images. As well as a strong performance in good lighting, it did pretty well indoors in reasonable conditions. A dual LED flash is onboard for low light shooting, which does is satisfactory for boosting lighting locally.

Certainly compact for a touchscreen model
While browsing photos has no pinch-to-zoom, you can zoom in or out by touch button and slider action. Samsung offers a stack of in-camera image editing options to play with, and you can also upload images and video online straight from the handset, thanks to a Share pix app that supports Flickr, Facebook, Picasa, Photobucket, MySpace and Friendster.
As well as snapping high-grade stills, the Tocco Ultra Edition puts in a commendable video shooting performance. It can capture WVGA or VGA images at up to 30 frames per second, producing some decent quality footage for a cameraphone. That's not all – it also has slow motion and fast motion recording options (in QVGA resolution). There's in-phone movie editing too, where you can edit and save low res clips with audio tracks dubbed over.

Slideshow: protecting the lens when closed, the camera only works with the keypad out
Video calling is also supported on this handset – there's a secondary camera on the front for face-to-face calling, should you wish to use it. As well as self-shot video, you can of course sideload or download video content to the handset. DivX and XviD video is supported, and video can also be delivered over the air, though with no Wi-Fi keep an eye on data costs when downloading or streaming via 3G.
Although the 80MB of internal storage won't get you too far, the Tocco Ultra Edition does come with a 1GB MicroSD card in-box. MicroSDs up to 16GB are supported if you really want to crank up the music or video capacity. Supporting MP3, AAC, AAC+ and WMA formats, the music player software has a familiar feel to it, relying on list-based options for selecting.
The touchscreen player controls are a doddle to use, with cover art supported when available, and you can drag forward and back along a timeline as tracks are playing. Tunes can be copied over from a PC using Samsung's new PC Studio software, or synced with Windows Media Player. Drag and drop and Bluetooth transfer are also supported.
The audio performance is very acceptable, too. The supplied in-ear headset is a cut above the usual earphones bundled with a mobile. However, there's no 3.5mm standard headphone adapter on the body of the phone. Instead, a microUSB connector on the side rather than on top, takes care of the charger, USB and earphone connections. Consequently, you can't charge up while listening to tracks or video through headphones).
Thankfully, there is a 3.5mm adapter mid-way on the 2-piece headset, so you can upgrade to your own ear-gear if you want higher quality audio experience. With our reference headphones attached, the music player was able to deliver a strong sonic performance, producing a more lively sound with plenty of depth.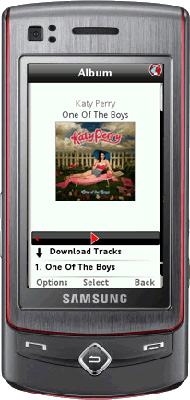 Supports over-the-air video streaming, with a second camera for conferencing
The FM radio features the usual RDS and auto-tuning regulars, plus a more unusual Record option, enabling you to capture songs from the radio. Samsung has also embedded Find Music software for tune identification, which works by sampling clips from the radio or any sounds you hear around you, and automatically interrogating a remote database, returning track info and cover art in seconds.
Although its lack of Wi-Fi is an obvious omission, the HSDPA-powered NetFront V3.5 mobile browser does a reasonable job at getting around web pages. It renders pages pretty quickly, and offers a selection of onscreen touch tools to negotiate the browser. Yet it's nowhere near as slick as the iPhone's Safari experience. Zooming is done by tap and drag, or using the side volume keys and pages can be viewed full screen in landscape, and moved with some finger dragging action, so it is serviceable.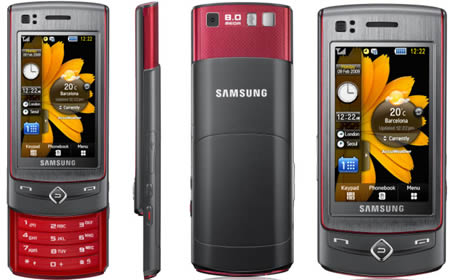 Bundled with Google apps, the A-GPS system integrates with Maps
Samsung has pre-loaded a selection of Google apps, including Mail, Search and Maps – a touch-tailored version of this useful application that combines neatly with the phone's A-GPS satellite location-finding gadgetry. Apart from geo-tagging, this is the only out-of-the-box GPS app included – there's no full Satnav software supplied. Overall, the A-GPS technology was responsive and quick to locate our position. The touch user interface of the app was intuitive too, and was nippy at re-loading with new positioning data.
Standard issue organiser tools are at your fingertips; calendar, memo, tasks, world clock, calculator, and converter apps plus voice reorder, timer, stopwatch and RSS reader are to hand and simple to use with either touch control or keypad. Another feature you can try is Fake Call, which rings your phone with a bogus incoming call, giving you the excuse to duck out of conversations, meetings, and so on.
Bells and whistles aside, Samsung gets top marks for this phone's basic voice calling performance, which was consistently excellent throughout our tests. The Tocco Ultra clocks up an average battery life with Samsung estimating an optimum talktime of up to 4 hours or 300 hours of standby time. We managed around 2 days between charges with typical use. However, mileage will vary depending on your fondness for power hungry features.
Verdict
Combining touchscreen and slider design principles, the Samsung Tocco Ultra Edition adds some extra text-tapping usability to the touch format without bloating the device. It still manages to feel comfortable to handle, and pleasing to use. Its user interface isn't as elegantly smooth and sophisticated as the iPhone's benchmark set-up – and like most touch devices, some elements take a little getting used to.
But Samsung has produced something that's attractive, and that has little touch fussiness in day-to-day operation. It has a decent spread of features, but the lack of Wi-Fi is a drawback. While the versatile 8Mp camera certainly puts this touchscreen device at the upper end of the cameraphone scale. Anyone looking for an eye-catching, text-friendly touchscreen phone should definitely Tocco look. ®
More Smartphone Reviews...
| | | | |
| --- | --- | --- | --- |
| Acer DX900 | LG Arena KM900 | Vodafone HTC Magic | Nokia N85 |