Original URL: https://www.theregister.co.uk/2009/05/14/review_storage_network_ezy_technologies_myxerver_mx3600/
EZY Technologies MyXerver MX3600
Low cost NAS box that doesn't skimp on features
Posted in Personal Tech, 14th May 2009 08:02 GMT
Review Most NAS servers essentially do one thing – store data and make it available over a network, usually for the home or small business. It's not a complicated job, but it is an essential one, and suits most users. Computing manufacturer EZY Technologies, has other ideas, seeing the humble NAS server as having more to offer and becoming a valued asset, rather than an afterthought.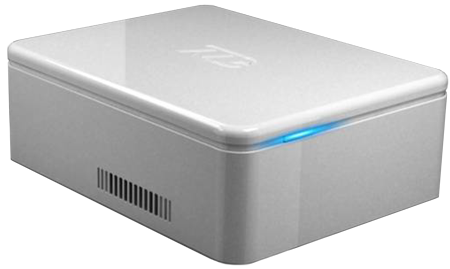 EZY Technologies' MyXerver MX3600
To that end, EZY has come up with the MyXerver. It's a NAS server that not only looks good, but also offers automatic backup, web access and UPnP functionality above the norm for this sort of device, but not the price. Its styling is understated, but none the worse for that, and is available in three neutral colours – black, white, and grey – so it won't stand out, but with sleek lines and glossy plastic finish, it's certainly no eyesore.
Our test model was packing 320GB but the MyXerver will initially only be available in 500GB and one terabyte flavours at a cost of £118 and £144 respectively – certainly competitively priced against comparable NAS servers. There's little to break the smooth contours of the 171 x 135 x 58mm box except a gently glowing ice blue light in one corner, and a ventilation port on the side. There doesn't appear to be a fan, and aside from the occasional hard disk spin, it's pretty much silent.
Around the back there's a power button, power plug, Gigabit Ethernet port, USB 2.0 port and a USB eject button. One of the MyXerver's many nifty features is that you can automatically back up data from a USB stick – or anything else connected by USB – by pressing and holding the eject button. Getting starting, we plugged it into the Ethernet port on our wireless router with the supplied cable, powered it up and, once we'd loaded the supplied CD Mac and PC compatible software onto our Windows machine, we were all ready to go. Hard to see how it could have been any simpler really.
The server can be easily found on your PC's Network Places, but as usual, the file-based interface feels a bit functional – mother's milk to seasoned network architects perhaps, but a little bit sparse and techy for those more used to more indulgent applications. Fortunately, the functionality is straightforward – you create files, map your data to them, and save them.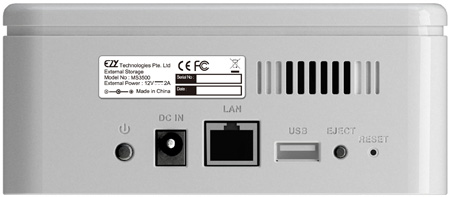 Pity there's only one USB port, as it supports printers and other storage devices
You can also set up folders with different access criteria, depending on who you want to be able to see them. And once you've set up your network, you don't necessarily have to have your computer switched on to use the MyXerver. If you set up a lengthy Bit Torrent download, for example, you can switch your computer off, and the MyXerver will carry on accepting the data until the job's done.
One of the key elements of the MyXerver is that it's not just for backing up your files at the end of the day, as NAS servers are generally wont to do. This one goes further, and backs up your changes as you go. So if you tweak a Word document on your PC or Mac, that change will be immediately backed up on your MyXerver.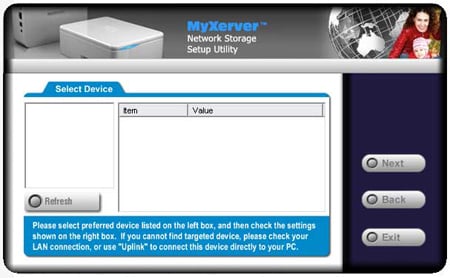 The set-up menu walks you through the tricky stuff
This backup functionality is all down to the NTI Shadow software, which comes preinstalled. You can set it to back up all your files, or you can exclude some to save space if, for instance, they're static and you don't need to back them up again. It can be configured to save after every change, or at pre-set times, and you can also have it save previous saved versions of files – up to nine of them, in fact. Retrieving files is simply a matter of drag and drop.
And when our connection dropped – as it's occasionally wont to do – NTI Shadow simply warned us that we'd lost the connection, then, after it was restored, calmly took up where it had left off, continuing its back-up. All well and good, though we couldn't repeat the same trick with a simple drag and drop operation of a 5GB file. When the connection dropped that time, it was back to the start again.
Once you've set up the required jobs, NTI Shadow will continue to back up your data on the MyXerver to your specifications, and you can more or less forget about it. Now that's the kind of NAS server we like.
Access isn't just limited to your immediate network as you can log on to the MyXerver from anywhere using the web. Initial setup is slightly fiddly, as you'll need to suss out your router's IP address, although the manual walks you through this. Once you're set up, you can specify a domain name for access – much easier to remember than an IP number, though you may have to pay for the domain name.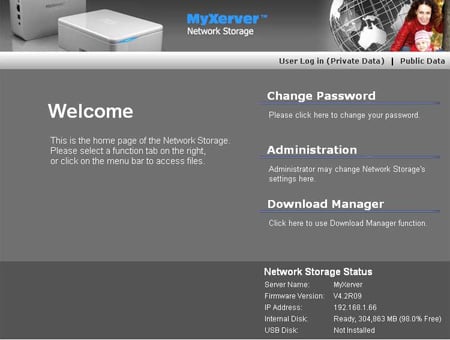 Online storage: access is available remotely from the web
The MyXerver also has a useful printing option. If you connect the device to your printer via the USB port, anyone on your network can access it. You can also use the MyXerver as a uPnP server, streaming media directly to compatible devices. Usefully, it's optimised for use with iTunes, which makes set-up easy, and you can keep your music there so your tracks don't clutter up your desktop's hard drive while you stream them over your network.
Back-up speed however, isn't the MyXerver's strong point. We attached a USB 2.0 Toshiba hard drive and copied a 5GB file in 59 seconds. The same file copying to the MyXerver took over five minutes – so it's not ideal if you're in a rush. However, the ongoing NTI Shadow backup should mean that, for average home or office use, your saved files should never be too far behind you.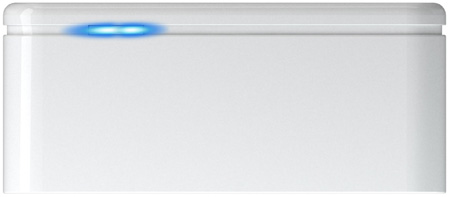 Easy on the eye and also available in black and grey
Verdict
With no fan it's gloriously quiet, and generally gets on with its job without drawing attention to itself. The fact that you can access it from anywhere, via the web, without the need for your computer to be switched on, is a very strong plus, as is the NTI Shadow backup software. It's a very useful addition to any home or small business network and a definite step up from a standard NAS server, for a very competitive price. ®
More NAS Reviews...

WD My Book
World Edition 1TB NAS

Cisco Linksys Media Hub

Addonics NASU2

Iomega Home Media Network