Original URL: https://www.theregister.co.uk/2009/05/13/review_media_player_iriver_p7/
iRiver P7 8GB portable media player
Playing to win?
Posted in Personal Tech, 13th May 2009 08:02 GMT
Review Here at Reg Hardware, we've been given to wonder if iRiver has rather lost the plot of late. Sure, the Lplayer was a decent enough bit of kit, but the E100 and Spinn? Writing, "could do better" on their end of term report cards would have been polite in the extreme. However, some of the devices on the iRiver booth at the 2009 CES gave us cause for optimism, in particular, the P7.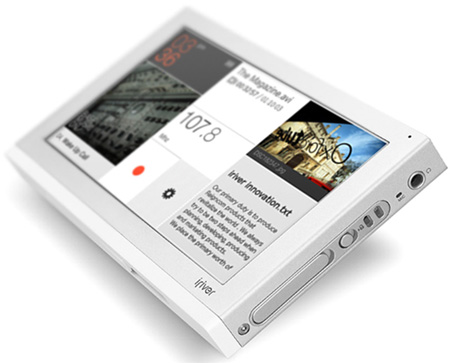 iRiver's P7: its many refinements reveal learning from past mistakes
As a flash-based PMP with a 4.3in 480 x 272 pixel screen, the P7 can't avoid going head-to-head with Cowon's O2. In the first round – aesthetics – it has the Cowon well beaten. To start with at 173g and 112 x 73 x 13mm, it's both smaller and lighter. It also has a smart brushed aluminium body that is very nice to the touch and which combines with the white highlights on its top and bottom to make it one of the most attractive PMPs we have come across.
External controls have been kept to a minimum and consist of nothing more than a very small volume and menu touch pads on the top of the device, alongside the on/off button. On the right hand side you will also find a 3.5mm headphones jack, lock slider, a loop to hang the stylus off and a covered MicroSD card slot which – despite a small finger-indent – required the use of a sharp implement to push cards in and out. At the bottom is a proprietary USB port with a sliding cover.
The flush USB port cover lets the P7 dock with a cradle which also houses a secondary battery and a bigger speaker – the one fitted to the back of the P7 is fairly useless – though whether or not it will ever make it to the UK is another matter.
iRiver call the P7's touch screen UI design 'Magazine' because it looks like a magazine cover. Well, sort of. Odd name notwithstanding, it's a very nicely thought out and executed bit of design, for which iRiver deserves a pat on the back.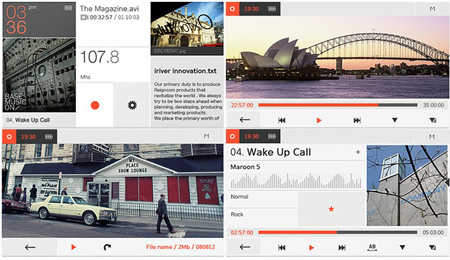 The Magazine interface continually updates as different files are accessed
The basic home page layout is simplicity itself, with different parts of the screen taking you directly to either your music, video or text files, the radio, recording and settings pages or the time and date page – this last being home to a calculator, world clock and calendar. The picture, music and text areas are represented by the last file accessed – so the 'magazine' is constantly changing its appearance - while the radio button always shows the current frequency.
The current time and battery indicator are displayed on a status bar that sits at the top of the screen at all times, unless viewing videos or images at full screen. The status bar is also home to handy 'M' button that takes you directly back to the home page.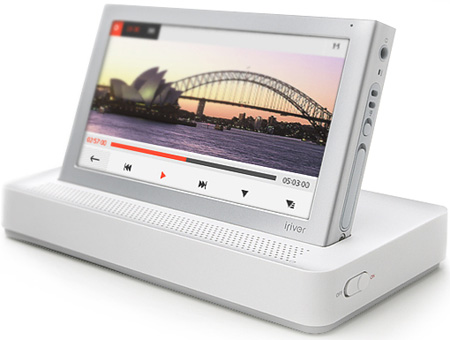 In the dock: available in the UK? The jury's out on this one
The resistive touch screen works well, with both taps and swipes being recognised and implemented with speed and accuracy. That's not to say it's iPod Touch smooth and fluid – nothing else ever is – but it works reliably and is helped by the fact that all of the virtual buttons in the system are a decent size. Despite all this, iRiver supply the P7 with a stylus, although the only use we found for it was pushing MicroSD cards in and out.
A particular part of the media management UI worth drawing attention too is the bookmark system that allows for easy multiple bookmarking of both video and audio files and lets the user call up a progress bar that shows where all the bookmarks in a file are, and skip between them.
The P7 supports most of the file types you would expect of a modern PMP including MP3, FLAC, Ogg, WMA and WAV audio along with H.264, DivX, Xvid, WMV, RealMedia, FLV and MPEG 1/2/4 video. The only codec we would like to see added to that list is AAC, or rather AAC files in an MPEG-4 container as used by iTunes – stand alone AAC files with an .aac file extension will play just fine.
The P7's picture viewer handles JPEG, GIF and TIF images – and does so very well – and it also displays .txt files. Unlike the Cowon O2, the P7 supports ID3 tags – or rather it does for MP3 files. Try as we might, we couldn't get it to recognise the tags on Ogg or FLAC files. This isn't the end of the world as you can view all the media on the player by folder, but it's still an annoyance.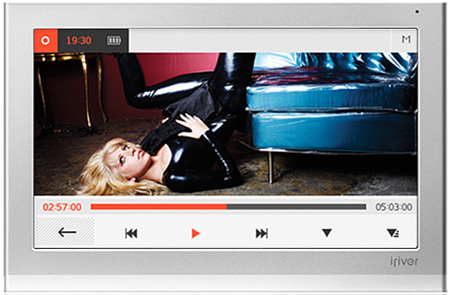 Built-in FM radio and voice recorder too
As well as music and video playback, the P7 also comes with an FM radio, which lacks RDS but has 30 pre-sets, and a voice recorder too. It can also record off-air, with recordings being stored as WMA files.
Like all the best PMP's, video playback isn't confined to the screen's native resolution or less. AVI, MPEG 4 and RealMedia files can be handled at resolutions up to 800 x 480, while WMV files can be as large as 640 x 480. However, tests revealed that a 720 x 480 WMV file played with minimal frame drop. H.264 support is less robust, with iRiver quoting 352 x 288 as the maximum resolution. It certainly struggled to play a 480 x 272 file and every H.264 file we tried had an annoying band of noise across the very bottom of the screen.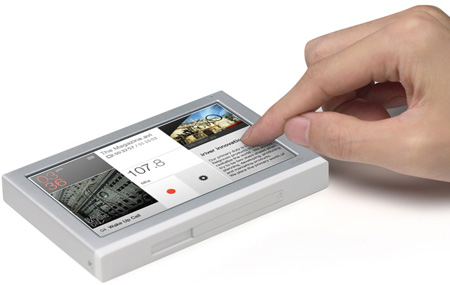 Stylus included, but you'll only use it to prise out the memory card
Though iRiver makes no mention of the P7's DRM capabilities, we found that it supported content downloaded from BBC's iPlayer with no problems at all, which was a pleasant surprise. Though the P7's screen is technically identical to the O2's right down to its 130ppi dot density – for comparison the iPod Touch's screen comes in at 163ppi – it only supports a 262k colour palette rather than the Cowon's 16m.
Given those numbers we were not expecting great things but the P7 actually proved nearly as good a video player as the O2, even the washed out colours and dun lighting of Downfall coming across well. Indeed, that was a video that really highlighted the failings of the Spinn's video playback, despite it having an AMOLED screen. Furthermore, the P7 also proved very capable of handling the various aspect ratios we threw at it. On a down note the player doesn't support SubRip (.SRT) subtitle files and the screen proved rather susceptible to changes in viewing angle – washing out if moving around 20 degrees or more from the optimal position.
One of the very few things we liked about iRiver's Spinn was the audio quality, which we rated very highly indeed. This is true for the P7 too, which is sonically identical – fitted with the same SRS-WOW HD 3D sound modification software. In short, this means that in the audio quality stakes, the P7 beats anything Apple has to offer like a red-headed step son, and is right up alongside the best offerings from Sony or Samsung. It also has plenty of volume on tap too.
A feature we particularly like in the P7 is the way the various sound mod settings can be accessed directly from the Now Playing screen and easily altered on the hoof. Of course, getting decent sound from the P7 is dependent on buying a new set of earphones, the standard iRiver issue being rather lacklustre.
Setting up playlists on the P7 is not as easy as it could or should be. To start with, we couldn't work out how to set them up on-board, period. The user guide instructions simply failed to work. Nor did we have any luck synchronising playlists from WMP11 or Winamp.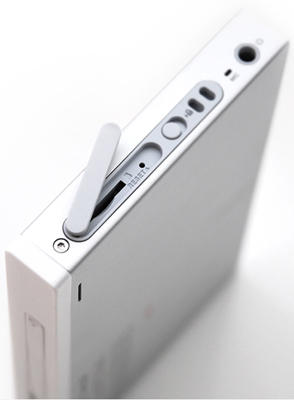 8GB max? The word is it can take 16GB cards
Luckily, you can set them up using iRiver's bundled media management application. Agreed, you shouldn't have to resort to a non-standard media app to do this, but at least iRiver's Plus3 is quick and painless to use. However, it is Windows-only, so if you are a Mac or Linux user and you want to set up a playlist you are, frankly, stuffed. Speaking of matters OS-related, the P7 has a handy MTP/MSC switch, so getting it to pop up on the desktops of Mac and Linux machines is not an issue.
Like the O2, the P7 comes with memory card expansion, which is MicroSD rather than SD proper. iRiver reckons the slot is good to go with cards of up to 8GB but, when visiting iRiver's CES booth, we were told it supports 16GB cards too. Since a 4GB MicroSDHC was the largest capacity card we had to hand, we will have to take it on trust.

Certainly one of the tidiest PMPs around
Unlike the O2 the P7 manages to combine media stored on the card with that stored on the internal memory into a single media library. We almost wept for joy when we discovered that iRiver have finally worked out how to accomplish this. It's a trick Sandisk's players have been capable off since dinosaurs roamed the earth. Also, like Sandisk's players, the P7 takes a little while to rebuild its combined content database when new content is added, but it's a small price to pay for the convenience.
According to the manufacturer the P7 will pump out tunes for 50 hours on a full charge and keep video running for 7. Our tests gave us results of 39 and 6.5 respectively, which is significantly better than the O2 for audio but identical for video.
The 8GB P7 will set you back £169 while the 16GB version costs £199, which is about the same price as the Cowon O2 that only comes in 16GB and above capacities. On balance we'd go for the new iRiver. Neither is perfect but the P7 has the better UI, supports ID3 tags, combines its on and off board stored media, is the better music player – though the Cowon is the superior video device of the two – and has the better battery life. The P7 is also smaller, lighter, more attractive, and a wee bit cheaper.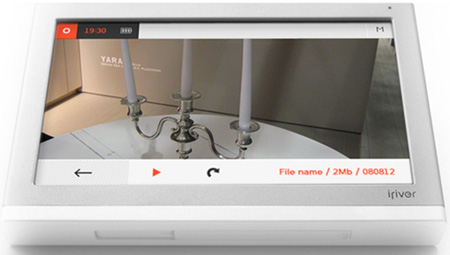 Off-axis viewing can be a bit washed out, so stay in the sweet spot.
Incidentally, our test device arrived with firmware 1.13 on it but we updated to 1.15 for the test. Doubtless some of the P7's stranger foibles, such as not recognising FLAC ID3 tags and not adding tracks to playlists, will be sorted down the line via additional firmware updates which tend to come thick and fast from iRiver.
Verdict
The P7 may not be perfect, but it's the most convincing product iRiver have put out in quite a while. We liked the look and feel and welcome that iRiver has, at last, managed to combine both on-board memory and card storage data into one library. File support is pretty solid, only let down by the slightly flaky H.264 playback and issues with ID3 tags. Audio performance was top notch and video playback was better than anticipated. Moreover, the touch-screen 'magazine' UI is not only rather clever and well thought out, but it actually works. After the Spinn's dog's breakfast of a UI, who'd have thought? ®
Thanks to AdvancedMP3Players for the loan of the review unit.
More PMP Reviews...
| | | | |
| --- | --- | --- | --- |
| Samsung P3 | Cowon iAudio O2 | Archos 7 | Sony Walkman S |