Original URL: http://www.theregister.co.uk/2009/05/12/review_phone_doro_phoneeasy_338_gsm/
Doro PhoneEasy 338gsm
Fuss-free phone with dedicated panic button
Posted in Personal Tech, 12th May 2009 08:02 GMT
Review Doro is a Swedish company which launched its first range of back-to-basics mobile phones in 2007, aimed at the elderly and people with limited dexterity. Using a Doro phone is like taking a step back in time. A time before smart phones, mobile internet or even camphones – this is an extremely basic handset.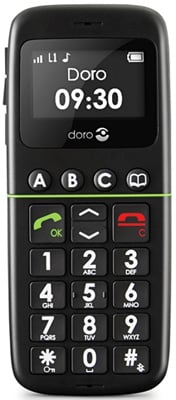 Doro's PhoneEasy 338gsm: simplicity is key
It would be easy to chuckle at the Doro's simplicity, its almost naïve presumption in relying on basic virtues of good call quality and ease of use. Even though the 338gsm is bottom of the new Doro PhoneEasy series, it isn't a quickly churned out cheapie from the dog end of a company's range. It's actually a very carefully considered, finely nuanced tri-band phone that shouts quality, even as it whispers simplicity.
It costs £100 SIM-free but it certainly doesn't feel cheap, dressed in a solid, highly tactile rubberised plastic that's sort of warm and comforting. At 16mm and 95g it's both slim and light, although there's no danger of losing it, since it casts a sizeable shadow at 125 x 52mm. The sides house the volume buttons, menu button, charger input, 2.5mm headphone socket and the power button. Around the back is a panic button – more on that later.
Much of this phone's size is due to the keypad. Compared to some of the diminutive examples from the likes of Sony Ericsson recently, it's absolutely huge. The large rectangular number buttons sit a little proud of the casing, so they're easy to find with the thumb and they offer click feedback when they're pressed – it's exceptionally easy to use and that's clearly no accident.
The call start and stop buttons are even bigger and they're on either side of a pair of arrow buttons for scrolling through menus – rather like the sort of thing you used to get on ancient Nokias.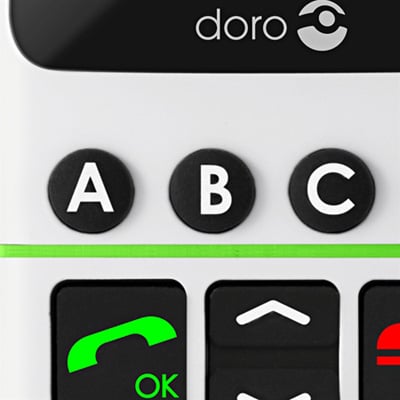 In touch: the Doro's large buttons receive RNIB approval
Above them is a dedicated button for the address book, which will hold up to 50 names, and three large speed dial buttons for key contacts, clearly labelled A, B and C. You type a number, then press and hold one of the three memory buttons to save it – did we mention it was easy to use?
Other functions are refreshingly straightforward too. Holding down the call start key once a call is in progress takes you into hands-free mode. Text input is limited to multi-press, so no T9 to confuse more senior users. In fact, using it can be frustratingly logical, at least for those of us who're used to multifunctioning controls.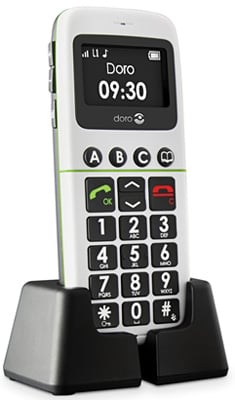 Dock options: a weighty charging base is included
Pressing the call end button won't necessarily take you straight to the home page, as we've become accustomed to. It cancels in sequence so you'll need multiple presses to back up through menus or to remove characters displayed on the screen.
The screen however is far from impressive, and may be the first trick Doro has missed with the PhoneEasy 338gsm. At 23 x 36mm, the monochrome screen is small and cramped. Although characters appear in large type, they're not particularly easy to read. For a phone that sells itself on ease of use this is unfortunate.
A key feature of the PhoneEasy 338gsm is the large panic button on the back. This can be activated either by holding it down for three seconds, or by giving it two quick presses. The phone then automatically sends an emergency SMS to all numbers that have been saved in the phone's emergency numbers list.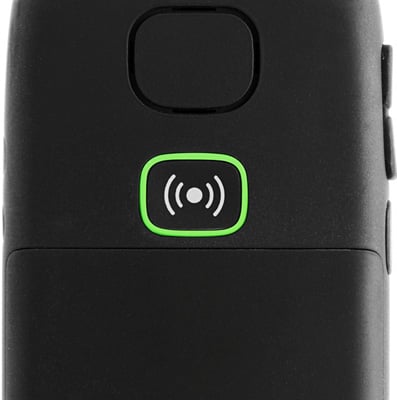 Emergency service: the panic button sends texts to a select list of numbers
This clever function allows you to save up to five numbers and once they've all been texted, the phone automatically dials the first number. If there's no answer, it moves on to the next until it receives a reply. Unfortunately it can't distinguish between answering machines and genuine responses, which limits its effectiveness.
Oddly, the phone can receive SMS messages, but not send them. This seems another trick missed – having the option to send text messages, especially from a menu of pre-written texts, would have been very useful, without over complicating the phone's functions.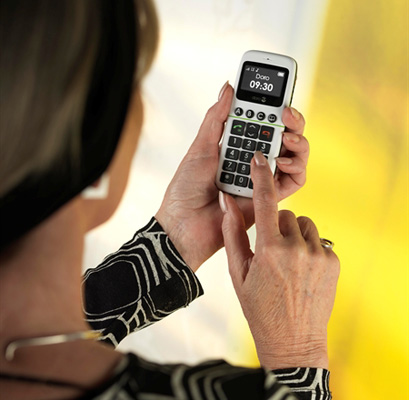 Run out of Ovaltine? Gran searches for the panic button
In three days of use, the Doro 338gsm never slipped up on call quality and we had no trouble connecting at any time. The speaker doesn't offer particularly natural sounding voice tones but it's piercingly effective – which is what this phone's all about.
The battery is surprisingly weak on paper, considering it's such a basic handset, offering a claimed 280 hours standby and up to 180 minutes of talk time. In practise however, largely due to the fact that absolutely the only thing we could use it for was telephone calls, we were still using it four days and more after charging.
Verdict
While of limited appeal, particularly to readers of El Reg, we probably all know someone who could benefit from such a mobile. The Doro PhoneEasy 338gsm is a finely wrought, deceptively simple phone for older or dexterously challenged folk that does exactly what it needs to and absolutely no more. It's not cool, but it's supremely easy to use, lightweight, and has that clever emergency function. ®
More Budget Mobile Phone Reviews...

Sony Ericsson J132
vs. LG KP100b

Sony Ericsson Walkman W302
Budget music phone

LG KF300
Budget clamshell phone

Motorola
Motofone F3 e-ink