Original URL: https://www.theregister.co.uk/2009/05/07/review_graphics_amd_ati_radeon_hd_4770/
AMD ATI Radeon HD 4770 40nm GPU
Can a budget graphics card really be this fast?
Posted in The Channel, 7th May 2009 12:02 GMT
Review The RV740 graphics chip at the heart of AMD's new budget Radeon HD, the 4770, is an interesting wee beastie. It's wee because this is the first graphics chip to use a 40nm fabrication process rather than the 55nm process used in HD 48x0 series and in Nvidia's latest GeForce GTX 2xx chips.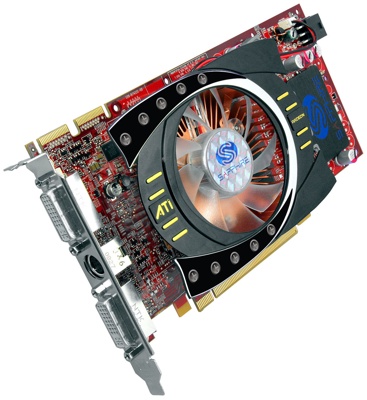 AMD's Radeon HD 4770: first 40nm GPU on board
The interesting part is that the RV740 chip is a dedicated budget graphics GPU instead of merely being a slice from a high-end chip.
The Radeon HD 4830 has the same transistor count - 956m - that you find in the 4850 and 4870, although the number of unified shaders was reduced from 800 to 640. There's a bit of a story here as early review samples of the 4830 had 560 shaders until a Bios update magically increased the count to 640 just before the chip was launched.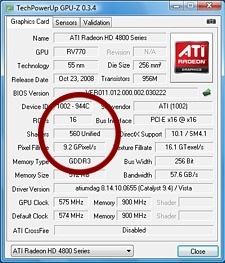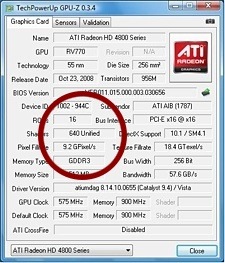 Radeon 4830: before the pre-release Bios update (left) and after
Just like the HD 4830 the new HD 4770 has 640 unified shaders however the number of transistors has been reduced to 826 million which must help ATi control costs.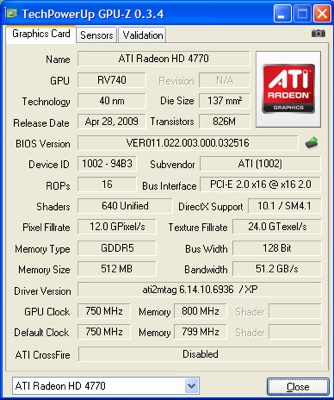 Radeon HD 4770 in GPU-Z
As it happens you won't find HD 4770 on sale for much less than HD 4830 but when you consider that Sterling has dropped like a stone, we suppose that we have to be grateful that prices haven't risen.
The clock speed of the new core has been increased by a huge amount from the 4830's 575MHz to 750MHz in the 4770, and the effective memory speed has also made a big leap as AMD has specified GDDR 5 instead of GDDR 3. To date we have only seen GDDR 5 used in the 4870 and 4890 so it would seem that this is going to be a common feature in graphics cards from the red team in future.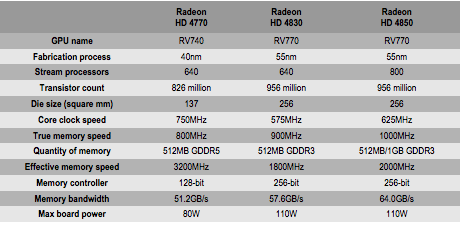 The change from GDDR 3 to GDDR 5 means that the 800MHz memory used with the 4770 has an effective speed of 3200Hz. Unfortunately, AMD has undone some of this good work by specifying a 128-bit memory controller instead of the 256-bit controller we would hope to see, so the memory bandwidth is 51.2GB/s, compared to 57.6GB/s with the older 4830. As soon as graphics cards manufacturers start to bring out their own versions of the 4770, you can be sure that memory speeds will increase so there will be little to choose between the memory bandwidth of the 4830 and the 4770.
AMD has also managed to reduce the maximum power draw, taking the 4770 to 80W, a big step down from the 4830's figure of 110W. Those are the maximum theoretical power-draw values and they don't quite match up with our experience. We found that the 4770 draws 5W more than the 4830 when idling in the Windows desktop. Under load, the 4770 either draws the same amount of power as the 4830 or 10W less, depending on the design of the graphics card.
It's annoying to see that AMD still feels that it necessary to adopt a six-pin power connector when you would hope that the 4770 would be able to draw sufficient power through the PCI Express slot.
We mentioned that the form-factor of the HD 4770 can affect the power consumption, depending on the type of cooling that's employed.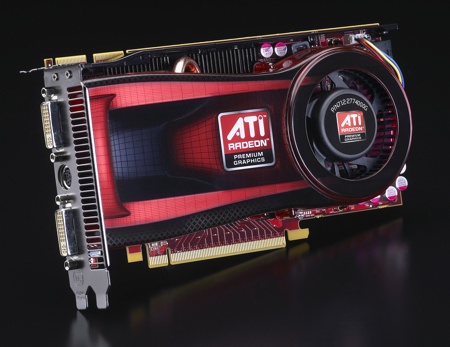 AMD's reference 4770: odd-one-out dual-slot cooler
The graphics card we were sent by AMD uses a dual-slot blower design that looks similar to the 4850 and 4870, although the 4770 is significantly shorter: 210mm to the 235mm for the others.
We generally expect that the first graphics card to land on our doormat will be a reference design that is swiftly followed by a wave of identical models that are only distinguished by the manufacturer's logo on the cooler. The 4770 is different in that the only card to use the blower design is the one sent by AMD. Nodels from Albatron, Asus, HIS, MSI and Sapphire all use a conventional cooler that circulates air inside the case of your PC. This then is the true reference design while the blower is the odd one out.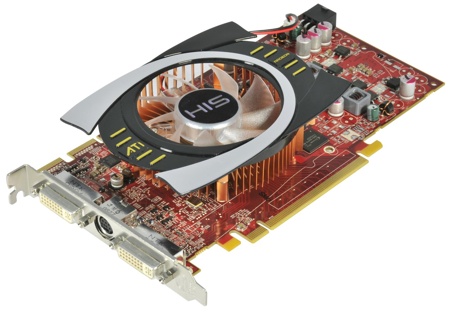 The true AMD reference design, as exhibited by HIS
Although the bracket of the reference design is a single-slot job, the cooler is quite tall so you need two slots to accommodate either design. We are confident that the reference cooler is cheaper than the blower which is why we doubt you'll ever see the more expensive cooling option used on this budget graphics card. For what it's worth, our figures show that the blower draws a tad more power than the reference cooler and that it keeps the GPU at 50°C compared to 60°C degrees with the reference design.
You may read other reviews that refer to the way that the blower will spin up momentarily with a burst of noise. This is true, but it doesn't apply to the reference cooler, which is lovely and quiet.
We tested the blower 4770 alongside an HIS 4770 reference design on a Core i7 920 system that was built around an Intel DX58SO motherboard with an Intel X25-M SSD running Windows Vista Ultimate. The results were impressive. At standard clock speeds, the HD 4770 is consistently ten per cent faster than the 4830 which gives you an extra three frames per second in Far Cry 2 at Full HD resolution.
Power Draw Results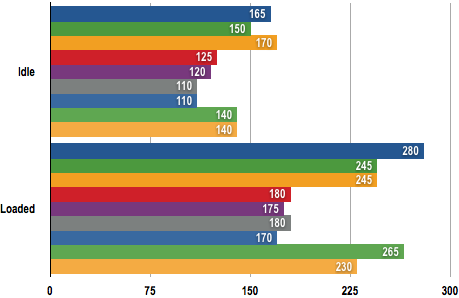 Power draw in Watts (W)

Overclocking allowed us to raise the core and memory speed by a true 50MHz from 750MHz/3200MHz to 800MHz/3400MHz which increased frame rates by another 2f/s. That's the same clock speeds that we expect to see from the Asus 4770 TOP when it's launched with a premium on the price of £10.
3DMark Vantage Results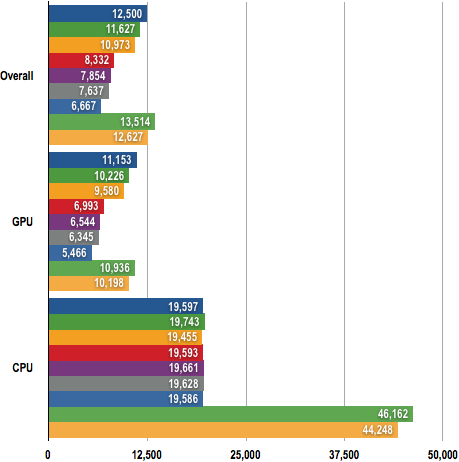 Longer bars are better

Far Cry 2 Results
High Quality, 1920 x 1080, No AA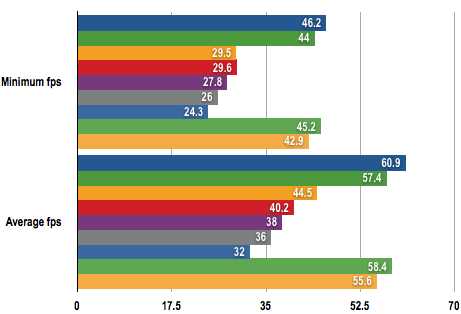 Longer bars are better
High Quality, 1920 x 1080, 2x AA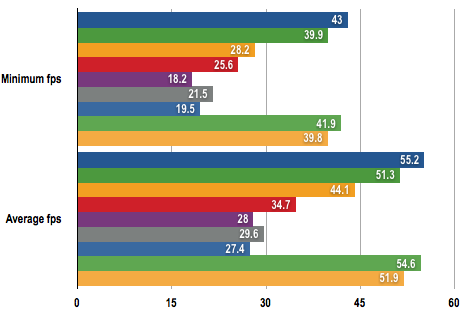 Longer bars are better

If you have a straight choice between a Radeon HD 4830 and a HD 4770 then you pick the HD 4770, no question about it.
Bangs Per Buck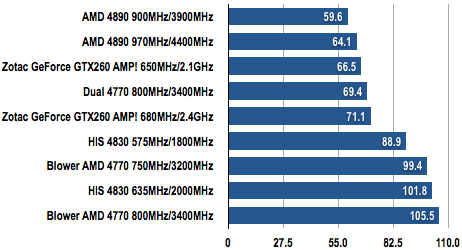 3DMark Vantage Overall Score divided by Price
Longer bars are better
We have to regard HD 4770 as a proving ground for the 40nm process. On this showing it's a success, so we hope the next step will be new mid-range and high-end graphics cards.
Bangs Per Buck
CrossFireX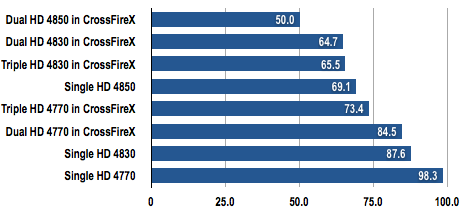 3DMark Vantage Overall Score divided by Price
Longer bars are better
We ganged up the two 4770s in CrossFireX on the Core i7 system and the results were very encouraging. In 3DMark Vantage, the GPU score leapt from 6993 marks to 9580 marks, but in Far Cry 2 the frame rate only increased from 40.2f/s to 44.5f/s.
3DMark Vantage Results - CrossFireX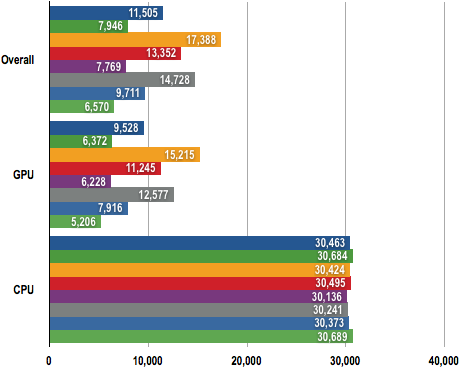 Longer bars are better

Far Cry 2 Results - CrossFireX
High Quality, 1920 x 1080, No AA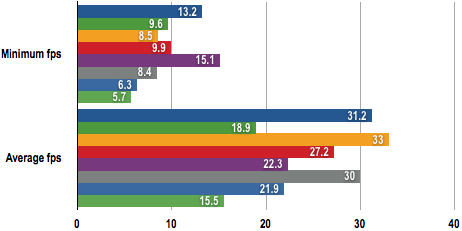 Longer bars are better
High Quality, 1920 x 1080, 2x AA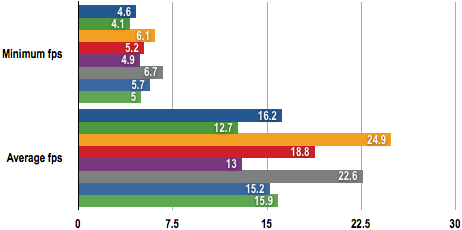 Longer bars are better

Power Draw Results - CrossFireX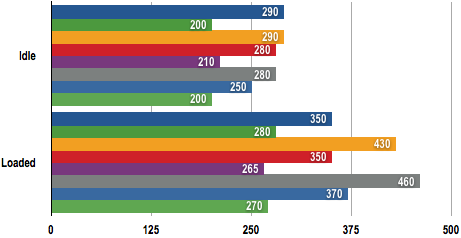 Power draw in Watts (W)

However, that's only part of the tale. When we enabled 2x anti-aliasing, with a single HD 4770 the average frame rate dropped from 40.2f/s to 34.7f/s but with dual HD 4770 the frame rate recovered to 44.1f/s. That's a big step but it'll cost about £160 to buy a pair of 4770s so you might just as well go the whole hog and spend £190 on a GeForce GTX 260 or a Radeon HD 4890.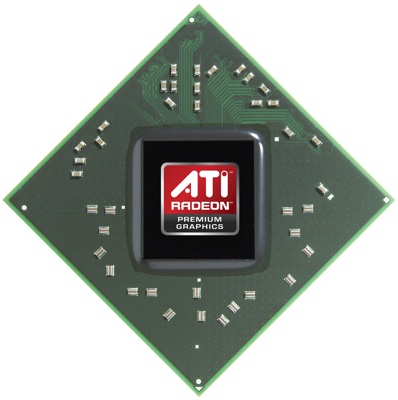 We can't wait to see high-end 40nm GPUs
Even so, it made us wonder what would happen if we could plug three 4770s together, but we had been told by AMD that it was only possible to run two HD 4770s in CrossFireX. At that moment, we received graphics cards from Asus and Sapphire so we reached for our Skulltrail test system that's based on a D5400SX motherboard with its three graphics slots.
Skulltrail is horrendously expensive as it uses twin Core 2 Extreme QX9775 processors. But it serves as a platform to run multiple graphics cards and we found that three 4770 cards in CrossFireX outperformed three 4830s. More interestingly, they also beat two HD 4850s which is relevant as all three set-ups have the same cost. It's pretty much an academic exercise as we wouldn't consider using three budget graphics cards in CrossFireX when you can buy a single HD 4890 for less cash.
Our testing results clearly show that the 4770 has replaced the 4830, and we can hardly wait to see what AMD does next with its 40nm technology.
Verdict
AMD's new HD 4770 is a gem of a graphics card that delivers ten per cent more performance than the under-rated Radeon HD 4830. ®