Original URL: https://www.theregister.co.uk/2009/05/07/review_desktop_pc_asus_eee_box_b206/
Asus Eee Box B206
HDMI-equipped budget media centre
Posted in Personal Tech, 7th May 2009 08:02 GMT
Review On the outside, there's little to distinguish the Asus Eee Box B206 from its predecessor - put the two side by side and you'd be hard pressed to spot the difference. The only real external clue is the DVI connector on the back of the original Eee Box has been replaced by an HDMI port instead.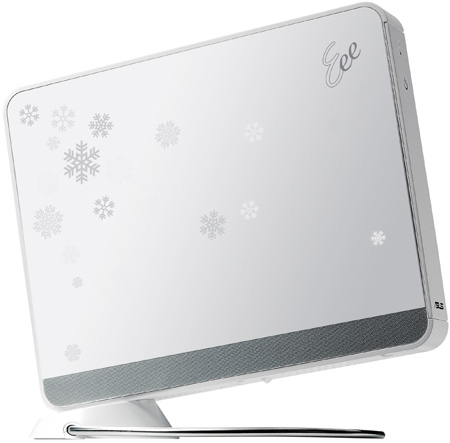 Asus' new Eee Box: double the storage and upgraded graphics
It measures the same slim 27mm wide and stretches 222mm front to back and 178mm tall. In situ it takes up slightly more space because the included stand has a footprint around 104mm wide and the fan design means it's not recommended to use it without it. The front switches and ports are hidden from view behind a folding flap. Push it back and you'll find a power switch, a 5-in-1 memory card reader (SD/SDHC/MS/MS Pro/MMC), two USB ports and headphone and microphone sockets.
Although the flap conceals the physical connectors, it lets the hard drive and power LEDs shine through. If you're considering plonking one next to your big screen TV in the lounge, bear in mind that the blue power light blinks constantly while the machine is in standby – a likely distraction if you're just watching regular TV.
Round the back there's a connector for the Wi-Fi antenna, a power socket, HDMI, two USB ports, Ethernet and an audio line out port that also doubles as a digital SPDIF socket using the supplied adapter in the box.
This revised Eee Box is powered by the same 1.6GHz Intel Atom N270 chip as before and 1GB of DDR II memory. Featuring a 160GB 3Gb/s SATA drive, the hard disc capacity has now doubled and networking speeds won't be an issue either with its 802.11n Wi-Fi and Gigabit Ethernet. Incidentally, there's no sign of the Express Gate quick boot interface that was seen on its predecessor. Hit the power button and after the usual wait you're thrown straight into Windows XP Home Edition.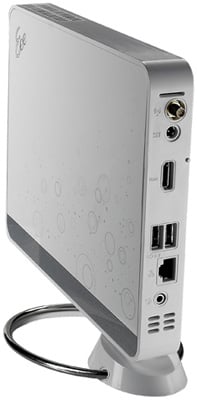 HDMI replaces the DVI interface on the previous model
With the B206, Asus has also included a remote control should you wish to seat it among your other AV kit in your lounge. The infrared receiver isn't built into the main body of the machine – an advantage if you plan to tuck the machine away inside a cabinet. On the downside, using the receiver involves an extra cable dangling from the back that also takes up a USB socket.
The big change in the B206 is the addition of an ATI Mobility Radeon HD 3450 graphics chip coupled with 256MB of DDR2 memory, which brings with it the promise of high definition video decoding - something that the Intel Atom processor on its own is a bit too puny to tackle. Now, before you get too excited, it's worth noting that its HD capabilities are far from comprehensive. Our initial attempts to playback high definition material proved disappointing. It was happy enough to chew through standard definition material without a hitch, but as soon as we upped the pixel count it started to stutter.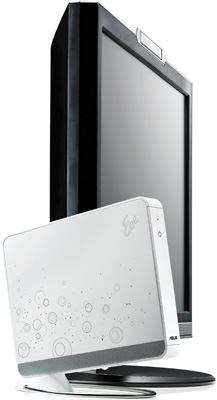 Malcontent: format choices determine a smooth or stuttering playback
Even at 720p resolution both QuickTime and MKV format H264 files refused to play without dropping frames when viewed in VLC. Switching over to Apple's official player had little effect on QuickTime performance. WMV9 format files proved equally bad in VLC, but played back fine when watched in Windows Media Player. Divx at 720p proved better still, capable of playing back without skipping when viewed in both VLC and Windows Media Player.
The reason for the erratic HD performance is due to the fact that the B206's video boost comes from the Radeon graphics card, but only applications that support DirectX Video Acceleration (DXVA) can tap into its power. This feature is supported by applications like WinDVD and PowerDVD, but they don't replay all file formats such as MKV. Luckily, the open source Media Player Classic Home Cinema (MPC-HC) application also includes experimental support for DXVA.
Watching H264 files using MPC-HC resulted in much more impressive performance. Playback of 720P H264 material was smooth without any dropped frames. MPC-HC doesn't support DXVA for WMV, but at 720p it still played without any issues. QuickTime files still dropped frames, however, since MPC-HC just uses the installed version of QuickTime to decode the files.
Upping the resolution further, it could just about handle 1080p H264 content – although not all samples we tried played flawlessly. As expected, WMV9 format 1080p files proved to be too much for it, with many dropped frames, and QuickTime playback was still poor.
PCMark05 Results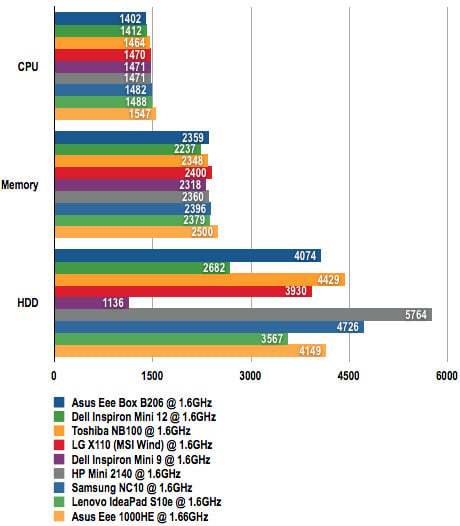 Longer bars are better
Asus also includes its own media player application called Eee Cinema, which gives you a Windows Media Center style interface that you can navigate from the sofa using the remote control. However, Eee Cinema is particularly picky about the types of files it will play, refusing point blank to even acknowledge the existence of MKV, MP4 or QuickTime files, while content to replay WMV and AVI. It could handle up to 720p WMV9 files, but 1080p was too much, resulting in dropped frames.
So, while it's true that the B206 can decode high definition video, it's much more temperamental than a more powerful machine. Match the right content with the appropriate player and it's fine, but it doesn't offer much in the way of flexibility.
Aside from HD video, its performance scores were similar to those you'd expect from other Atom equipped Small, Cheap Computers. It achieved an overall PCMark05 result of 1,526 and its individual scores weren't that far off the original Eee Box apart from graphics, where it did almost twice as well. Its 3DMark06 score of 1,053 is reasonable given its price, but it's not really enough for any serious gaming.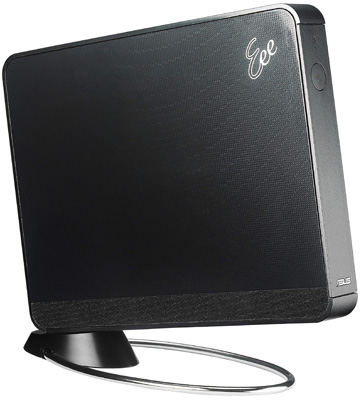 Box above its weight? The Atom CPU lacks punch to be an HD knockout
Another feature that boosts its lounge side suitability is when hooked up to a big screen TV you can manually adjust the amount of underscan or overscan of the image, so the screen can be filled without losing the ability to see the taskbar or other Windows elements.
Verdict
If you're looking at the B206 as a cheap home theatre PC then, unless your requirements are fairly specific or you're happy to stick to standard definition, you'll likely be disappointed. High def output is achievable, but it's not incredibly flexible currently. If you're looking for a cheap and cheerful machine for general use that can tackle the odd bit of video, however, it's more than up to the job. ®
More Desktop PC Reviews...
| | | | |
| --- | --- | --- | --- |
| Shuttle XPC SP45H7 | Dell Studio Hybrid | Shuttle X27D | Asus Eee Box |