Original URL: https://www.theregister.co.uk/2009/05/06/trixx_rumours_slammed/
Vauxhall city e-car won't be 'mini Volt'
Trixx to use Volt drive train? Rubbish, say insiders
Posted in Science, 6th May 2009 10:35 GMT
Leccy Tech Insiders have poured scorn on media reports that Vauxhall is working on a city e-car that will use a version of the Ampera - aka the Chevy Volt - electric drive train minus the range extending 1.4l petrol engine.
A source close to the company told Reg Hardware that Vauxhall is indeed considering the development of a city car to complete with the likes of Toyota's iQ and the VW group's UP!, and that an electric drive train is being considered as part of the range. But that's as far as it goes.
As for it using elements of the Volt's Voltec drive train, that's out of the question, the mole said - it's simply too large for a small city car.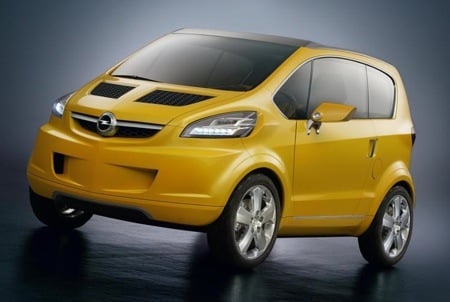 GM's Opel Trixx: is the 2004 concept being dusted off for a leccy future?
General Motors' last stab at a city car was the 2004 Opel Trixx concept though at the time no mention was made of leccy power, the juice coming instead from a 70bhp 1.3l turbo-diesel. Still, with electric cars being the flavour of the month, dusting off the Trixx and sticking in a battery pack and a motor does make a certain amount of sense.
Of course, all the speculation about a city e-car does rather assume that Vauxhall as we know it in the UK survives the GM re-structuring that is rapidly entering its end game.
Will Vauxhall continue as part of a possible Fiat/Opel tie-up in Europe, assuming that goes ahead? And if it does, what does that mean for the Ampera? Or will Vauxhall stay with General Motors and source product from other GM divisions such as Holden and Daewoo? Lots of questions but precious few answers at the moment. ®