Original URL: https://www.theregister.co.uk/2009/05/06/review_smartphone_htc_magic/
HTC Vodafone Magic
Terrific
Posted in Personal Tech, 6th May 2009 08:02 GMT
Review It seems like ages since the first Google Android phone appeared as the T-Mobile G1 at the back end of 2008. But now the HTC Magic has arrived on Vodafone and it's an altogether different beast: lighter, sleeker, more powerful, with more memory, a 3.2Mp camera and stereo Bluetooth.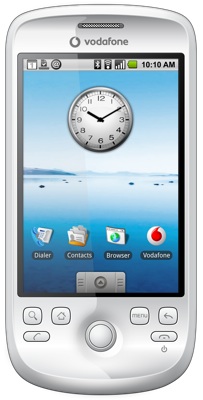 HTC's Magic: all about the touchscreen - despite the extra buttons below the screen
But though the HTC Magic is certainly better than its predecessor, with the next-gen iPhone expected in a month or so's time, is it doing enough to keep up?
The biggest and most obvious change from the G1 is the loss of the slide-out Qwerty keyboard, allowing HTC to slim Magic down to a relatively sylph-like 113 x 55 x 14mm. It weighs 119g.

The 'chin' isn't so pronounced this time
HTC and Vodafone have settled on a discreet array of hard buttons to augment the touchscreen, with call start and stop, home, menu, back and search buttons surrounding the highly tactile trackball.
It still has that protruding chin at the bottom - purely a design feature, apparently - but it's now more discreet and better looking – think Keira Knightley rather than Bruce Forsyth. The sides are almost bereft of detail besides a metallic strip, a volume rocker and a USB 2.0 slot for charging and connecting headphones.
More pocket friendly than its predecessor
The loss of the Qwerty keyboard isn't a disaster, since the on-screen version is really very good. The keys are a little on the cramped side in portrait mode, but the screen's sensitivity is precise enough that it's not difficult to find the keys. You'll still need some care, however, and speed typing probably isn't on the menu, though matters are improved by turning the HTC Magic on its side – the onboard motion sensor will automatically flip the screen to landscape mode, which offers a bigger keyboard.
The 3.2in, 320 x 480 touchscreen is a gem. It makes no attempt to ape the iPhone's widescreen dimensions, but still offers plenty of real estate for viewing web pages and video. Sensitivity seemed just about right too, easily distinguishing between a brush - to move the screen around - and a press - to access functions. Incidentally, it comes with a thin leather-look case to protect it, which is nice.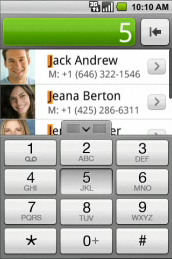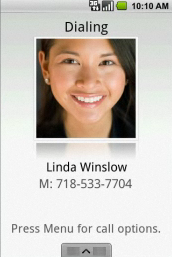 'Cupcake' Android includes some small tweaks...
The interface is the latest, Cupcake version of Google's Android OS, which has a few minor tweaks - the touchscreen keyboard is one - and you can still add app icons to the home screen by dragging and dropping them from the apps menu. The processor is the same Qualcomm 528MHz model. No problem there: it's nice and nippy, and we didn't notice it hanging around, even when we had multiple apps running.
The user-accessible memory's the same, at 192MB, but the ROM has been doubled to 512MB. It also comes with a 2GB Micro SD memory card - it'll take cards of up to 8GB capacity - but you can only store apps on the phone's own memory, not on the memory card.
The browser is really quite beautiful and seamlessly and intuitively integrated into the device. Widescreen browsing is encouraged by the accelerometer, and a zoom option appears when you tap the screen. There's also an icon for a magnifying window which you can move around a full web page until you find the bit you want to focus on. Flash support would have been nice, though.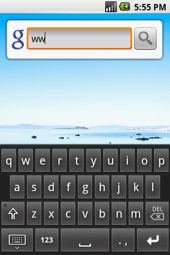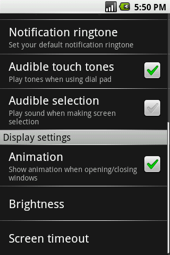 ...and the addition of a touch keyboard
Viewing streamed internet video was initially unimpressive, but there's an option to ramp up the quality which we ended up switching on permanently. There's a useful YouTube app that not only makes searching the video site easy, but also allows you to instantly upload your own vids. And speaking of web connectivity, the quad-band HTC Magic offers full HSDPA 3G 7.2Mb/s downloads - Vodafone currently offers this in seven UK cities as well as most major airports - and there's also Wi-Fi for genuine broadband access.
The camera is once again 3.2Mp, so still one up on the current iPhone, though lagging a little behind today's better cameraphones. There's none of the touch focus or extended settings menu available on HTC's Windows Mobile handsets like the Touch Diamond 2 – it's pretty much point and shoot.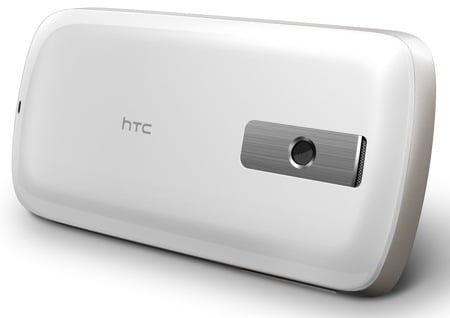 Photography's not this phone's focus
One nice touch, however, is that a thumbnail of the last picture you took sits in the corner of the screen – you can press it to save it to your gallery or send it on.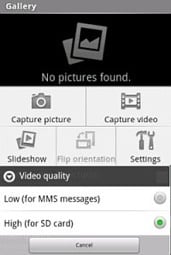 Even on High Quality, the video's not too hot
Picture quality isn't bad, but photography clearly hasn't been a focus on this handset. There's still an unpleasant amount of drag when you move the viewfinder, and pictures often look a little fuzzy with ill-defined edges. Video is worse. It's prone to blurring and pixilation when there's movement involved.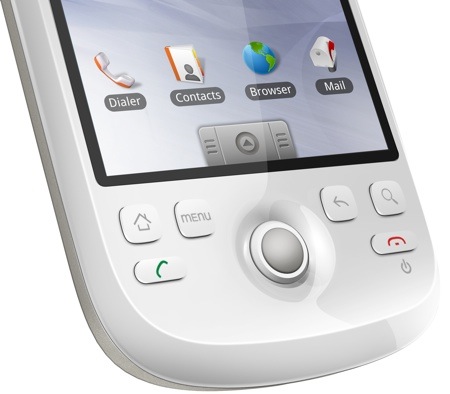 The trackball makes navigation a doddle
Don't expect much in the way of photo versatility or picture editing, either. You can crop shots, or set up a slideshow, and that's about it. We also missed the picture magnifying options available on HTC's Touch models.
Android Market isn't as well stocked as Apple's App Store but there are hundreds or programs to choose from, many of them available for free. Like multichannel TV, there's something for everyone, even if it includes lots of use-it-once nonsense. A few of our favourites include ShopSavvy, which allows you to use the phone's camera to scan product barcodes and search for alternative prices online; Google Latitude, which allows you to keep track of the physical locations of your contacts and, of course, the mighty Homer Simpson soundboard. Mmmmm, soundboard.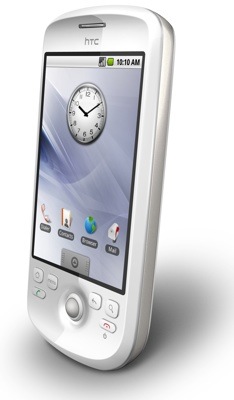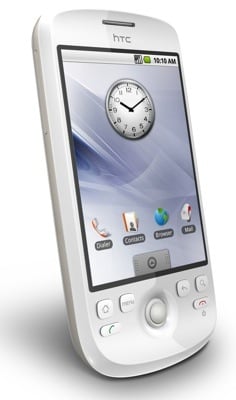 A terrific smartphone
The GPS works fine, augmented by Google Maps and a digital compass. This allows it to perform a compelling trick in Streetview, since you can get a 360° view of the location simply by turning around. Not essential, true, but it's fun to do some tourist rubbernecking around Piccadilly Circus when you're actually in Peterborough.
The music player is the same as before and it's decent enough, though we'd have liked a graphic equaliser to tweak the sound. The supplied headphones are adequate but nothing special. Unfortunately, they use the USB slot so if you want to upgrade them you'll need an adaptor - will they never learn? - or use wireless ones over the stereo Bluetooth link.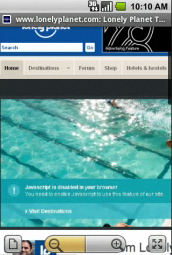 Browsing on Magic is as good as it gets
The Magic's battery won't win any awards. Admittedly, we gave it a bit of a caning on the first day, but it barely made it into the second before needing a recharge.
Verdict
The HTC Magic easily rises above the bar set by the original G1. Little is lost with the removal of the slide-out Qwerty keyboard but there's quite a lot gained in terms of pocketability and attractiveness. The operating system, GPS and browser have all been sharpened up too, but while it's a strong contender, it can't be said to comprehensively beat the iPhone yet, especially with Apple's latest 3.0 upgrade imminent. ®
More Smartphone Reviews...
| | | | |
| --- | --- | --- | --- |
| Acer DX900 | Nokia E75 | HTC Touch Diamond 2 | Nokia N85 |