Original URL: https://www.theregister.co.uk/2009/05/06/iphone_guys/
Hot young guys whip out their throbbing iPhones
Plenty of hot hardware in beefcake gallery
Posted in Bootnotes, 6th May 2009 11:21 GMT
NSFW We're not quite sure how this one slipped under the El Reg gaydar, but the blogosphere has over the last couple of weeks got itself into a a bit of a tizz over Guys with iPhones (really, really NSFW), which features lots of nude chaps posturing in front of mirrors with their Jesus phones.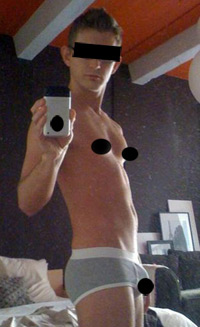 Quite what Steve Jobs will make of this hardcore beefcake gallery is anyone's guess, but doubtless the whole shocking affair breaches some puritanical Apple edict banning the device from appearing in close proximity to hideous empurplements.
By an amazing coincidence, Reg editorial this morning learned that the Vulture Central adsales team will be receiving a brace of iPhones, as part of an incentive drive urging them forward to greater heights of client fiscal dialogue.
Suffice it to say, a condition of this benevolence is that all male members of the team must present themselves on Guys with iPhones, in order to better punt for the pink pound. The picture shown here gives potential gay customers some idea of what to expect. Please make all cheques payable to... ®