Original URL: http://www.theregister.co.uk/2009/05/05/review_laser_printer_lexmark_t650dn/
Lexmark T650DN mono workgroup laser printer
Low cost, good; low paper capacity, bad
Posted in Personal Tech, 5th May 2009 08:02 GMT
Review The more people using a printer, the bigger it has to be, if only to hold extra paper. In fact, workgroup printers seem to have to be big simply to impress more people. Lexmark's T650DN starts large and is eminently expandable, so will only get larger.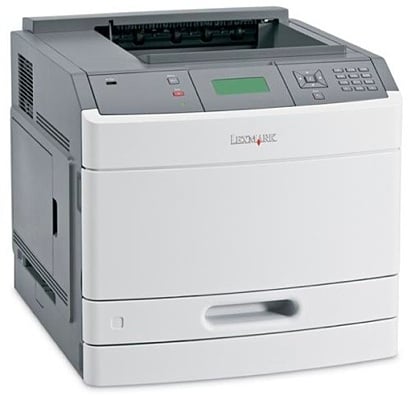 Lexmark's T650DN: a big printer, but quick and cheap to run
Lexmark may have a reputation for cheap but uninspired inkjet all-in-ones, but its laser printers are generally well regarded, a product of its heritage as IBM's printer division and something it has never really lost. The T650DN is designed as a duplex workgroup printer with a high throughput and considerable expandability.
Well, perhaps 'designed as a duplex printer' is overstating it. The 'DN' version of the printer is supplied with a separate duplexing unit which fits underneath the main machine. This has the advantage of being quicker than an internal duplexer, which feeds each sheet to the output tray and then rolls it back in for the second side, but on the downside it increases the footprint considerably and looks like the boot on a 1930s Armstrong Siddeley, though not as well integrated.
The T650DN is a substantial machine and, even though it's rated at a hefty 200,000 pages maximum duty cycle - 5000-20,000 average - we're not convinced it has to be this big. Rival machines in the same class, from companies like Kyocera Mita, are quite a bit less bulky.
This is particularly true as the main paper tray has a capacity of just 350 sheets. This is a ridiculously small amount of paper to put in a machine intended for use by a fair few folk at once and means somebody will have to restock it virtually every day.

The control panel includes a security keypad and USB socket
You can, of course, add extra paper trays, with capacities from 550 sheets up to 1000 sheets, but these are optional extras. Cynics might think the small size of the main tray, even given the additional, pull-down, 100-sheet multi-purpose tray, is designed primarily to encourage sales of options. Other extras include stackers, envelope feeders and staplers, so you can expand the machine to a considerable extent as your printing requirements grow.
The control panel is a little lost in the large area of plastic at the front of the top panel, but includes a backlit, text-based display with navigation controls to the right and a number pad to the right of that. The number pad is so you can print securely, only releasing a network print job once you arrive at the printer. There's a USB socket at the left end of the panel, too, for walk-up printing from a Flash drive. Both these facilities are useful extras in a workgroup machine, assuming your company's security policy permits them.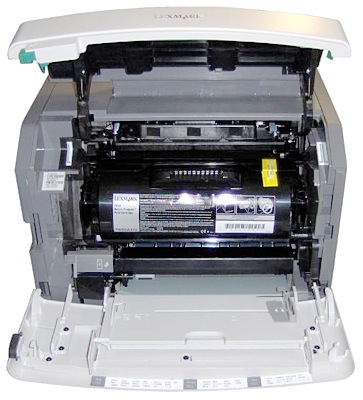 Cartridge exchange is quick and easy
At the back are sockets for USB 2.0 and 10/100Mb/s Ethernet, and you can add wireless networking as another option. Installation is straightforward, and Lexmark provides PCL 6 and PostScript Level 3 in emulation. A network monitor is included, so you can check printer status from any machine. Drivers are provided for all recent versions of Windows and are available for Mac, Linux and various other operating systems, too.
Lexmark rates the T650DN at 43ppm, which is a fair lick, but in practice you're unlikely to see this. Our five-page text document completed in 15 seconds, giving a speed of 20ppm. Increasing this to 20 pages brings the speed up to 34ppm, over three quarters of the rated speed. Even so, you're going to have to print some pretty big documents to squeeze out that extra 9ppm, or print in draft mode, which few customers do.
Printing the same 20-page document in duplex mode took 44 seconds, a speed of over 27ppm. This shows the efficiency of an external duplexer, as duplexing a document regularly reduces its print speed by half, on machines with internal duplexers. Printing at nearly 80 per cent of the simplex speed should encourage you to set duplex printing as default and benefit from the paper savings.
Requirements for office laser printing start with black text, move onto graphs and charts, and finish with photo images. This Lexmark printer produces sharp, clean text, densely black and with no signs of spattered toner. The default resolution of 1200dpi helps maintain a high levels of detail, even at small point sizes.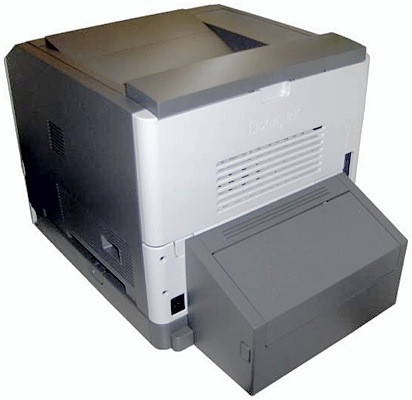 This ugly add-on speeds duplex print
Graphics are also generally well reproduced and there are enough greyscales to distinguish between different colours when reproducing colour documents on this mono printer. Areas of greyscale fill, however, aren't as smooth as they might be and, while there's little evidence of banding, there is a certain blotchiness to mid and dark greys.
Our test photographic image includes fine detail in the foreground, bright and shadowed areas in the distance and a large area of gradated sky. The T650DN did well enough with the bright detail, but lost quite a lot in areas of shadow. The sky suffered from the same greyscale problems as business graphics fills, though there was still only marginal evidence of banding.
Although photo printing isn't a major part of the work of any mono laser, it's becoming increasingly important that work machines can reproduce images with reasonable fidelity. This printer is better than a lot, but a smoother toner lay-down is needed to produce really high-quality piccies.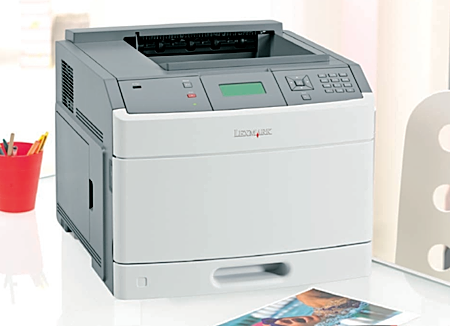 Pencils not included
The Lexmark toner cartridge is an integrated unit containing the photoconductor drum as well as the toner itself. This makes for easy maintenance, and the two available capacities of 7000 and 25,000 pages emphasise that the machine is intended for heavy use. A 7000-page cartridge is provided in the box, but using the more economical 25,000 page cartridge to calculate costs produces a figure of 1.2p inc. VAT per ISO page.
This is a good figure for a printer in this class, so its overall cost should stay low over the lifetime of the machine. The initial purchase price is on a par with the main rivals in this level of print and the only fly in the ointment is the stupidly small main paper tray. Any machine intended for work should be able to take at least a ream of paper at a time.
Verdict
This is a juggernaut of an A4 mono workgroup laser printer but, apart from the size, it's well-designed, gives good economy, is fast and easy to use and has useful features such as walk-up and PIN-code printing. With a 500-sheet paper tray as standard, rather than the paltry 350-sheet one supplied, it would be a winner. ®
More Laser Printer Reviews...
| | | | |
| --- | --- | --- | --- |
| Kyocera Mita FS-2020D | Canon i-Sensys LBP3100 | Samsung ML-1630W | Lexmark E260DN |