Original URL: https://www.theregister.co.uk/2009/05/01/asus_eee_air_next_week/
Asus to launch Air-like Eee PC 'Seashell' next week
Conch trick?
Posted in Personal Tech, 1st May 2009 09:41 GMT
Asus has launched its MacBook Air-style Eee PC 1008HA in Taiwan, and will do it all over again over here early next week, Register Hardware has learned.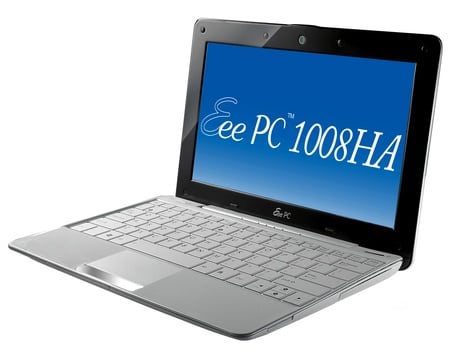 Asus' Eee 1008HA: Air inspired?
The skinny netbook measures between 18 and 26mm top to bottom, has a footprint of 262 x 178 and weighs 1.1kg - one of the lightest 10in, HDD-equipped mini laptops out there - though it's up against some tough competition from Acer's still-to-ship inch-thick Aspire One D250.
The 1008HA uses Intel's 1.66GHz Atom N280 processor, though Asus is keeping mum on the chipset - and hence the netbook's graphics capability. It has said the machine has 802.11n Wi-Fi, Bluetooth 2.1+EDR and 10/100Mb/s Ethernet - the later, with two USB 2.0, analogue audio and VGA ports, is hidden behind contoured flaps on the sides the machine.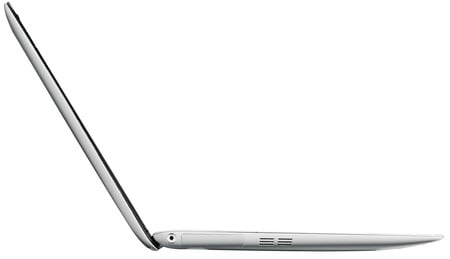 Skinny
The new Eee - also called Seashell - comes with 1GB of DDR2 memory and a 160GB 5400rpm 3Gb/s Sata hard drive.
Asus claims the on-board battery's good for six hours' usage. The netbook will offered with a choice of colours: white, black, blue, pink, "Sapphire Blue" and "Ruby Red".
Expect full UK pricing and availability details on Tuesday. ®
Check out Register Hardware's video demo of the Asus Eee PC 1008HA
Asus Netbook Reviews
Eee PC 1000HE
N10
Eee PC S101