Original URL: https://www.theregister.co.uk/2009/04/30/review_laptop_fujitsu_lifebook_p8020/
Fujitsu LifeBook P8020
Light and powerful - Fujitsu means business
Posted in Personal Tech, 30th April 2009 08:02 GMT
Review Hot on the heels of Sony's Vaio TT and the Toshiba Portégé R600, Fujitsu's LifeBook P8020 is a similarly small and light affair looking to tempt business types away from the likes of Lenovo and Dell. Netbook fans will yet again baulk at high price tag, but there's clearly still a market for premium ultra-portable laptops offering more oomph than an Atom processor can muster.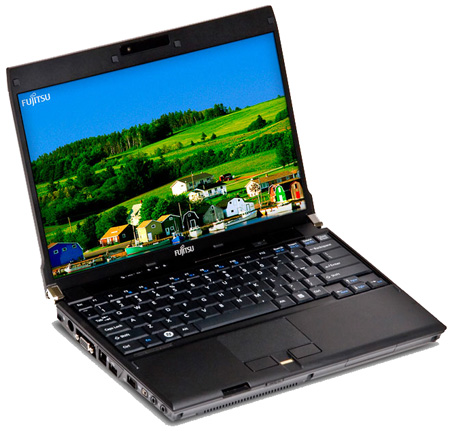 Fujitsu's LifeBook P8020: small, light and (fairly) stylish
Incidentally, if you're wondering what happened to Fujitsu Siemens Computers, Fujitsu went and guzzled up all of Siemens' shares in the partnership earlier this month – the company is now officially known as Fujitsu Technology Solutions.
Back to the LifeBook P8020, and its 12.1in screen, 1.4GHz Core 2 Duo SU9400 processor, 2GB of Ram and built-in DVD writer are all a step above what you'd find on a netbook. And at just 1.3kg - or 1.6kg including the power adaptor - you'd be hard pushed to find a similar spec'd laptop that's any lighter.
With its all-black chassis, the LifeBook makes a good first impression – give it a couple of days, though, and the glossy lid will become a holiday park for smudge marks. There's nothing out of the ordinary in terms of ports. The right side of the laptop is home to a DVD writer, PC Card slot and USB port, while on the left a further two USB ports are joined by mini-FireWire, Gigabit Ethernet, VGA, power and audio sockets. On the front lip, you'll find a Wi-Fi switch sitting alongside an SD card slot.
With the keyboard, Fujitsu has resisted the temptation to shrink the likes of the Return, backspace and the two Shift keys. However, with the other keys measuring just 12mm x 13mm, it's fiddly to use and very tricky to type on at speed if you've anything but petite pinkies. On the plus side, the keys have a decent amount of travel and there's very little flex.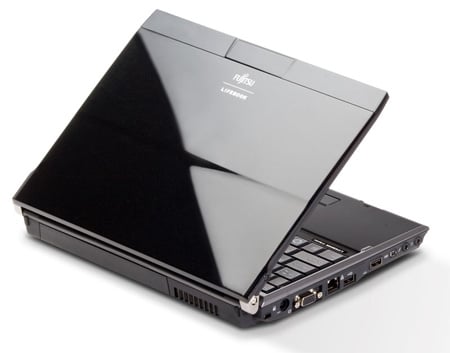 The glossy lid will soon become festooned with finger marks
The textured trackpad is of a decent size and feels good to touch, although the left and right buttons are a little too spongy for our liking. Being aimed at corporates, it's no surprise to find a fingerprint reader between these buttons.
A selection of customisable shortcut buttons is to be found just above the keyboard, as are some of the worst speakers we've heard in a long time. Admittedly, few would buy the LifeBook P8020 with the intention of using it as a jukebox, but when audio starts to distort at anything more than 50 per cent volume there's something seriously wrong.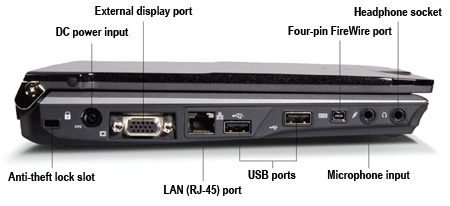 The usual suspects
The underside provides access to the two Dimm slots – one houses a 2GB DDR 3 module, the other lies empty awaiting an upgrade. The six-cell battery keeps neatly within the confines of the chassis – remove it, and a Sierra Wireless MC8790 3G module is revealed which offers speeds up to 7.2Mb/s downstream and 2Mb/s downstream.
Of course, what's achievable will depend on the network choice, location and how many other people are trying to use the service. In our tests with a Vodafone SIM near Gatwick Airport, we achieved around 1Mb/s downstream and a rather pacey 1.8Mb/s upstream. 802.11n WiFi at both 2.4GHz and 5GHz is offered courtesy of an Intel WiFi Link 5300 card, while shorter-range connections can be made using the built-in Bluetooth module.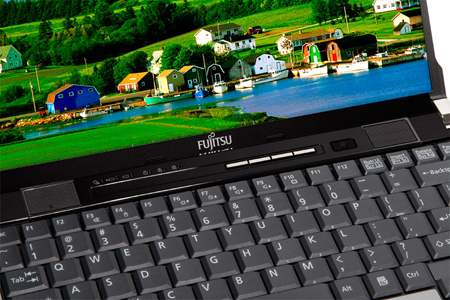 Finger trouble: compact keys make for awkward typing
As is the trend these days, Fujitsu has gone for an LED backlit display, which gives battery life a boost. The 12.1in screen manages to kick out impressively bright images – so dazzling, in fact, we had to dim it on occasion just to save our eyes. However, stray from the square-on sweet spot and the display soon loses its vibrancy – vertical viewing angles are particularly poor. Fujitsu has opted to furnish the display with a glossy coating, which, as usual, means both colours and reflections get enhanced.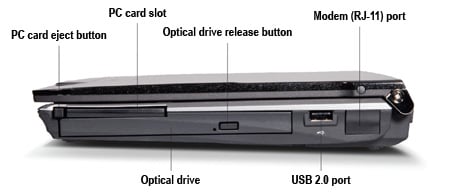 The blanked out-port is where the 56Kb/s modem would have been
At 9mm, the display isn't as wafer thin as that of the 4mm screen on the Sony TT or the 5mm Toshiba Portégé R600. However, its slightly bulkier form means that, although it's reasonably bendy, it doesn't exhibit such a worrying amount of flex as the Tosh or Sony. If videoconferencing is your thang, then there's a 1.3Mp webcam just above the display.
The combination of a Core 2 Duo SU9400, 2GB of memory and Intel GMA 4500MHD integrated graphics allowed the LifeBook P8020 to return to reasonable scores in our benchmarks. In PCMark05 it notched up an overall score of 2,894 – this is just below what Sony's Vaio TT achieved, which is something of a surprise, since the TT is powered by a slightly slower processor, the SU9300.
PCMark05 Results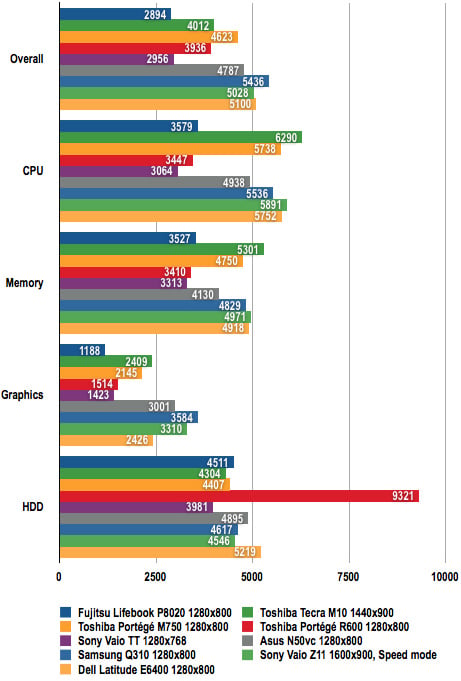 Longer bars are better
Graphics performance on a business notebook such as this isn't usually a deal breaker, and the 3DMark06 result of 603 at its native resolution of 1280 x 800 indicates the LifeBook P8020 won't thank you for troubling it with 3D games. Dropping down to a resolution of 1024 x 768 sees a slight improvement with a score of 649, but it's nothing to get excited about.
3DMark06 Results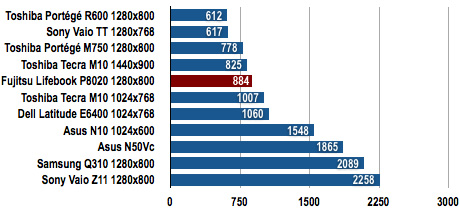 Longer bars are better
With its 8700mAh, six-cell battery, we were hoping for some decent battery life scores, and when running PCMark05 in a continuous loop it managed to keep going for 170 minutes. Not a bad result, and far better than the 80 minute Toshiba Portégé R600, but it's still over an hour off Sony's long-lasting Vaio TT.
Battery Life Results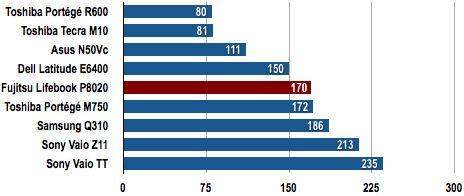 Battery life in minutes
Longer bars are better
Fujitsu has opted for a 160GB, 5400rpm hard disk as opposed to a more expensive solid-state model. Thanks to its Shock Sensor technology, the drive head will be parked if the laptop's getting a rough ride. The level of sensitivity is variable, and the software even displays a graph indicating how much movement it's experiencing on the x, y and z axes – you're unlikely to need a graph to inform you that you and your prized laptop have just been kicked to the floor, but it suggests it's a reasonably sophisticated system.
Verdict
At over £1700, there's no getting away from the fact that the LifeBook P8020 is pretty darned expensive. With a 12.1in screen, netbook-beating processor, robust chassis and other extras such as built-in 3G, the P8020 does go some way to justifying it's price tag. However, the keyboard simply feels too cramped. At roughly the same price, Sony's Vaio TT has a far more finger-friendly keyboard and a better battery life, albeit with an 11.1in screen. Yet its relatively light weight and larger display will appeal to some to get a LifeBook. ®
More Notebook Reviews...
| | | | |
| --- | --- | --- | --- |
| Toshiba Portégé R600 | Sony Vaio VGN-TT11WN | Dell Inspiron Mini 12 | Toshiba Portégé M750 |