Original URL: http://www.theregister.co.uk/2009/04/29/review_graphics_tablet_wacom_intuos4_l/
Wacom Intuos4 L
Magic OLEDs and 2K sensitivity
Posted in Personal Tech, 29th April 2009 08:02 GMT
Review After four and a half years, Wacom has finally updated its professional-class Intuos graphics tablets. About bloody time! The company has clearly been enjoying itself far too much during this period producing inexpensive but cool and clever tablets for the home-user market, such as the frankly fabulous Bamboo range. Now, the pros get a turn.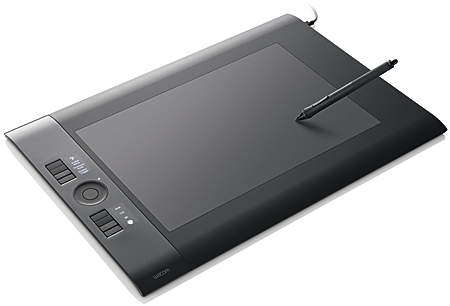 Wacom's Intuos4: great for fingerprints
The Intuos4 range of graphics tablets comprises four sizes: Small (S), Medium (M), Large (L) and Extra Large (XL). In terms of active tablet area, these sizes very roughly equate to A6, A5, A4 and A3 paper-sizes, respectively, with a slightly wider aspect ratio to accommodate widescreen displays comfortably.
We tested the A4-equivalent L, which is a versatile choice for the graphic artist. Jobbing designers might be happier with the M model, while the washboard-sized XL is probably best reserved for precision CAD applications in the architectural and textile industries. The mousemat-sized S model is ideal for everyday computer use although it misses out on a couple of the Intuos4 range's most striking new features, but more on that later.
The Intuos4 is built in funerary black plastic with a matching black Grip Pen. This new stylus is about a centimetre shorter than the Intuos3 equivalent but externally it offers exactly the same functions as its predecessor: a replaceable, tilt-and-pressure-sensitive nib, a pressure-sensitive Eraser nib at the opposite end, and a dual button – usually employed for double-clicking and right-clicking – protruding through the rubberised grip sheath.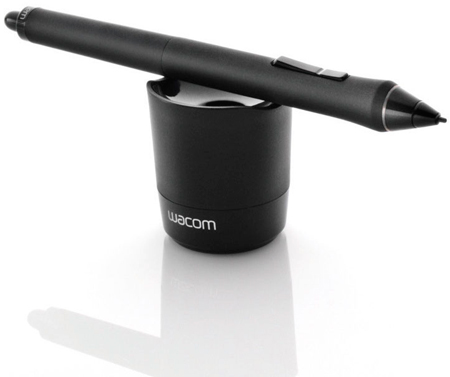 Ten spare nibs and a nib-extractor tool are kept inside the pen stand
Inside, the stylus has been significantly upgraded, now supporting 2048 levels of nib pressure: that's double the sensitivity of the Intuos3 stylus. The Grip Pen can detect a mere single gram of starting weight if desired, although the sensitivity can be adjusted to suit your natural writing or drawing style using the Wacom Control Panel. This makes graphics tasks very smooth, supporting organic, step-free transitions in gradients, brush stroke thickness and other dynamic, pressure-sensitive tools.
Bundled in the box is a tidy black pen stand to place the stylus vertically or rest it horizontally, while protecting the nib ends. Unfortunately, it's not as stable and resistant to toppling as the conical Intuos3 stand but it does unscrew to reveal no less than ten spare nibs: five standard black nibs, three grey hard felt-pen effect nibs, one stroke nib, and one sprung 'flex' nib. As with all previous Intuos models, Wacom sell cordless stylus alternatives, including an Airbrush, an Inking Pen, an Art Pen, a slimmer Classic Pen, a mouse and a Lens Cursor puck.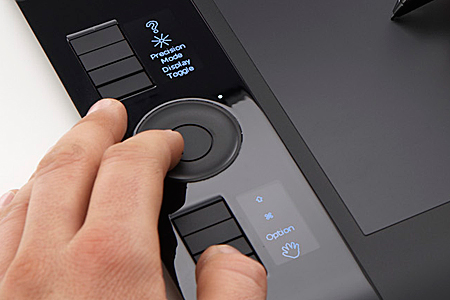 ExpressKey labels are actually little glowing OLED displays...
If the new Grip Pen resembles the old one, externally at least, the Intuos4 tablet itself looks completely different. All eight shortcut ExpressKeys have been moved to one side of the active tablet area, rather than sitting on either side, and the old linear Touch Strip has been replaced with a circular Touch Ring.
ExpressKeys are programmable buttons, offering a quick way of accessing regularly used key commands and modifiers conveniently while using the tablet, without having to keep reaching for your keyboard. You can reassign any keyboard combination or modifier to any ExpressKey, and different sets for different applications, using the Wacom Control Panel.
The problem with this feature in the Intuos3 was that you ended up forgetting which commands you assigned to which button. This is solved in the Intuos4 by the provision of little glowing OLED displays next to each ExpressKey, acting as live labels. When you customise an ExpressKey and give it a name, this name appears as the OLED label next to the button in question.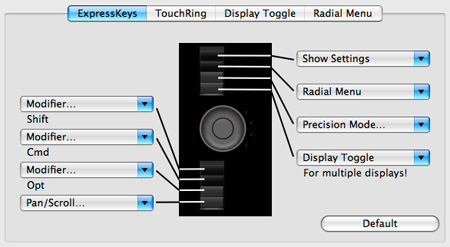 ...and are customisable from the software control panel
Nerd-appeal aside, the OLED labels are a genuinely useful feature, albeit just a first bash at the concept. Some inconsistencies remain, such as the inexplicably tiny Shift and Command modifier icons next to the friendly big Hand scrolling icon. Note that the entry-level Intuos4 S model comes equipped with only six ExpressKeys, and these have no OLED displays.
All eight ExpressKeys are identical in shape and orientation, unlike those in the Intuos3. To assist tactile recognition of the key positions, they have been set at angles to allow you to feel the edges between them. At first, we didn't think this would be good enough to identify the keys without looking, but we were wrong: it works fine.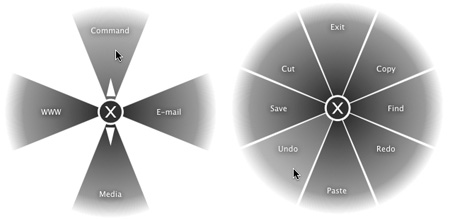 Keyboard shortcuts: the transparent Radial Menu overlay allows setups using the pen
The aforementioned Touch Ring, a device copied from Wacom's Bamboo range but akin to an iPod's clickwheel, separates the ExpressKeys two sets of four. In a word processor, dragging a finger around the wheel scrolls the text up or down. In Photoshop CS4, it zooms in and out, or if you hold down modifier keys - or, indeed, ExpressKeys - it resizes brushes, rotates the canvas and so on.
One of the ExpressKeys calls up a Radial Menu. This is a customisable pie-chart of program menus and commands that pops up on-screen as a transparent overlay. Normally we hate this kind of thing: why would you want to press a button and click through a series of on-screen menus rather than use a keyboard shortcut? However, Wacom has made a decent job of ensuring the feature is swift and easily accessible, so perhaps you'll find a use for it after all.
Before you ask, the Intuos4 supports left-handers. Turn the tablet all the way around and there's a second, appropriately positioned input socket for the USB cable. Being fully removable, the cable can be replaced. However, the input plug the cable attaches to, sticks out of the side of the tablet – presumably for easy gripping. It therefore occupies extra width on your desk and could get damaged if the plug is repeatedly knocked by accident. For what it's worth, the Intuos4 USB cable is also thinner and weedier than the Intuos3 one.

Intuos4's Grip Pen (bottom) is notably shorter than the Intuos3 version (top)
VERDICT
Try not to get carried away by the natty OLED displays: they might look sci-fi but they're just labels, after all. Instead, consider the doubling in stylus sensitivity, the adoption of the Bamboo's Touch Ring and some fine Control Panel ExpressKey customisation. Best of all, Wacom builds its graphics tablets to last, so if you're in two minds about the steep price for what is essentially just an input gadget, rest assured that the Intuos4 will still continue to withstand daily use long after the Intuos5 makes its appearance – four and a half years from now. ®