Original URL: https://www.theregister.co.uk/2009/04/27/george_heilmeier/
Liquid crystals - Display genius no match for petty politics
How the LCD lost its Daddy
Posted in Science, 27th April 2009 17:17 GMT
Happy Birthday, IC George Heilmeier is widely known as the father of the LCD. But he abandoned his liquid crystal baby nearly forty years ago.
In 1964, as a researcher at RCA's corporate lab in Princeton, New Jersey, Heilmeier uncovered the electro-optical properties of molecular and liquid crystals. And four years later, at an RCA press conference in New York City, he showed the world the first crude forerunners of today's ubiquitous liquid crystal displays.
But by 1970, as his liquid crystals languished amidst the petty internal politics at RCA, Heilmeier left his seminal research behind. And if he looks back, it's only because he's encouraged to. Asked if he feels a certain pride when he walks into one of those massive electronics retailers where countless LCD TVs line the walls, he demurs.
"To be honest with you, that's something for my grandchildren to do," he tells The Register. "Not me."
But his grandchildren aren't the only ones who appreciate George Heilmeier's contribution to modern display technology. This Saturday night, as Silicon Valley's Computer History Museum celebrates the 50th anniversary of the integrated circuit, Heilmeier will join fourteen other IC pioneers as a new inductee into the National Inventors Hall of Fame.
The IC-happy class of 2009 also includes Intel co-founder Gordon Moore; Gordon Teal, who built the first silicon transistor; and Carver Mead, who not only invented VLSI chip design but juiced Gordon Moore's fame in coining the term Moore's Law.
George Heilmeier was born in Philadelphia, Pennsylvania, the son of two German immigrants who never went to high school. But he eventually graduated from the University of Pennsylvania with an undergraduate degree in electrical engineering and would go on to earn three more degrees from Princeton University. "My father was a janitor, and he and my mother never got past the eighth grade," he says. "But they wanted for me what they never had."
At Princeton in the mid-50s, when most IC research focused on single-crystal silicon and germanium, Heilmeier's doctoral thesis explored the possibilities of organic semiconductors. This included work on the transport properties of molecular crystals and thin-film devices, and after he joined RCA Laboratories, just down the road from the university, the thesis resurfaced.
In the early 60s, Heilmeier and his fellow researchers were looking for a way to modulate lasers for communication purposes. "I reopened the issue of molecular crystals," he says. "I had done my thesis on transport properties of molecular crystals, and we were thinking about building semi-conductor devices at that time, and I thought 'Maybe I'll look at electro-optics and see if there's anything there that might lead to a reasonable modulation scheme.'"
Instead, he uncovered a new display technology. The electro-optical properties of molecular crystals were more extreme than he expected. If he applied an electric field, the molecules would align, and when they aligned, their electro-optical properties would change. If he doped them with dye, they would even change color.
"You take two pieces of glass with a transparent conductive coating on them and you put the liquid crystal between the two pieces of glass, with a thickness of, say, 25 microns. Then you apply an electric field, and lo and behold: very interesting things happen," he says.
"I thought 'This might make this a very interesting display device.' By golly, you could change colors with a relatively low voltage - which would suggest that integrated circuits could do the addressing."
'When your passion leaves, you need to leave with it'
Unfortunately, in the mid-1960s, integrated circuits weren't up to the task. But Heilmeier knew that once they were, he had a flat-panel TV on his hands. When he unveiled the technology four years later at that 1968 press conference - showing off a few reflective alphanumeric displays and a window that turned opaque when you applied a current - some saw the possibilities. But RCA wasn't among them.
"The Japanese manufacturers recognized what we were doing and what it might lead to, but RCA had a little trouble. Not at the top of RCA, not at the David Sarnoff-level, but among people that were playing the internal politics shall we say...They didn't quite realize where it might lead once the integrated circuit caught up."
As RCA dilly-dallied, Heilmeier suggested he create his own company around the LCD. But RCA wouldn't have it. "They told me that if I left RCA to start my own company, it would be the biggest mistake of my life because they would sue the hell out of me."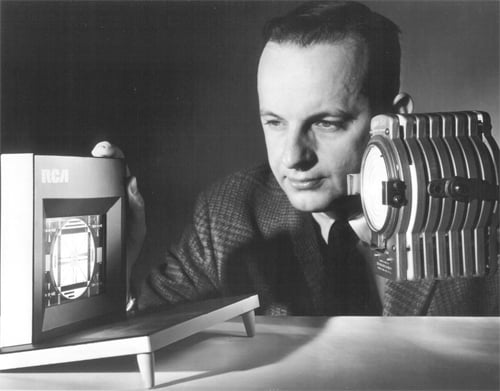 George Heilmeier and an early LCD
The situation came to a head one rainy New York night as Heilmeier and two top managers took a limo home from the company's headquarters. As Heilmeier rode in the front seat, the two were in the back discussing his research as a means of "winning points" with a colleague. "I thought 'This is sick,'" he says. "And I told me wife 'I've got to get our of here. I've lost my passion for the whole thing.' When your passion leaves, you need to leave with it."
In 1970, he joined the White House Fellow program, becoming a special assistant to Secretary of Defense. By 1975, he was running DARPA, the Defense Advanced Research Projects Agency, and in 1983, he took over as chief technology officer at Texas Instruments, a post he would hold for the next eight years.
Meanwhile, RCA never did grasp the importance of the LCD. But the Japanese eventually took it to market - in spades. Not that any of this interests George Heilmeier one way or the other. He and his passion left liquid crystals almost forty years ago.
But there are times where he wonders what would have happened if RCA had let him start his own business around the LCD. "They never got a return on investment," he says. "The project never had same kind of passion that we had in the beginning." ®