Original URL: http://www.theregister.co.uk/2009/04/24/review_laptop_toshiba_tecra_m10/
Toshiba Tecra M10 14in notebook
Modern internals, old-fashioned looks
Posted in Personal Tech, 24th April 2009 09:02 GMT
Review Some manufacturers, like Dell, believe laptop users, even supposedly non-frivolous business folk, prefer svelte, stylish notebooks. Not so Toshiba, at least if the the Tecra M10 is anything to go by.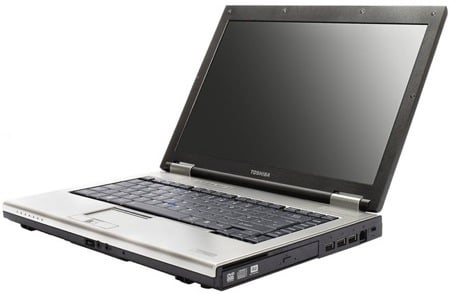 Toshiba's Tecra M10: the laptop that time forgot?
Carry one around, and anyone who sees it will think you've been nursing the machine since the 1990s. This block of a box is more than an inch and a half thick - the lid alone accounts for 11mm of the machine's thickness - and kitted out in a retro-style matte black and metallic dark grey colour scheme.
Chunky here weighs at least 2.44kg and measures 336.8 x 245.0 x 36.4-38.4mm.
The laptop that time forgot? Well this is the first notebook we've seen for quite some time with a serial port. We wonder why Tosh didn't go the whole hog and stick a parallel port on it too. Integrated trackball?
For all its old-style outer casing, inside, the M10 is bang up to date. It's based on Intel's Centrino 2 vPro platform, which means the review unit, the M10-10I, packs a decent, 2.53GHz Core 2 Duo processor, the T9400, backed by 3GB of 800MHz DDR 2 memory.
One of the M10's four USB ports doubles up as an eSata connector, so the machine's well able to take advantage of the latest in external storage technology. Within its capacious casing, it has a standard 2.5in, 5400rpm Sata hard drive of 250GB capacity and a multi-format DVD rewriter.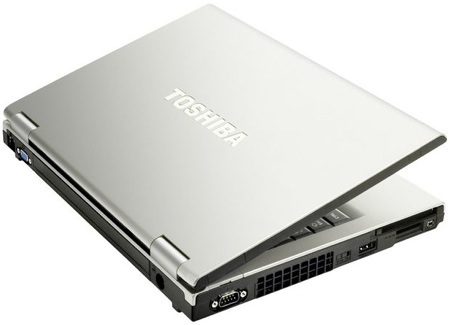 IT department-friendly Centrino vPro tech included
The Centrino brand means the M10's 802.11n Wi-Fi is provided by an Intel chip too, and it's the GMA 4500MHD graphics core integrated into the the GM45 chipset that drives the laptop's 14in, 1440 x 900 matte display. Bluetooth is part of the package too.
Taking a trip around the machine, the left side presents said RS-232 and USB/eSata ports, plus an ExpressCard 54 bay and a multi-format memory card slot. The front is home to a bank of seven status LEDs, a microphone, and 3.5mm audio input and output sockets, the latter fed through an endlessly turning volume dial.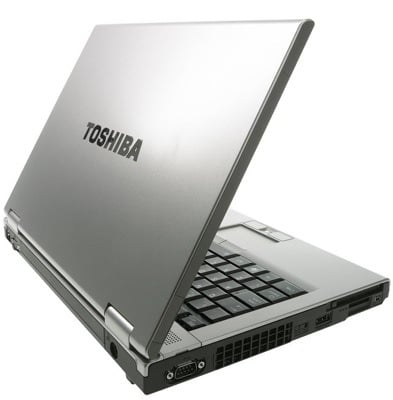 Is that a serial port I see before me?
Round to the right, there's the optical drive, the remaining USB ports, a 56Kb/s modem outlet and, handy for security minded IT departments, a smartcard reader. The back of the M10 has power, Gigabit Ethernet and VGA ports.
Flipping the machine over exposes the hatches that allow you to view the M10's hard drive and two (filled) Dimm slots.
Unlike true 1990s laptops, the M10's lid isn't latched, but it's hinges aren't half resistant to movement. Sure stiff is better than floppy, but one-handed operation is better than two. Given the size and weight of the base of the machine, we were surprised to find we still needed to hold it down with one hand while opening the lid with the other.
The M10's yesterday's laptop styling continues with its keyboard. Toshiba has separated the function keys from the main array, and it's moved the Home, Page Up, Page Down and End keys into a block of their own over to the right. Combine that layout with the tall-seeming keys and, again, the M10 gives the impression of a decade-old design.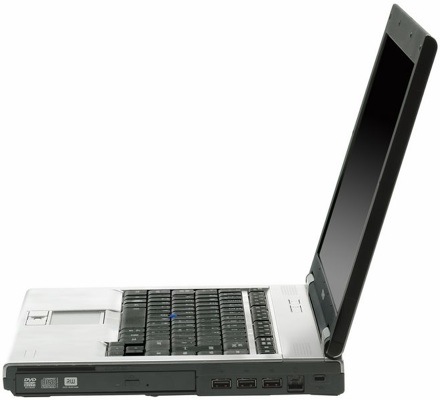 All connectivity choices covered
The keyboard has a solid foundation with barely any flex, and the keys themselves seem to have a greater travel the modern ones do. That said, it's no less comfortable to type on for that and it certainly doesn't feel cheap and rattly the way so many, more slimline keyboards do these days.
Toshiba has dropped a thumbstick in between the G and H keys, so you an control the cursor with pushes and pulls if you're not a fan of trackpads. The M10's trackpad is deep seated but no less usable for that, and its own mouse buttons are nicely complemented by a second pair mounted above the trackpad - and so ideally placed for your thumbs when you're steering the pointer with the joystick.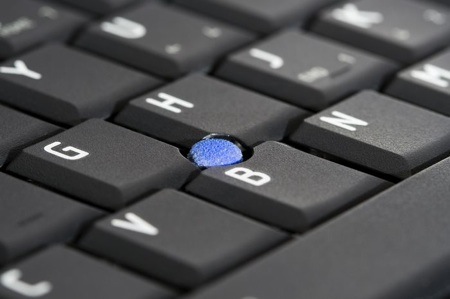 Thumbstick standing proud
The M10's inevitable fingerprint reader sits between the main trackpad buttons - a far better location, we think, than slap bang in the middle of the right-hand wrist-rest area, which is where these devices are often located.
Above the keyboard is the M10's screen. Maybe it's just, now thoroughly accustomed to glossy screens, but the Tecra's seemed a little dark to us. And when we tried it out with bright sunlight right behind us, we were left unconvinced that it's any easy to read than the glossy screened machine we had sat next to it.
The M10 comes pre-loaded with Windows Vista Business, and Toshiba's also thrown in a nice line of utilities designed to make connecting to networks and wireless devices, rustling up a set of recovering discs, managing the hardware, creating a bootable SD card, burning CDs and data discs, and keeping the machine's software up to date, all easier than the operating system makes these tasks.
Toshiba's even included a rather nice DVD player app, one much more attractive than Windows Media Player or many of the third-party players available. Together, Toshiba's apps are a model in bundled utilities that should be available on all PCs.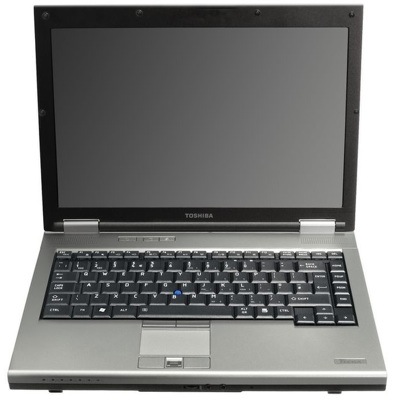 The keyboard layout's unusual, but just fine to use
Turning to the Tecra's performance, we found it to be no slouch, with the fast memory and mid-range processor rendering it reasonably nippy, though it's no powerhouse. PCMark05's overall rating for the machine wasn't as high as we were expecting, particularly in light of what comparable notebooks have garnered, but that's because if the M10's relatively poor Graphics score.
We should point out that it has the same integrated GPU as the Dell Lattitude E6400 and Toshiba's own Portégé M750, and it achieved similar scores to both in the 3DMark06 graphics test. But while, like the Dell, it has a 14in screen, the M10's native resolution is a lot higher, and that will have hindered its relative PCMark05 graphics performance.
3DMark06 Results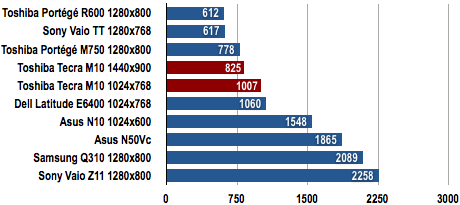 Longer bars are better
PCMark05 Results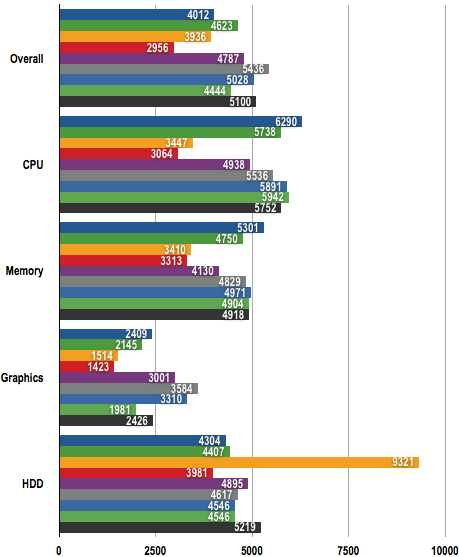 Longer bars are better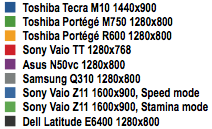 That won't have made much difference to the battery test, and here the M10 fared poorly when we ran PCMark05 over and over again until the laptop's 5100mAh power pack gave out. The screen was kept on maximum brightness throughout and the Wi-Fi was on and connected to our access point. The M10 ran for just 1h 21m.
Battery Life Results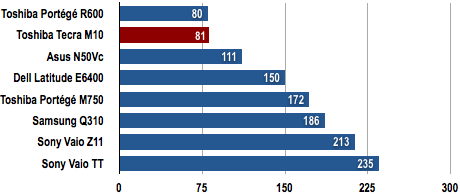 Battery life in minutes
Longer bars are better
To be fair, it's a tough test and real-world usage is likely to see the battery drain far less rapidly. We'd expect the M10 to run for three hours or so under a more realistic workload. Given the size of this machine, we'd say it's not the sort of box likely to be used away from the mains for too long in any case.
Toshiba's M10 range stretches to eight models, running from £631 (£549 exc. VAT) to £1034 (£899 exc VAT). A couple of models have on-board HSDPA 3G modems - the review unit didn't - but it's primarily CPU speed, and memory and hard drive capacity that change as you go up the line.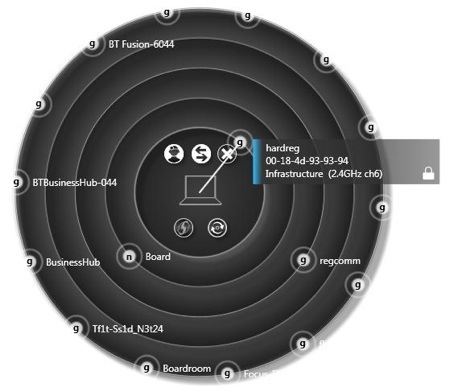 Track down networks with Toshiba's Radar utility
The pricing is neither aggressive nor off the map, and while the M10 delivered a decent enough performance and feature set, we think we'd rather spend the £900-odd that the M10-10I costs on a business laptop with equally up-to-date internals but a rather more modern look. And better battery life.
Verdict
We can't fault the Tecra M10's performance, but with a relatively feeble battery pack and a look that's more Nineties than Noughties, this notebook failed to excite. Just the sort of thing to give to staffers who might otherwise get ideas above their workstation. ®
More Notebook Reviews...
| | | | |
| --- | --- | --- | --- |
| Toshiba Portégé M750 | Asus N50 | Samsung Q310 | Sony Vaio Z11 |