Original URL: http://www.theregister.co.uk/2009/04/23/review_speakers_edifier_luna_2/
Edifier Luna 2 desktop speaker set
Class-D amp, 30W output for your laptop, anyone?
Posted in Personal Tech, 23rd April 2009 12:13 GMT
Reviews The lines between multimedia audio kit – the sort of equipment designed for use with computers, iPods and the like – and 'proper' audio equipment seem to be getting increasingly blurred. Edifier's new Luna 2 speakers are a fine example of the blur, looking like run-of-the-mill desktop PC speakers but, at £250 for a pair, costing a darn site more than this kind of kit usually does and having some pretty serious amplification built in.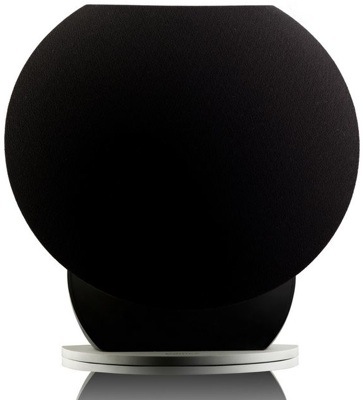 Edifier's Luna 2: beefy
Out of the box, the Luna 2 speakers certainly look and feel the part. As we've come to expect from Edifier, the build quality is excellent. Each unit feels like it has been carved out of stone, and looks rather smart in its black and sliver colour scheme with a brushed aluminium base. Physically, each speaker takes the form of a 118mm deep, 194mm diameter circular unit with a bite taken out of the top and mounted on a sculpted plastic base. Each weighs a beefy 2kg.
The Luna 2's controls comprise a touch-sensitive panel on the cut-out top of the right-hand speaker. In between the volume up and down controls is an input selector that glows a different colour when set to either USB stream, optical or auxiliary input. Round the back of the right-hand unit, you'll find the power socket, a mini USB port, combo 3.5mm analogue and optical digital socket, and an RCA jack to connect it to the left-hand speaker.
When switched, on a Cylon-style red LED glows from beneath the fixed speaker cover on the right-hand satellite.
Beyond controlling the volume and source, the control panel has a few tricks up its sleeve, at least when the set's hooked up to a PC by USB. Place your hand palm down on the panel for about three seconds and the system pauses your media player and mutes itself, put your palm back down for a moment and the music resumes.
The fun doesn't stop there: swipe a finger to the left or right across the panel and you media player will jump to the next or previous track.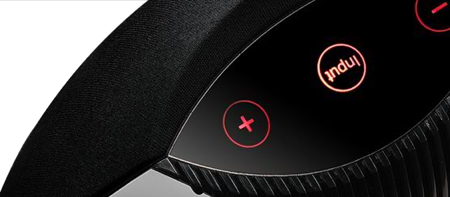 The control panel's touch-sensitive
The whole swiping forward and back malarkey works smoothly and reliably and functioned out of the box with Windows Media Player, Songbird and iTunes running on a PC though, according to Edifier, it also works with Winamp, Foobar and most other popular media players. The only drawback of the system that we came across was that the media player needs to be the most forward application on the desktop – if it's behind another app then swiping the control panel has no effect.
Edifier is generous with cables, packing the Luna 2 with USB-to-mini USB, 3.5-to-3.5mm and RCA-to-3.5mm adaptor cables in addition to a pleasingly thick RCA-RCA cable that's used to hook the two speakers together. To put the cherry on the cake, you also get an optical fibre audio cable. The cables are all of a decent length too, the RCA speaker connector cable running out to 170cm, allowing you to put the two speakers a decent distance apart.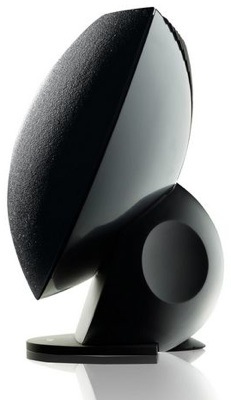 Class-D amplifier on board
For speakers of their size, the Luna 2's pump out a lot of volume. Technically speaking, each unit contains a 87.5mm full-range driver and a 17.5mm tweeter, and is rated at 30W RMS. We've never come across a set of desktop speakers that can pump out anything like this sort of volume.
Unusually for an active desktop speaker system, the Luna 2 uses a Class-D amplifier. The upsides of this are improved sound quality along with reduced size, weight and heat generation. The downside is increased complexity and thus cost.
After our experiences with Edifier's MP300 speakers we had high hopes for the Luna 2s before we even opened the box. By way of an 'in-at-the-deep-end' test we hooked them up to the office Dell and launched the 1963 recording of Morton Gould's American Salute played by the Philadelphia Orchestra and conducted by Eugene Ormandy.
A masterpiece of analogue stereo recording, Gould's tour de force came across with superb clarity and plenty of punch. Even at maximum volume the definition was excellent, while the balance between the tympani and brass was exemplary.
Moving on to Neil Young's After the Goldrush, the Luna 2 proved equally adept, balancing Young's plaintive vocals and the band's instrumentation – especially Danny Whitten's guitar - perfectly. To bring things a little more up to date, Nelly Furtado's Say it Right demonstrated that the Luna 2 could handle the worst that Timbaland's acoustically spacious, percussive and painfully modern production could throw at it, even at high volumes.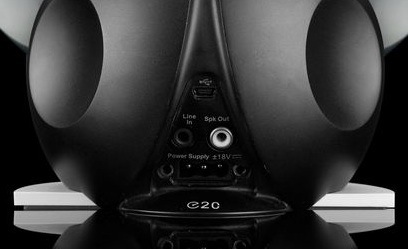 All the connectors come with cables
All this is not to say that the Luna 2 speakers are perfect. When compared to a good set of bookshelf speakers, vocals can sometimes come across as just a little too forward and aggressive, something that was particularly noticeable when we listened to Nanci Griffith's 1998 album Storms, which has an inherently forward vocal mix.
Moving away from PC- and PMP-based content, the optical audio cable came in handy for hooking the speakers up to TVonics MDR-250 Freeview set-top box. Between the two of them, they gave a whole new lease of life to a rather tired old Samsung portable LCD telly, the Luna 2s providing a wealth of power and detail which really proved its worth during Once Upon a Time in the West with its epic Ennio Morricone score.
With an RRP for £250, the Luna 2s aren't cheap but it's difficult to come up with a direct competitor for them in order to judge their value for money.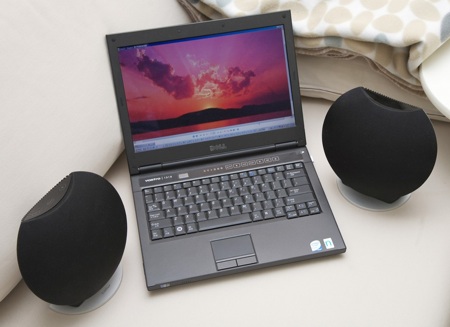 Turn your laptop into a hi-fi
You can get perfectly good desktop speakers from the likes of Altec and Creative for under £100, but they won't come with a Class-D amplifier, 30W per channel of power, an optical input or a touchsensitive media player control interface.
The same money would get you a 2.1 system like Creative's Gigaworks T3 but that's both bigger, uglier and less convenient to move than the Luna 2 and is designed more to produce foundation shaking amounts of bass than a delicate musical balance.
It could be argued that the Luna 2's power output is irrelevant if the speakers are going to spend all their time sitting on a desk next to a PC less than two feet away from your ears - turn them up and you'll simply deafen yourself. Where the Luna 2s come into their own is when you want to turn your laptop into a stylish temporary hi-fi - for that they are absolutely ideal.
Verdict
Assuming you need the power and intend to use your Luna 2s for something other than general desktop use then they have a lot going for them. They can generate a punchy and well-balanced sound that can easily fill the largest of rooms and can give many passive bookshelf speakers driven by half decent stereo amplifiers a run for their money. ®
More Speaker Reviews...
| | | | |
| --- | --- | --- | --- |
| Altec Lansing inMotion Max | Intempo InSession | Edifier Luna 5 | Orbitsound T3 |