Original URL: http://www.theregister.co.uk/2009/04/23/review_smartphone_htc_touch_diamond_2/
HTC Touch Diamond 2
The best iPhone-botherer yet?
Posted in Personal Tech, 23rd April 2009 09:52 GMT
Review It's been less than a year since the original HTC Touch Diamond impressed us all with its diminutive size, usability and impressive features list, all of which put it firmly in iPhone bothering territory.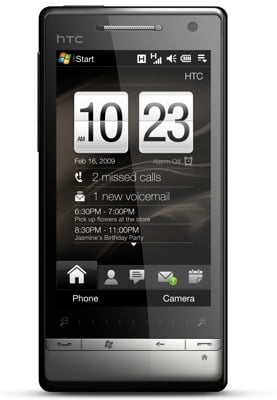 HTC's Touch Diamond 2: uses Windows Mobile, but it's well hidden
But with a 5Mp camera, improved touchscreen and build quality, longer battery life, larger memory, updated TouchFlo 3D interface and a host of other minor improvements, the new Touch Diamond 2 is superior in just about every way.
This isn't a subtly tweaked update of the Diamond, but a root and branch re-imagining. The most obvious difference is the casing, the front of which is now taken up almost entirely by the 67 x 43mm touchscreen - that's 3.2in diagonal, for all you imperial fans, as opposed to the Diamond's 2.8in.
The circular navpad has been replaced by four sliver-shaped buttons for call start and stop, Windows menu and back button. The buttons are metal, as is the edging, which adds a few grams to the weight, but overall it feels much sturdier than its predecessor, which suffered from feeling a tad cheap and plasticky, despite its relatively hi-tech spec.
The sides are fairly spartan, with just a volume rocker and stylus slot - yes, they haven't ditched it yet - with a micro USB port for charging/headphones on the bottom and a power button on top. Around the back, the Diamond 2 has lost the triangular patterning of its predecessor, replaced, apparently by popular demand, by a plain black plastic back, which feels stronger than the squeaky, bendy original.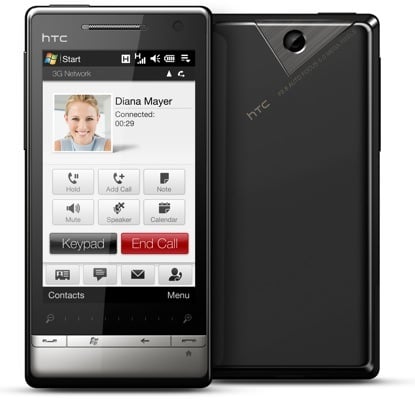 A very stylish handset
The Diamond 2's 480 x 800 screen is a definite highlight – bright, clear, with oodles of detail that makes viewing videos or pictures a joy. It's sensitivity to touch for accessing on-screen buttons, and brushing through pages and menus is just right. Usefully, the Diamond 2 comes with a thin leather-look case to protect its best asset, though this doesn't have a belt clip.
HTC's justly praised TouchFlo 3D interface is back and now keeps the user even further away from the underlying Windows Mobile 6.1 operating system. As before, you can scroll through the main functions by brushing your thumb across the menu at the bottom of the screen, and there are two on-screen keys for quick access to phone keypad and camera.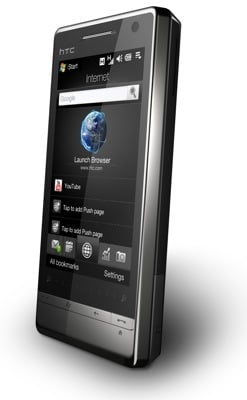 The UI's almost iPhone-like
But when you want to get deeper, there's a surprise waiting for you when you access the Windows menu, either by pressing the on-screen button in the top left-hand corner or the hard button beneath the screen. Instead of the usual list of functions there's now a selection of thumb-sized buttons offering all the usual functions, and you can include up to 24 customisable functions for easy access.
It's starting to look like the iPhone's apps menu, which is a good thing, especially with the promise of an app store that should be available when Windows Mobile 6.5 launches later this year. The Diamond 2 is apparently Windows 6.5 "compatible", which means you'll be able to upgrade it to the new OS for when it becomes available - providing HTC makes the update available, of course.
There have been a few other tweaks to the TouchFlo interface, including an improved contacts menu that allows you to see a complete history of text messages, emails and calls from each contact. Messaging, by the way, is first rate, with push email available to keep you up to date wherever you are.
The browser interface is still one of the best available, allowing you to brush your way around web pages with ease. The phone's motion sensor lets you switch easily between portrait and landscape modes, and the zoom bar, which used to appear only within the web browser now has a permanent place beneath the touchscreen so you can also use it when you're viewing pics. Web access on this quad-band phone is nice and nippy using the HSDPA 3G connection - with up to 7.2Mb/s download speed if your network supports it - or broadband over 802.11b/g Wi-Fi. Opera is the default browser, though you can use Internet Explorer if you prefer.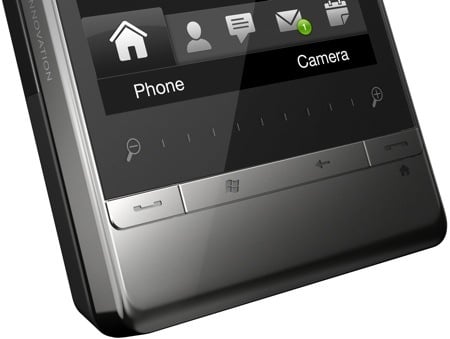 The once browser-only zoom bar is now a separate control
HTC has also added a feature it calls "Push Internet" which gives you the option to download favourite web pages in advance at set times for quick access. It means you can load favourite news pages pretty much instantly, even when you're out of network coverage.
The camera is another big improvement. It's been beefed up to 5Mp from the original Diamond's 3.2 and while it still falls short of the best-in-class cameraphones from Nokia and Sony Ericsson, it's still good, and way in advance of what's available on the iPhone. There's no flash, and it's not great for quick snaps, since it takes about three seconds to load, and a further four to take a pic with autofocus.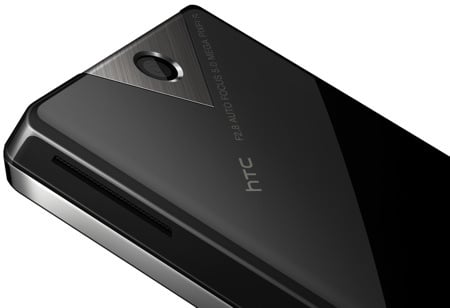 The 5Mp cam may be flash-less, but it's HTC's best by far
The results, however, are better than we've yet seen from an HTC camerphone, with a maximum resolution of 2592 x 1552 pixels offering sharper images with greater detail and fuller colours.
There are no options for editing your pics after you've taken them, but browsing through them is a joy. You can switch between pics in your gallery by brushing your thumb across them and zoom in either by drawing a circle with your finger on the screen - clockwise to zoom in, anti-clockwise to zoom out - or by using the zoom bar.
Viewing video is particularly worthwhile on the exceptional screen, and it can handle all the usual format suspects, including WMV, ASF, MP4, 3GP, 3G2, M4V and AVI. There's also an app which optimises the YouTube experience for the handset.
The music player allows you to browse your collection by brushing through record covers, iPhone-style, and again offers all the usual formats, including AAC, AAC+, eAAC+, AMR-NB, AMR-WB, QCP, MP3, WMA, WAV, MIDI and M4A - does anyone use any of these beyond MP3 and AAC? There's an effective ten-band graphic equaliser for optimising the sound you hear – you can adjust the bands individually or select one of the 21 preset options.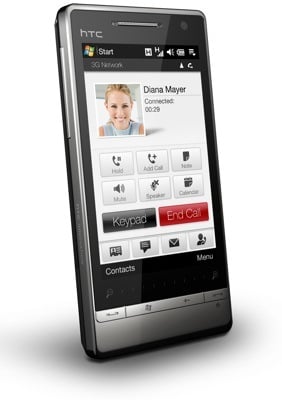 The screen is gorgeous
The headphones, however, are nothing to sing about and replacing them isn't straightforward as there's no 3.5mm headphone jack, though you could use a wireless Bluetooth pair - the Diamond 2 does A2DP. There's an FM radio on board too, with 20 presets and the option to listen in mono or stereo, plus a sleep timer so it will switch itself off after a set time.
The 512MB of on-board memory is twice as big as the original Diamond's but still won't support much of a library. Fortunately, there's a microSD slot under the cover which can handle cards of up to 16GB in capacity, though HTC doesn't include one to get you started.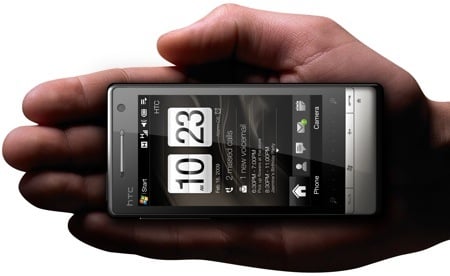 Stacks of features - and compact too
Other extras include GPS supported by Google Maps - Streetview looks great on the Diamond 2's screen - and Office Mobile for creating and reading Word, Excel and PowerPoint documents. This being a Windows Mobile device there are, of course, lots of additional third-party apps available, including games which make use of the phone's accelerometer, so you can control them by twisting the handset.
The battery has been improved since last time too – it's physically bigger than the one in the HTC Touch Diamond and though the phone's specs only promise an extra ten minutes of talk time, in use we found that it lasted a good day or so longer than the first Diamond did – around three days of moderate use rather than two. Call quality remained decent too.
Verdict
The Touch Diamond 2 is the best all-rounder in the HTC canon so far. The screen is gorgeous, the browser excellent, connectivity is as good as it gets and the 5Mp camera is better than any we've yet seen from HTC. It has all the versatility options of Windows Mobile - plus the option to upgrade to version 6.5 later this year - without the disadvantages, since the TouchFlo 3D UI means you rarely need to look at the OS directly.
In short, it's a great little do-it-all handset and the best alternative to the iPhone currently available. ®
More Touchphone Reviews...
| | | | |
| --- | --- | --- | --- |
| iPhoney Nano | Nokia 5800 XpressMusic | HTC Touch HD | LG Cookie |