Original URL: https://www.theregister.co.uk/2009/04/23/peugeot_compo_mega_city_car/
Revealed: Mega City One's top e-car - according to Peugeot
Dredd-style concept wins car-of-future design competition
Posted in Science, 23rd April 2009 16:33 GMT
'Leccy Tech This apparently is what we may all be driving in the Mega Cities of tomorrow if Peugeot's crystal ball is on the money. Revealed as a 1:1 scale model at the Shanghai Motor Show, the Peugeot RD Concept is the winner of a design competition by the French car maker to "imagine the Peugeot in the Worldwide Megalopolis of tomorrow".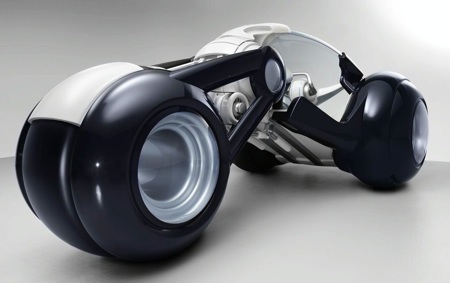 Mega City Peugeot: have you paid your tyre tax, citizen?
The winning design was penned by 27-year-old Columbia industrial design student Carlos Arturo Torres Tovar who beat off competition from over 2500 other entries. His reward - besides seeing his brainchild rendered as a life-size model - was a cheque for €10,000 (£8860/$13,000) and an Xbox 360.
The Peugeot judges were impressed by Carlos' creation's "ingenious system of articulation that provides irreproachable road holding allied with the ability the easily thread its way through urban traffic".
Powered by an electric motor – so no getting pulled over by Judge Dredd for crimes against the environment - the driving position of single-seat concept apparently "offers a new feeling of freedom, thanks to its panoramic vision, voice-message driving assistance and a heads-up display system that gives all the information required for travelling in complete safety".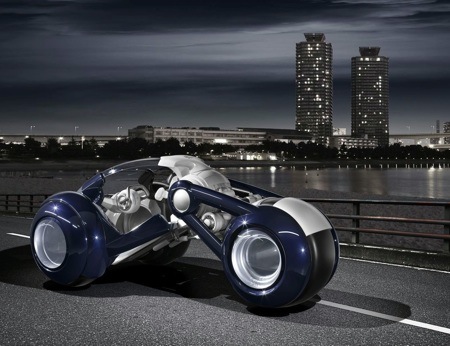 'Warning! Block War up ahead!'
Peugeot went on say that the "concept car combines the sensations of a three-wheeled scooter with the driving pleasure of a saloon car, while retaining all the essential functions of both modes of transport and while adding a silent environment".
The Peugeot RD will be available at selected Mega City One Peugeot dealers from 2071 for 15,000 credits. Warranty void if taken out into the Cursed Earth. ®
Mega City Peugeot Gallery