Original URL: https://www.theregister.co.uk/2009/04/22/wow_pod/
Yes! It's the World of Warcraft house!
The ultimate shed for WoW addicts
Posted in Personal Tech, 22nd April 2009 11:53 GMT
World of Warcraft undoubtedly has its addicted followers. So if you frequently find yourself playing for hours each day, then why not put yourself in the ultimate WoW garden shed?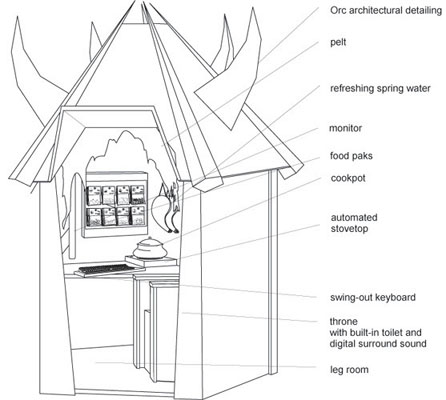 The WoW Pod: live like a gaming addict
The WoW Pod is essentially a prototype for a dwelling that would provide the addicted WoW gamer with everything he or she require, such as food and water, to ensure that the gameplay need never stop.
Aside from a physical outer construction that's designed to mimic authentic WoW architecture, the Pod's innards include a playing throne that doubles as a toilet. So, when nature calls, you wouldn't even have to leave your seat.
The Pod's equipped with a monitor, PC and keyboard – of course – and all your nutritional requirements are catered for thanks to an easy to reach water supply and selection of pre-packaged foods.
A hotplate would connect into your PC, allowing you to cook with the minimum of effort. For example, if you select "Beer Basted Ribs" then the hotplate would be told how long to cook the food for.
When your food's ready, your WoW status would automatically be set to away. Food consumption would also be linked to gameplay, with characters becoming sluggish if, for example, you eat your weight in sugar-coated doughnuts.
No plans to mass produce the WoW Pod have been announced, and we hope they never are. ®