Original URL: http://www.theregister.co.uk/2009/04/22/review_camcorder_sanyo_xacti_vpc_hd2000/
Sanyo Xacti VPC-HD2000
World's first 60f/s HD camcorder
Posted in Personal Tech, 22nd April 2009 16:58 GMT
Review 'It's a Dual camera,' says the little sticker on the side of the vaguely retro, pistol grip, Sanyo Xacti VPC-HD2000 camcorder. Sure it can function as a 12Mp still camera too, but when it comes to video, Sanyo claims the Xacti is the first consumer camcorder to shoot 60 frames per second in 1080p full HD. To achieve this, and easier editing, Sanyo utilises "True Progressive" scanning technology which, during playback, allows freeze framing on full, rather than interlaced images.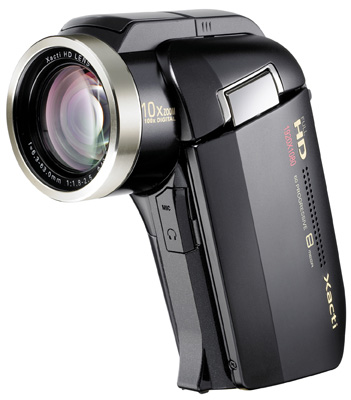 Sanyo's Xacti VPC-HD2000: a sharp shooter with pistol grip to match
Being a 1080p camera, the HD2000 produces a higher calibre of video signal than 1080i shooters can, resulting in a more solid looking image. Interlaced scans can suffer when the subject or the camera moves quickly.
The HD2000 offers seven different modes of shooting video, including two high-speed options at 240f/s and 600f/s, respectively, delivering very smooth (60f/s) slow-mo playback at quarter or tenth of normal time. Although you can't zoom in or out while recording in this mode, and the lower picture quality really means it's really only to be used for fun, if you choose your distance correctly, you'll be able to watch your kids running like the Six Million Dollar Man through the finish line on sports day
Like its predecessor, the HD1010, the HD2000 incorporates Face Chaser technology. This feature simultaneously monitors the exposure and focus of up to 12 faces in one shot, whether still or video, and does so well.
The photo camera offers ten different shooting options from 12Mp (interpolated) down to 0.3Mp. There are also two high-speed sequential shooting options delivering a supposed 12f/s at 4Mp and a definite 6f/s at 8Mp. The camera allows up to 15 shots at a time. This helps avoid needless and lengthy processing and editing time. Regardless of frames rate, it's a useful feature and a good example of this camera's sure-footed capabilities.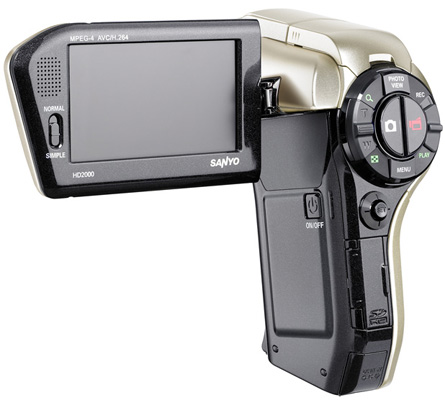 The 2.7in LCD hinge seems flimsy but holds its own
There are a number of manual settings available, if you spend time toggling into the recording menu to find them. Unfortunately, there is no programmable option to save customised settings and, considering the price, such a facility really should exist. Instead, you just have to keep going back into the menu if you want to change or check anything. As well as auto exposure, the camera can work with aperture priority, shutter priority and manual.
Once chosen, these parameters are easily altered by the tiny joystick. The iris can close from f1.8 to f8 only, while the shutter speed ranges from 1/1000s to four seconds in photo mode. There is a self-timer, which is only useful if you angle the screen for balance or have a tripod handy, as the unique pistol-grip design doesn't really allow the camera to stand steady on its own.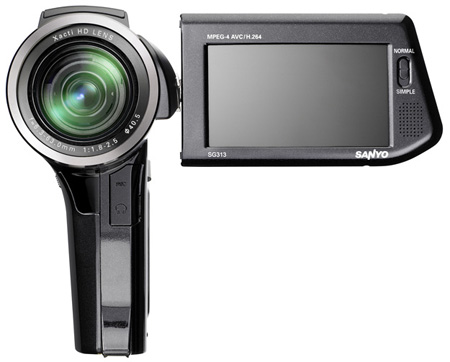 Balancing act: self-timed pics will benefit from a tripod
The joystick also controls the manual focus, which ranges from 1cm to infinity. You can also adjust the ISO rating from 50 to 3200. There are lots of other things on the menu to play with, such as three filters: Monochrome, Sepia and Cosmetic, with the latter failing to make any discernible difference.
Eight different sounds can be assigned to the shutter and the joystick separately. Although practically all of these noises are unnecessary and irritating, when taking stills in low light it's handy to have audio confirmation that the shot has been taken, as the focusing and execution - without flash - won't be as quick as expected. The flash seems to be effective up to 4.5-5m but bear in mind that when set to 'auto' the bulb won't necessarily pop up.
Stills can be taken while simultaneously shooting video, and the Xacti also allows image capture from footage during playback. Rotate and resize operations, aspect ratio conversion, and an anti-delete 'lock' can all be applied with a few simple nudges of the mini joystick. It's a useful facility, which enables inexperienced still photographers to achieve decent results.
Video footage is recorded in MPEG 4 format and even though a copy of Nero 8 Essentials is included in the package, it may be worthwhile looking around for editing software with more to it. For those lacking confidence with editing apps, the camera has a fun 'cut and join' facility which provides an easy option for splicing clips, so long as they are filmed in the same mode. You can't join slow-motion clips to real-time ones, for example.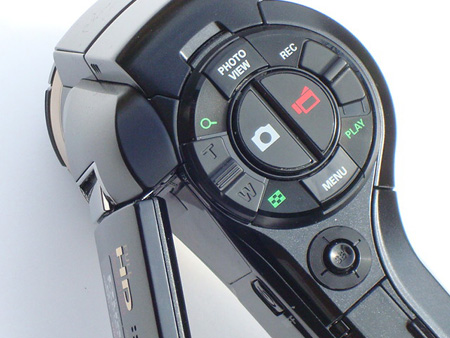 Deep joy: the mini joystick helps penetrate the Xacti's depths
From empty, the battery charges in 200 minutes and will last just over two hours whilst shooting video in Full HD or nearly six hours in playback mode. Although the Xacti comes without a storage card, a 16GB SD memory card will take up to 2h 11m of HD footage which, conveniently, is about as long as the battery will last.
A little door at the front, under the lens, provides access to plug in headphones or an external microphone. However, using these audio interfacing options is likely to interfere with your grip, since they're located exactly where you will want to place your index finger as it curls over the barrel to hold the Xacti securely. Admittedly, not everyone will use the audio ports but their placement does seem ill judged.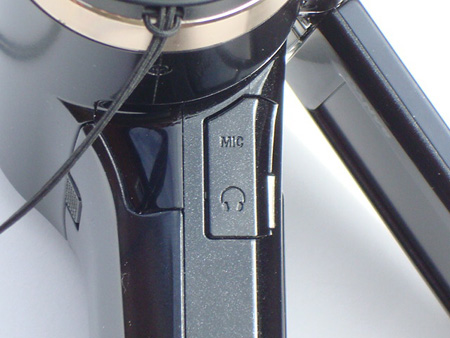 Audio interference: plugging in a mic or headphones obstructs handling
The supplied docking station incorporates an HDMI output - cable not included - along with a component-video and audio jacks, and a USB port. For these, cables are included. In use, the camera sits comfortably on the dock's mini USB interface. It's all very easy to set up and provides a nice way to view your footage.
The camera's microphone is nicely sensitive, with the captured audio on outdoor footage sounding excellent when replayed on a TV. The birdsong was clearly audible from all around – and with the low sound of traffic in the background panning from left to right – it was like experiencing a live feed. During playback, recordings suffering wind noise could be improved a little thanks to the Xacti's the noise reduction function.
When filming indoors, next to a loudspeaker, for example, there doesn't appear to be any sound distortion in playback, only a reduction in bass. When using the still camera in low light interiors, the Auto Focus becomes slow, indecisive and unsatisfactory. Indoor shooting can also produce a little colour fade and distortion. Outside is another matter, with both still and video shots delivering excellent colour reproduction and, overall, picture quality leaves little to be desired.
Sample Shots
Sample Shots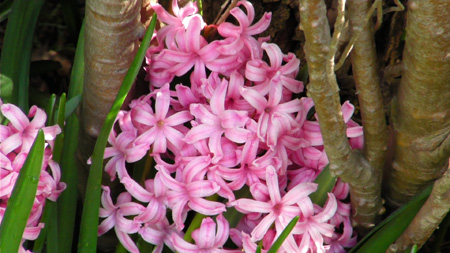 Optical zoom: 9 point autofocus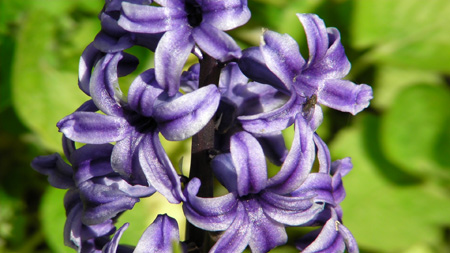 Optical zoom: spot focus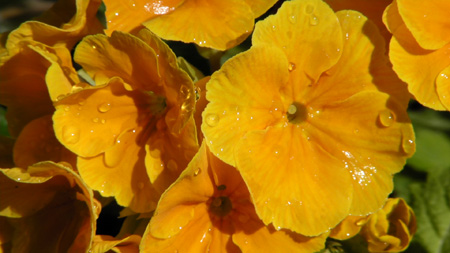 Optical zoom: super macro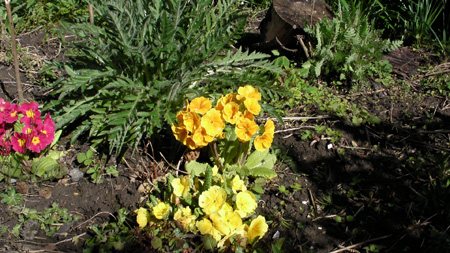 Wide angle
It's doubtful that most YouTube buffs will be interested in a Full HD camcorder costing in excess of £500. Will your mate, prancing about drunk in a 'Mankini', look funnier in HD? For them, the Flip Mino HD will do, and it's only 170 quid.
Or will you finally stir a little interest among family and friends when, this time, you invite them round to watch your HD Kenyan Safari? It's more likely that this camera appeal to the home moviemaker, with a big TV and a big wallet.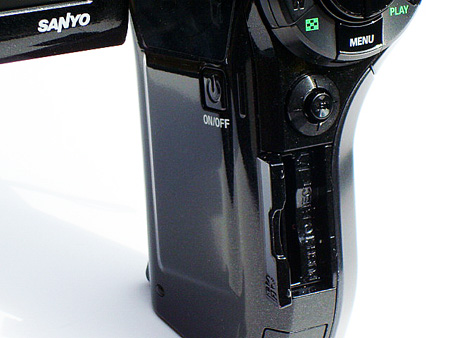 Need a more recording time? Simply slot in a spare SD card
Verdict
Yes, this is a clever piece of kit, although its cute size and shape may not suit those with larger hands. The controls are very simple to understand and the ease with which one can switch from record to play mode is commendable. And although the 2.7in LCD Monitor is large in relation to the size of the rest of the camera and seems a little vulnerable even when closed, it's hardly a major concern. The camera feels comfortable in either hand, and the ergonomic qualities of the design do help towards steadier shooting.
Enthusiasts not affected by the 'crunch' and simply can't wait to see how smooth everything played back at 60f/s in HD really is, should go ahead and play. However, if your demands are less exacting then the Xacti exacts a price for its fast framework that focus both mind and wallet. ®
More Camcorder Reviews...

Pure Flip Mino HD

Nikon D90

Ten of the Best...
Pocket Camcorders

Flip Ultra