Original URL: https://www.theregister.co.uk/2009/04/22/bram_cohen_interview/
Bittorrent's Bram Cohen on the music biz
Gazing into the smudgy crystal ball of P2P
Posted in Policy, 22nd April 2009 14:50 GMT
CodeCon 09 Interview I've known Bram Cohen since 2001, when Bittorrent was a glimmer in his eye. It's a worldwide phenomenon now, and is at the heart of the Pirate Bay trial.
So there was plenty to chew over when I caught up with Bram at the revived CodeCon workshops in San Francisco this weekend.
What's the instant one-line summary of Bittorrent Inc?
We raised money, three rounds from DCM, Exel and DAG. And we started an online content store which we have now shut down. And we acquired uTorrent and have been maintaining that codebase for several years.
Is the focus on embedded or software for you right now?
We're working with some device manufacturers. We're primarily focussed on client development and improving it and serving our users.
We're happy to help out with embedded. But with consumer equipment it's hard to tell where it's going.
Publishers and independents recognised Napster right away - and saw that's how people want to consume music. P2P is pretty essential to delivering that content. Did you find any of the same enthusiasm from studios?
Our content offering had lots of issues with it. There were restrictions on what it could do - and it also wasn't very good.
You wouldn't do it again?
It's not Bittorrent's thing and not what we're good at. It didn't work very well.
Do you think Hollywood gets P2P at a technical level, or does it still think primarily about control and one-to-many? I don't see that evident in digital film distribution - that most be the most complicated set of protocols I've seen.
A lot of the problem with that is that the projecters still cost a lot of money. It's a big piece of equipment, they don't sell a lot of them. We're stuck with pretty antiquated film.
"Men are usually willing to pay a lot of money in the hope of getting laid"
At the top of the music business it's still about control and trying to close down P2P, rather than licensing.
Everyone has to do a good as service to their customers as they possibly can. It's vastly more pleasant to watch a bunch of episodes of a series, or even a couple of episodes in a row. The media consumption experience could be vastly better than it has. The consumer experience is nowhere near what it could be.
It's not so much about the music - the important thing is the recommendation. It's that users are aggregating and organising the content. So the lesson seems to be that trying to control everything is passing up a lot of value that consumers want to bring to the equation.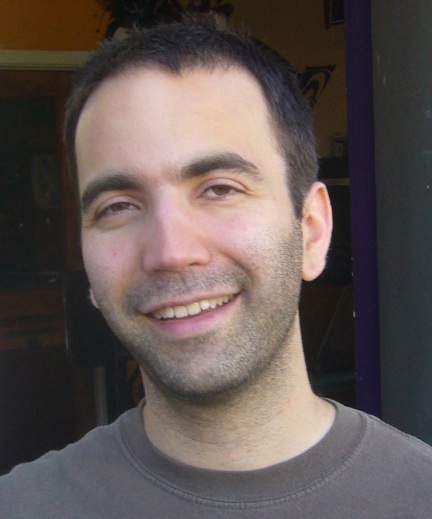 Bram Cohen at Codecon 09
Publishers lost control at the start - that's how performance rights started. The big record companies are still stuck at counting physical units...
Music has a bigger problem, it's that people want to make it. It's the peacocks tail. The reason guys make music is that they want to get laid. So men are usually willing to pay a lot of money in the hope of getting laid. Anything that helps you get laid with amazing regularity is something you would expect a tremendous oversupply of. So we have unbelievable amounts of music.
People pay a lot to learn how to play music and it's ridiculous to expect people to make money off it. Normally if you want to make money you do something no one wants to do.
I'm not sure it's ridiculous at all, because people have always willingly paid for recorded music - sometimes we've paid for it more than once! So that's not quite true. Also whatever music is in most demand - the stuff people actually want and what will get you laid - is always in scarcity. There are 13 million songs on iTunes and nine million have never been downloaded once. So at any time, good music is scarce.
There was one recent year where the number of albums in the US was 200,000, and of those 15 sold a million copies, and only one did it without major radio support. People have switched to using iPods, because fundamentally using radio is an awful experience. When I'm driving my car I want to hear the music. This will keep happening more and more - the size of hits is going down.
Well, that's the unbundling.
It's the supply of the product.
No, it's not, it's unbundling. And competition at retail lowering the price of CDs to something sensible. And people making CDs for friends. Something like 87 per cent of the fall in value in recorded music was not P2P.
Heh.
But don't you think there's value there? I've got albums I bought at school and I've played loads.
You're talking about value, you're making an assumption about demand. So in some sense value has to do with demand. If there's tremendous value that means there's huge amounts of demand. But there might be tons of supply.
Supply and demand works for substitutable goods. If someone wants Kings of Leon that day then nothing else will quite do the job.
"I'm cursed with good ears - and if you are, you're never happy!"
Music is really a hack on the human brain. There's no objective reason you would ever invent music. People will continue to make music, and want to go to concerts even though the audio quality is terrible. Artists are still going to go on tour. There's money in being a celebrity. There's no lack of business model - it's just not profit on CDs in stores.
I disagree, I think there is but they destroyed it. They didn't reform the supply chain and there's just one shot left.
Well, what's happening now is if you want to make it as a band, you make a MySpace page. Once someone's done that and made the music freely available to the world, you can't make people pay for that.
It's great for amateurs who don't want to be paid and for milionaires like Madonna, but there's an investment crisis. I know one band which gets 10-12,000 fans live and doesn't want a big label deal because it wants independence. But they're having to put the £6k for the recording on their own credit cards.
I don't mean to sound harsh, but is that a problem?
Well, we sorta promised artists more freedom - a better world. So get this - this band get sponsorship from a beer company but it has strings attached. They can't play in a country where some rival beer company "owns" music. You think RIAA-affiliated labels were evil? This isn't better. These are guys who are successful - they're not U2 successful, but these are the choices they have.
Letting people who want to distribute stuff gets you the best consumer experience, and in the case of music, trying to control the flow doesn't help with the production. Music is not produced by large groups of things, it's created by individuals. Once you have laptops with good software, good mics, Garageband, there's not a lot of cost involved.
Yes, but they want to make a good recording, they don't want to sound like a billion other people with Garageband.
Oh yeah.
No I entirely blame the recording industry for this, but there's an investment crisis in music. What's the value of recorded music?
Sure, but what's the point of spending $10k when everyone's going to play it back on their speakers.
Because it still sounds better!
I don't know about that. I'm cursed with good ears - and if you are, you're never happy!
Finally with Comcast, is Bittorrent in any of the P2P working groups?
We've got technology for doing congestion control so if there are other transmissions going on, it'll back off. This would be very very good for ISPs, so we're trying to standardise this as the way TCP works.
We're throttled and metered in the UK, and you will be soon too. If was licensed it wouldn't be a problem. Exposing music not hiding it.
Nobody wants to be in a commodity industry: it's cut throat and no one makes any money. So how do you decommoditise? (laughs)
---
Thanks, Bram. ®