Original URL: http://www.theregister.co.uk/2009/04/20/review_set_top_box_freeview_tvonics_mdr_250/
TVonics MDR-250
Rather good, considering the price
Posted in Personal Tech, 20th April 2009 09:02 GMT
Review With the digital Armageddon crossover almost upon us – or actually upon us in the case of anyone living in South Devon or the Borders – never has their been a better time to take a look at an affordable, easy-to-use, jack-of-all-trades Freeview tuner that even the most technophobic in society can get to grips with. That would be the TVonics MDR-250, then.

TVonics' MDR-250: slimline
Why? Because alone of all the set top boxes available in the UK, only the MDR-250 has been awarded full marks by switchover oversight body Digital UK for ease of use, energy efficiency, performance and connectivity. More to the point you can now pick the unit up in John Lewis and Comet for less than 40 quid, TVonics kit previously not being all that easy to find on the high street.
For the money, the MDR-250 is a rather nice looking box of tricks. It feels solidly made - from an attractive mix of matte and gloss black plastic with a shiny silver TVonics badge on the top. At only 196 x 89 x 31mm, finding a place for it to sit on or next to your telly shouldn't be a problem.
Surprisingly at the price point – and considering how nice the 250 looks – TVonics also supplies am infrared extender so you can hide the box away with the extender peeping out to pick up the signal from the remote control.
As with most Freeview boxes, set-up is very straightforward: just plug everything in and away you go, though that shouldn't obscure the fact that TVonics supplies the MDR-250 with a very well-written and comprehensive illustrated user guide. When first hooked up, the unit locked onto all 85 available Freeview TV, radio and data channels in a little under 55 seconds which was pretty good going.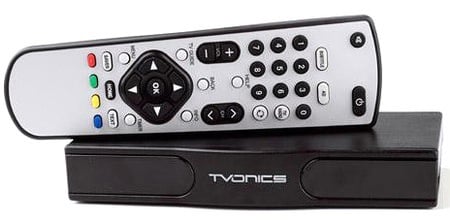 The remote's well designed
The remote control handset is another reason Digital UK get so gooey over the MDR-250. Called an 'Easy Grip Remote' by TVonics, it's nearly as big as the 250 itself and is an excellent piece of design with large, easy to find buttons and clear, self-explanatory labelling that should make granny's life that bit easier.
Round-the-back connectivity is rather better then average too. On top of the expected two Scart sockets and combined 3.5mm analogue and digital audio SPDIF outputs, the MDR-250 also has an RF modulator which means it can be hooked up to antediluvian tellies through the aerial socket rather.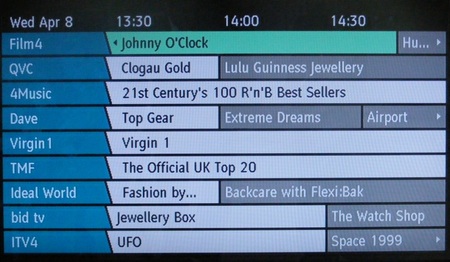 TVonics' standard EPG UI
Connecting the MDR-250 to a TV via an aerial cable doesn't do much for the picture quality, which is noticeably less clear, crisp and colourful than the one you get through a Scart cable but it sure beats having to buy a new TV.
The picture quality achieved when the MDR-240 was hooked up to a 32in Sony Bravia with a built-in Freeview tuner proved to be more than acceptable. That's not to say we couldn't tell the difference between the pictures from the built-in tuner and from the MDR-250. We could, the former being sharper and having better colour saturation, but you would have to flick back and forth directly to really notice the difference.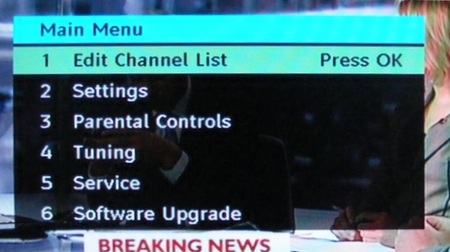 The MDR-250's eight-day electronic programme guide (EPG) is the same as that found on previous TVonics devices such as the DTR-Z500 Freeview digital video recorder and MFR-300 micro Freeview tuner which is a good thing as it's very easy on the eye with its olive and grey colour scheme. It's also clearly laid out, with eight channels on display at any given moment. When you fire up the guide, the current channel stays on in the background behind the EPG's transparent surround - another nice touch.
As is the norm with TVonics devices, the EPG doesn't let you set up a list of favourite channels as such but rather lets you re-order all the available channels and then hide the ones you don't want too see.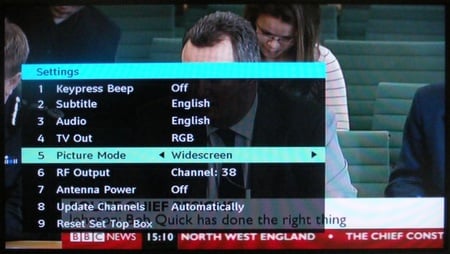 To make navigation easier, radio and TV listings are kept separate and the remote has a handy 'back' button which cycles through the channels you've recently viewed. If you really manage to lose yourself in the menu structure, a 'home' button instantly whisks you right back to the channel you were watching before you even thought about pushing the 'menu' button.
Other useful features include a parental control lock too keep wee Jimmy from watching the Channel X previews of an evening, the option to have the TV make a bleeping sound whenever a remote control command has been accepted, and the ability to bring the unit off stand-by using the EPG timer - handy if you want to hook it up to a video recorder and make timed recordings.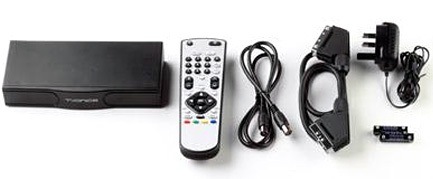 A well-filled package for £40
For a budget device, the MDR-250 is very fleet of foot when it comes to reacting to commands. The EPG, programme information, digital text, subtitles and audio descriptions all flash up almost instantaneously with none of the drag or delay all too often found on cheaper Freeview boxes.
Of course, there are some things you simply don't get for forty quid and these include a picture-in-picture preview facility, an RGB output signal from the second Scart slot, or an HDMI port.
What the MDR-250 does have though are solid environmental credentials: on stand-by it draws a parsimonious 1.7W while when in use it only draws 5.1.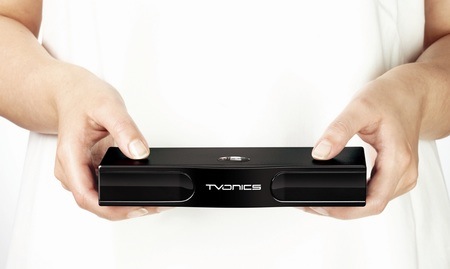 Handy
Verdict
As a simple and straightforward way to get Freeview, the MDR-250 has very little in the way of faults. It's extremely easy to set up and no less easy to use, while the inclusion of an RF modulator means you can have digital telly on even the most ancient box. Combine that with the smart design, nice remote control and excellent value for money, and we'd say TVonics has a winner on its hands. ®
More Set-top Box Reviews...
| | | | |
| --- | --- | --- | --- |
| Humax Foxsat-HDR | Emtec Movie Cube S800 | TVonics DTR-Z500 | Western Digital WD TV |