Original URL: http://www.theregister.co.uk/2009/04/15/review_laptop_toshiba_portege_m750/
Toshiba Portégé M750
The tablet PC soldiers on
Posted in Personal Tech, 15th April 2009 11:02 GMT
Review Still alive yet often ridiculed, tablet PCs haven't exactly had the easiest of times since their conception at the turn of the century. HP is attempting to breathe new life into the tablet by aiming its new TouchSmart TX2 at home users, but Toshiba's Portégé M750 takes a more traditional business-oriented approach.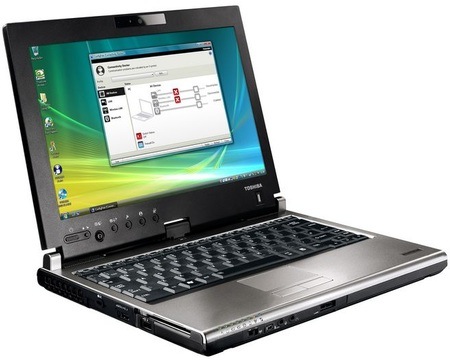 Toshiba's Portégé M750: sturdy
With an Intel Core 2 Duo P8400 clocked at 2.26GHz and 2GB of DDR 2 memory, the M750-10K sits in the middle of Toshiba's M750 line up. As far as physical looks go, very little has changed from last year's Portégé M700.
This does come across as being a little lazy on Toshiba's part, especially since the chassis is by no means perfect - we'll cover this in more detail in a moment. We were also hoping to see improvements in the weight and thickness of the design, but at 2kg and 305mm wide, 239mm deep and 39.4mm tall, there are no changes here.
With its 12.1in, 1280 x 800 LED-backlit screen likely to be swivelled and flipped ad infinitum, a critical part of any tablet PC's design is the hinge that attaches the display to the rest of the chassis. Thankfully, the M750 benefits from a sturdy hinge that refuses to wobble even under a fair amount of pressure. When in standard notebook configuration, two catches at either side prevent the screen from accidentally swivelling. This means you need to make sure the screen's standing perpendicular to the keyboard before attempting to swivel it – expect a nasty crunching sound if it's not.
Shortcut buttons are found just below the screen, allowing you to access them when the notebook is in tablet mode. Next to the power button sits a lock switch, which prevents your wrist shutting down the PC when scribbling notes, while a fingerprint reader lets you log on with a single swipe of a digit - though, as we found, two or three swipes is more likely.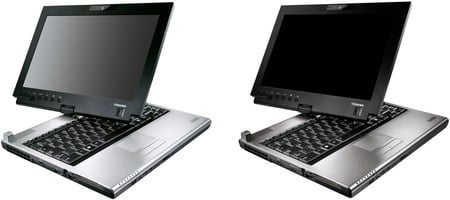 No cosmetic differences between the old M700 (left) and the new M750
A large vent on the left side of the chassis is kept company by two USB ports, one of which moonlights as an eSata port, something the M700 lacked. Elsewhere, the newer ExpressCard format is shunned in favour of an old-style PC Card slot. At the front sits a four-pin mini Firewire port along with mic and headphone sockets, and a good old-fashioned volume control wheel. Wi-Fi - provided by an Intel WiFi Link 5100 card- can also be switched on or off at the flick of a switch here, though if you want to banish Bluetooth you'll need to use the keyboard shortcut.
Journey over to the right side and you'll be greeted by a multi-format card reader - SD, MemoryStick and xD - DVD burner, 56Kb/s modem and a slot for that all-important stylus. At the rear, Gigabit Ethernet, power, VGA and a third USB port complete the line-up.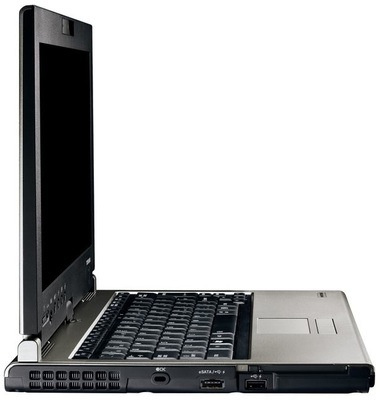 One of the USB ports doubles-up as eSata
Our scales agreed with Toshiba's quoted weight of 2kg - if you need to drag the power adaptor, add 400g to this - which makes it light enough to hold in one hand while jotting down notes with the other, but only for relatively short periods of time – try keeping this up for more than half an hour and you'll start to struggle.
So how does the M750 perform as a tablet? Very well, actually. The 12.1in screen is large enough to jot down notes on without being too cumbersome and writing with the stylus feels natural, although we often fumbled when it came to using the small slither of a right-click button.

The stylus docks neatly in the machine - or in your pocket
Flip the stylus round and, just like a pencil with a rubber attached to the end, you can erase any mistakes by rubbing over the offending area. Furthermore, when scribbling with the stylus, the M750 will ignore your fingers, palms or any other parts of your anatomy that might be resting on the display. Move the stylus away from the screen and it will once again become touch-sensitive, allowing you to prod your way through Windows.
If you tire of hand-writing notes, the keyboard features nice, textured keys to tap away on. It does, however, feel a bit spongy during typing and we noticed a nasty amount of flexing. The half-height arrow keys are also awkward to use, as is the half-width left shift key, but what really annoyed us were the four rubber protective pads dotted along the front lip of the chassis – depending on where your palms sit during typing, these can become very uncomfortable.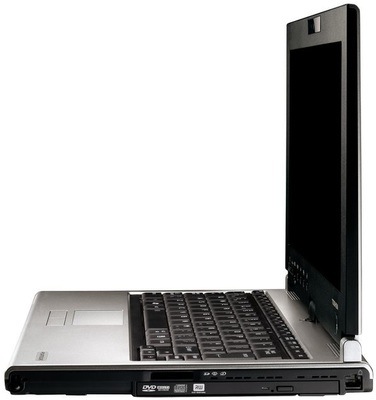 Analog modem on board
We were also left disappointed with the trackpad, which would occasionally become unresponsive, while the left and right buttons exhibited the same sponginess as the keys.
PCMark05 Results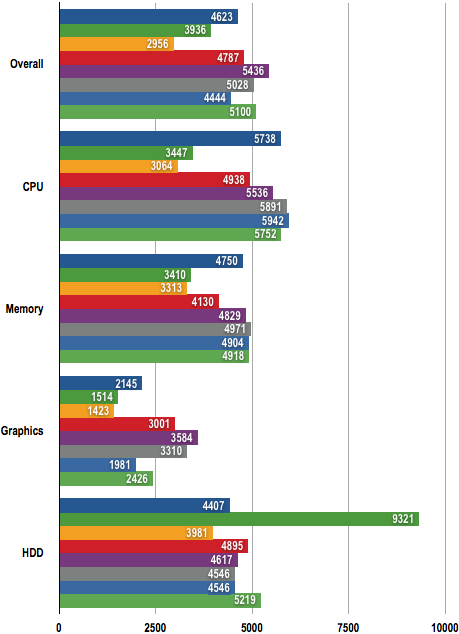 Longer bars are better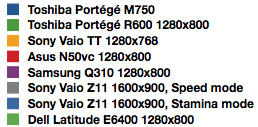 3DMark06 Results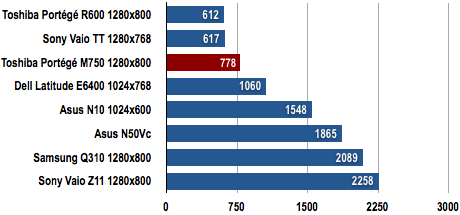 Longer bars are better
Battery Life Results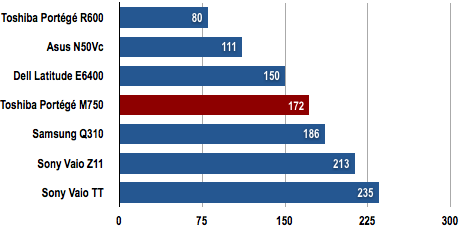 Longer bars are better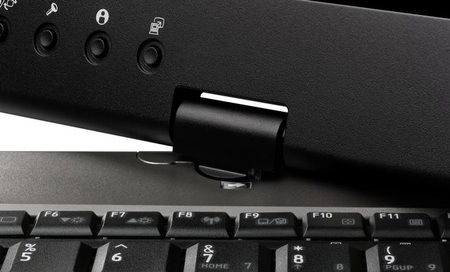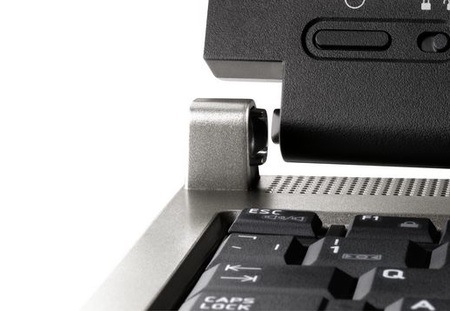 The screen hinge (top) is sturdy, while a catch (bottom) prevents unwanted swivelling
In terms of software, Toshiba crams the M750 with a host of its own utilities, including power, security and HDD protection tools, but commercial applications are thin on the ground. In fact, the only application of note is a copy of Microsoft OneNote 2007, which puts Windows Vista Business' tablet capabilities to good use. Toshiba earns extra points for including an XP recovery disc, allowing you to ditch Vista if you so desire.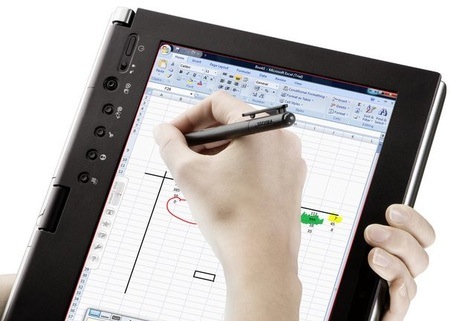 Jot to your heart's content
In our tests, PCMark05 awarded the M750 with an overall score of 4625. The CPU result of 5738 is in line with other P8400-driven notebooks, while the 160GB 5400rpm hard drive posted a score of 4407. Nothing outstanding here, then, but certainly enough to support most tablet-related tasks you're likely to throw at it, and Vista Business felt spritely when running multiple applications.
Those in the market for a tablet PC are unlikely to have gaming high on their agenda, and the use of Intel's GMA 4500M HD integrated graphics is in line with this assumption. At its native resolution of 1280 x 800, the Portégé M750 limped its way to a score of 778 in 3DMark06. This increased to 862 when we dropped to 1024 x 768, but you'll need to ensure all detail settings are cranked right down when breaking up your work with a bit of light gaming.
Battery life is an important consideration with tablets, and with PCMark05 troubling the M750 by running in an unrelenting loop, the machine's 4700mAh battery did an admirable job of keeping the lights on for 2h 52m. Take things a little easier, though, and you'll get closer to four hours' use. There's no extended battery option, but this is hardly surprising since the tablet is heavy enough as it is.
Verdict
At £1206 inc VAT, the Portégé M750-10K doesn't come cheap, and at this price we were hoping for a better chassis. If you want to save a bit of cash, the M750-10J variation costs the least at £976, but with an Intel T5870 processor and just 1GB Ram, it's not something we're be tempted by. ®
More Laptop Reviews...
| | | | |
| --- | --- | --- | --- |
| Toshiba Portégé R600 | Asus N50 | Sony Vaio Z11 | HP HDX16-1000 |