Original URL: https://www.theregister.co.uk/2009/04/08/review_desktop_pc_advent_aio_100/
Advent AIO-100
When a netbook's screen is just too darn small...
Posted in Personal Tech, 8th April 2009 11:02 GMT
Review At first glance, you could be forgiven for mistaking the Advent AIO-100 for just a normal 18.4in monitor with what looks like a very sturdy base. However, inside that oversized foot sits a full working PC.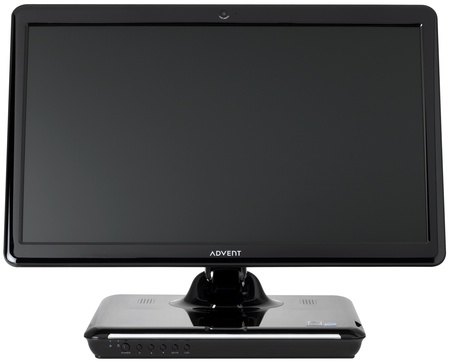 Advent's AIO-100: netbook internals
The AIO-100 uses components you're more likely to see living inside a netbook - so you'll find the standard 1.6GHz Intel Atom N270 processor, 1GB of DDR 2 memory and a 160GB Sata hard drive.
As size and weight are secondary issues for a machine that's going to spend the bulk of its life stationary, sitting on desk, Advent has also included a DVD writer, something you'd be hard pushed to find on any of the netbook models out there.
The biggest thing that sets it apart from a netbook, however, besides the lack of battery, is the big display that sprouts from its top, fixed to an adjustable arm. There's also a keyboard and mouse thrown in, so it comes with everything you need in the box.
Running around the edges of the base, on the left-hand side you'll find the DVD writer, which is a slimline laptop model. Round the back you'll find a wired Ethernet port, power connector and three USB ports. In the far back right-hand corner, underneath a protective cover, there's a VGA connector for hooking up an additional display. Towards the front you'll find a further two USB ports, plus headphones and microphone sockets, with an SD/MMC/Memory Stick card reader sat just above.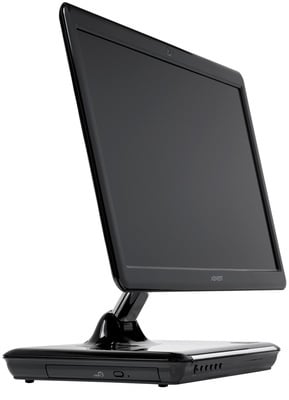 DVD writer built-in
Along the front edge, over on the left hand side, you'll find power and hard drive LEDs, power switch, volume controls and a mute button. There's also a single button for screen brightness - each press will make it a little bit brighter until the fifth click when it will reset it to its lowest level. There's also, curiously, a button to switch off the display backlight completely. You could save some energy by turning the backlight off when you're not using the machine - it's impossible to use without it on as you can hardly seen anything - but putting it into standby is almost as quick and would save even more, surely?
There are two speakers built in, positioned towards the rear of the machine either side of the monitor stalk. There's also a microphone front left and a 1.3Mp webcam situated above the display. There's 802.11b/g wireless networking built in too, but no Bluetooth.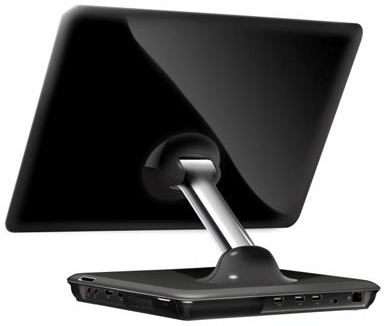 The anglepoise mount could be more flexible
The base itself measures a compact 290 x 217 x 37mm, while the display is 447 x 281mm and a mere 13mm thick. It's mostly finished off in fingerprint attracting shiny black plastic with the odd dash of reflective silver here and there.
Supplying five USB ports seems generous at first but unlike a netbook, which has its peripherals hardwired in, you will need to use two of these to plug in the supplied keyboard and mouse - there's no daisy chaining one off the other as there is on other all-in-ones, such as the Apple iMac.
The keyboard itself is small. The actual keys are a decent size, but the numeric keypad is crammed right up against the main layout and it's been streamlined into a three-key wide block. It's reasonable to type on, but it does feel a little light and flimsy. On the plus side, you can slide it on top of the base unit when it's not in use. The laser mouse is also light and a little plasticy but does the job.
The power supply isn't built in, but the standalone brick is small: the size you'd expect to find accompanying a regular netbook.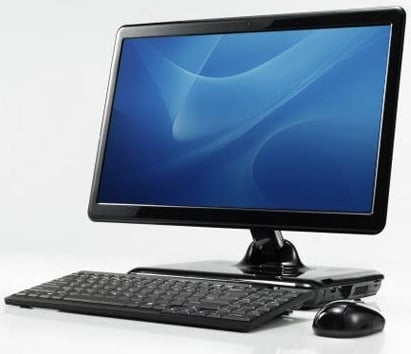 Where've we seen that wallpaper before, Advent?
The AIO-1000 is pre-loaded with Windows XP Home edition, and Advent has even been kind enough to throw in a copy of CyberLink PowerDVD for movie playback, and Power2Go for DVD and CD authoring. There's also Microsoft Works included, but it's the SE version which includes adverts - delete it and install OpenOffice, that's our suggestion.
The 18.4in display stretches to an unexpectedly high resolution of 1680 x 945 pixels - for a widescreen TV-style 16:9 aspect ration - and it's a decent screen to work on. The glossy finish means bright colours, but at the expense of increased reflectivity - bright light sources behind you are very noticeable.
The biggest problem with the display is its lack of adjustability - or rather lack of adjustability in directions you might actually want. The hinge that connects the support to the screen allows it to rotate a full 90°, but the hinge at the base stops somewhere around 45°. As a result, you can fold the screen completely - and uselessly - flat horizontally on top of the base but when it's vertical the highest you can raise it from the desk is 95mm. Unless you perch it on a pile of books, you'll almost certainly end up peering down upon it, which isn't ergonomically sound if you're using the computer for an extended period of time. There's also no adjustment left or right, short of turning the entire machine in one direction or another.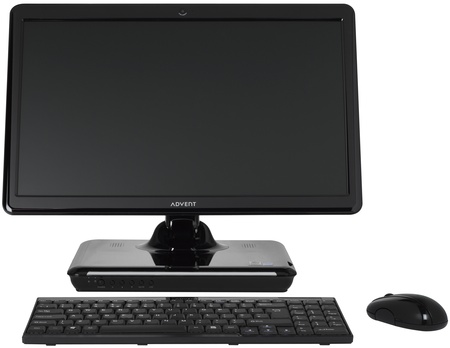 A good screen for movies - shame the GPU's not up to it
Performance scores are pretty much what you'd expect from a machine of this specification. Compared to the Asus Eee Box - or indeed any netbook - its results weren't bad at all. It has the graphics resolution support necessary to run the full PCMark05 test and its score of 1579 puts it ahead of the Asus although it's no match for an Intel Core 2-equipped machine. It also managed to stumble through 3DMark06 successfully, although with a score of 123 it's not really equipped for modern-day gaming.
On the multimedia side of things, the AIO-1000 has sufficient grunt for DVD playback, capable of showing a movie without dropping any frames. Standard-definition H.264 files proved more of a problem, with some dropped frames during playback. Stepping up to 720p H.264 there were so many dropped frames the result was completely unwatchable.
Verdict
The Advent AIO-100 isn't suitable for those that sit in front of a PC for most of the day, but to be fair that's not it's intended audience. If you just want to do a little bit of lightweight web surfing and the odd bit of email, it's more than up to the job.
Compared to a netbook, it packs a much larger screen, a proper keyboard and a mouse, so if portability isn't an issue it's the more sensible choice. At £450 it's a little on the pricey side, though, for what you get. If it was under the £400 mark it'd be much more appealing, but even still it's still worth considering if your computing needs are modest. ®
More Desktop PC Reviews...
| | | | |
| --- | --- | --- | --- |
| Shuttle XPC SP45H7 | Apple Mac Mini | Dell Studio Hybrid | Asus Eee Box |